Wed Mar 23, 2016, 08:15 AM
TBF (31,861 posts)
Documenting Deliberate Sabotage (Voting in AZ) [View all]
Last edited Wed Mar 23, 2016, 10:30 AM - Edit history (1)
(TBF Note: Free and Fair voting in the United States of America? If you have been paying attention to the primary process you know that is not the case in this country in 2016.)
Something Is Going Seriously Wrong at Arizona Polls Today
Nathan Wellman | March 22, 2016
Arizonaís primaries arenít even done yet, and thereís already legal action being taken as a result of incompetence or possibly even intentional sabotage.
Leaders from the Arizona branch of the Democratic Party have confirmed that its lawyers are officially making an inquiry after multiple Democratic voters showed up to the polls only to find that they were listed as independents, Republicans, or had no party affiliation at all.
Many voters wound up having to wait in line under the hot Arizona sun only to find that they were ineligible to vote for the candidates of their choice. To add insult to injury, the polling locations have been so poorly planned that many voters had to wait in line up to four hours before finding out that their information had been improperly filed.
Bernie's campaign trying to track the votes (as AZ deliberately sabotages the process):
https://votetracker.berniesanders.com/report/AZ/
Many photos and also videos at the link documenting the sabotage: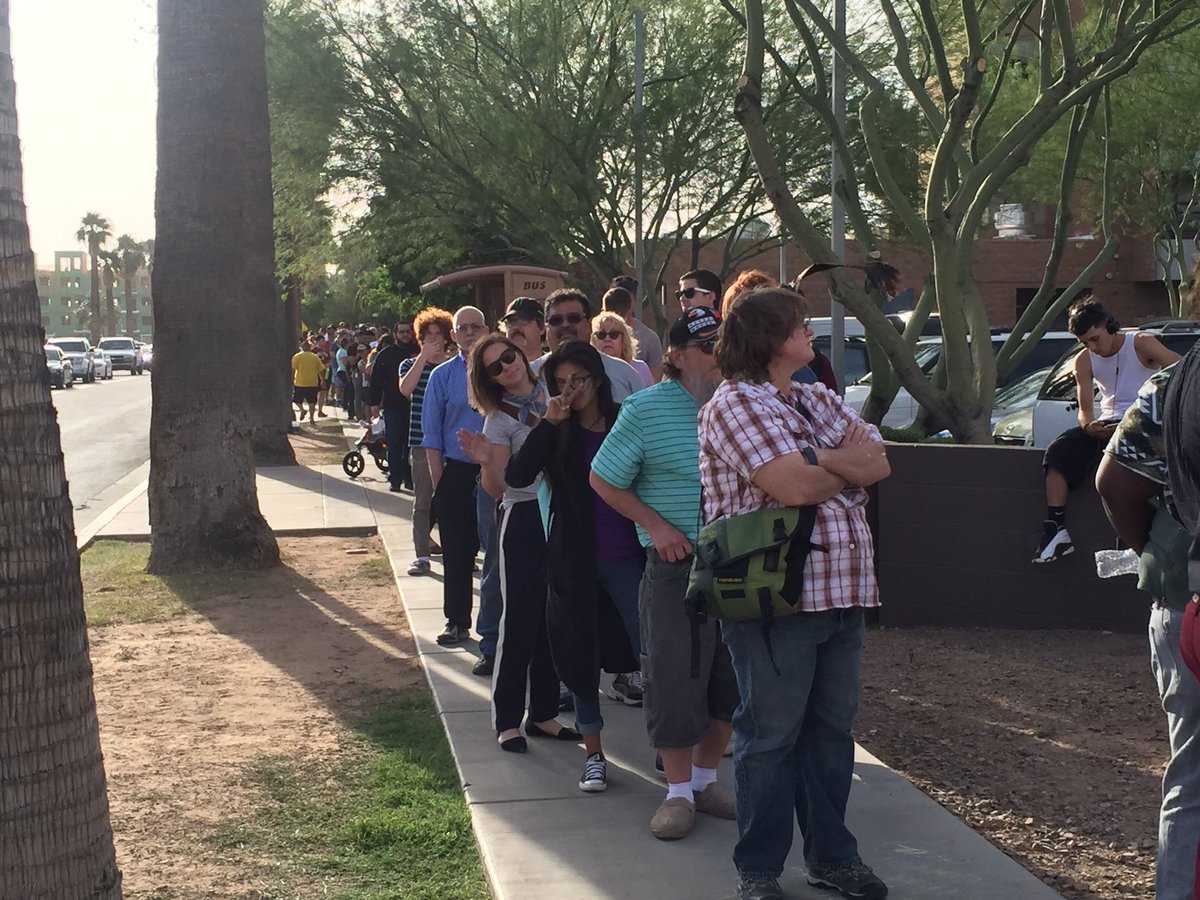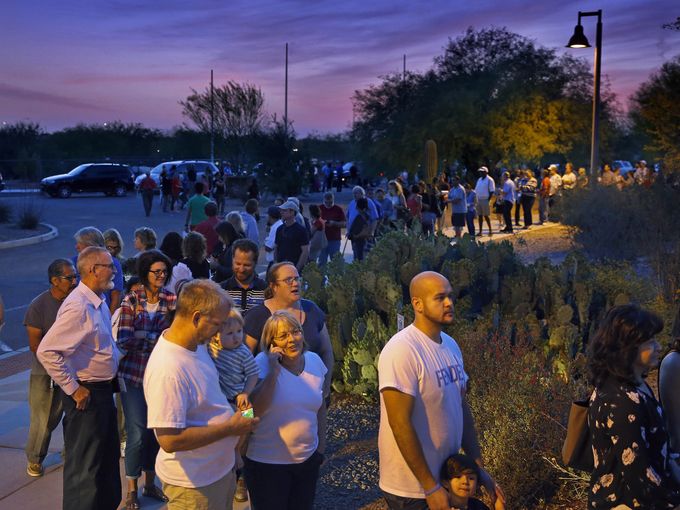 http://usuncut.com/news/arizona-polling-disaster/
62 replies, 11317 views
Replies to this discussion thread
62 replies
Author
Time
Post

Documenting Deliberate Sabotage (Voting in AZ)

[View all]

TBF
Mar 2016
OP
chwaliszewski
Mar 2016
#1
jalan48
Mar 2016
#2
Bubzer
Mar 2016
#3
Yallow
Mar 2016
#20
billhicks76
Mar 2016
#50
Betty Karlson
Mar 2016
#4
SammyWinstonJack
Mar 2016
#7
840high
Mar 2016
#51
Post removed
Mar 2016
#54
EndElectoral
Mar 2016
#5
tartan2
Mar 2016
#6
jwirr
Mar 2016
#8
certainot
Mar 2016
#55
TBF
Mar 2016
#61
jwirr
Mar 2016
#62
aggiesal
Mar 2016
#9
Ghost Dog
Mar 2016
#32
Martin Eden
Mar 2016
#10
bkkyosemite
Mar 2016
#26
Ghost Dog
Mar 2016
#33
All in it together
Mar 2016
#11
2naSalit
Mar 2016
#30
Ghost Dog
Mar 2016
#35
Akamai
Mar 2016
#12
NorthCarolina
Mar 2016
#13
TBF
Mar 2016
#15
dflprincess
Mar 2016
#52
a2liberal
Mar 2016
#56
RoccoR5955
Mar 2016
#14
TBF
Mar 2016
#16
Yallow
Mar 2016
#21
bkkyosemite
Mar 2016
#27
RoccoR5955
Mar 2016
#29
Ghost Dog
Mar 2016
#36
TBF
Mar 2016
#40
WHEN CRABS ROAR
Mar 2016
#44
TBF
Mar 2016
#47
SusanCalvin
Mar 2016
#49
gsb54
Mar 2016
#17
SCVDem
Mar 2016
#18
TBF
Mar 2016
#19
Yallow
Mar 2016
#22
SCVDem
Mar 2016
#23
Bluenorthwest
Mar 2016
#28
Ghost Dog
Mar 2016
#37
blackspade
Mar 2016
#24
Iwillnevergiveup
Mar 2016
#25
2naSalit
Mar 2016
#31
TBF
Mar 2016
#34
Ghost Dog
Mar 2016
#38
TBF
Mar 2016
#39
TBF
Mar 2016
#41
modestybl
Mar 2016
#42
HeartoftheMidwest
Mar 2016
#43
TBF
Mar 2016
#46
Stonepounder
Mar 2016
#45
Volaris
Mar 2016
#58
TBF
Mar 2016
#48
passiveporcupine
Mar 2016
#57
Volaris
Mar 2016
#59
TBF
Mar 2016
#60
SoLeftIAmRight
Mar 2016
#53