---
Response to Soph0571 (Original post)
Thu Oct 29, 2020, 06:03 PM
Denzil_DC (6,590 posts)
6. Baroness Warsi has had a lot to say about her treatment by the Tory party and the media
when she's tried to get the Tories to address Islamophobia and other forms of discrimination within its ranks.
Link to tweet
Sayeeda Warsi
@SayeedaWarsi
"Politicians on all sides have a responsibility to set standards ..& to lead the way in challenging racism in all its forms"
The @EHRC has rightly shown leadership on the issue of @UKLabour antisemitism - it must be as committed and brave in tackling @Conservatives Islamophobia
EHRC
@EHRC
"Our recommendations provide a foundation for leaders to make sure that they adhere to equality law and demonstrate their commitment to diversity and inclusion through their words and actions."
@EHRCChair on our Labour Party investigation.
Read more:
http://orlo.uk/uTQsX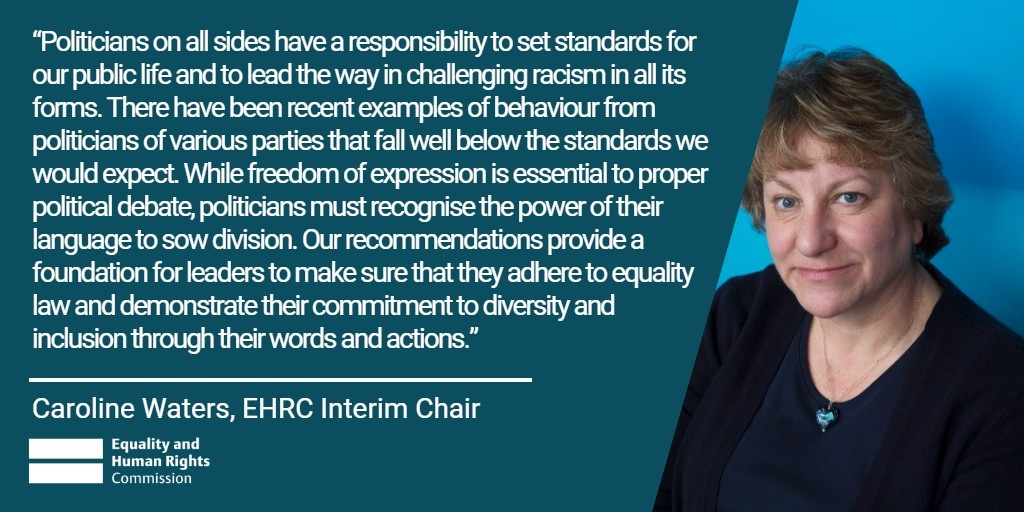 Sayeeda Warsi on Tory Islamophobia: 'It feels like I'm in an abusive relationship'
Half of Conservative party members believe Islam is threat, poll finds
Pointing this out is NOT "whataboutery". Labelling it as such means that any discussion of widespread discrimination is shut down. That helps nobody.
JonLP24 above points to other aspects of systemic party racism. Doing so is not "whataboutery" either.
For some reason, these wider issues have never gained the media traction that the ongoing controversy over Labour antiSemitism has.
The Tories are by no means free of antiSemitism.
Antisemitism and the Conservative Party
The Conservative Party anti-Semitism crisis nobody talks about
John Bercow says he was subject to antisemitic abuse from Conservatives
Tories investigate three candidates over alleged antisemitism
I could supply more links, but what the hell. They're just "whataboutery" too, yeah?
Nobody in their right mind could accuse me of being a Corbynite, and I'd be among the first to say that Corbyn didn't deal with the situation while he was leader as well as one would hope a party leader would.
Starmer is no better in my eyes, in his own way. In fact, my initial neutral impression of him is dwindling into the sense that he's just yet another stuffed shirt blowing in the wind.
Among the allegations for which Corbyn's been condemned is that he was guilty of "inappropriate involvement" to
speed up
the suspension of Ken Livingstone from the Labour Party for allegations of antiSemitism (my inference being that this was probably an attempt to overcome
the sabotage of wilful inertia
I go into a bit more detail about below). This is from the EHRC report: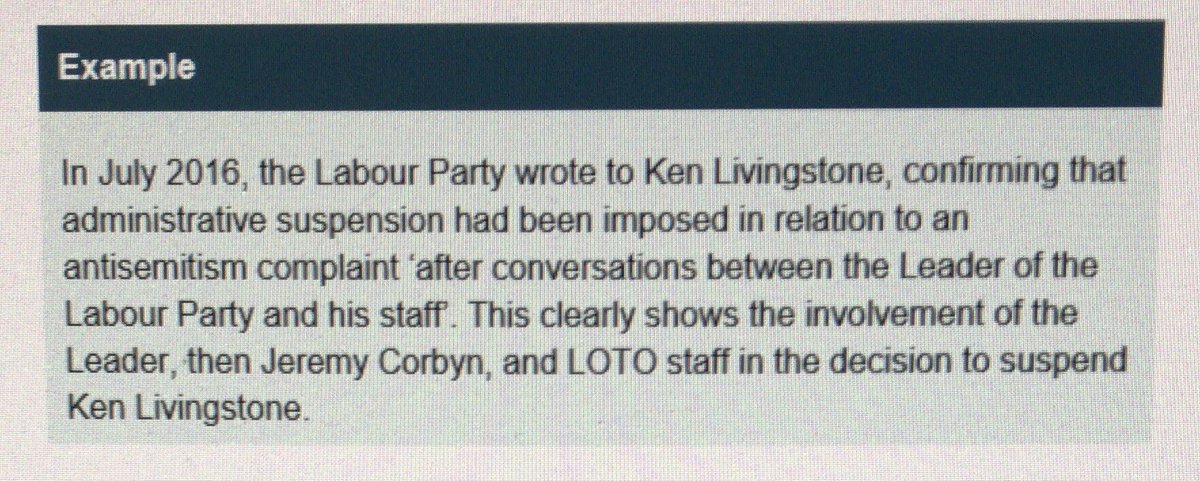 I hope Starmer has followed due procedures in his suspension of Corbyn, and not sought to speed up the process though "inappropriate involvement".
Quite a while after the Livingstone suspension and a lost general election, it emerged that elements within the Labour leadership had been trying to prolong the antiSemitism controversy for their own ends, just as some (overlapping, if not the same) elements sought to sabotage any prospects of a Labour general election win under Corbyn. I've drawn my own conclusions on the evidence available so far, others can draw their own.
This is also from the EHRC report:
I wonder who was Labour leader while these improvements happened?
Replies to this discussion thread
| | | | |
| --- | --- | --- | --- |
| 7 replies | Author | Time | Post |
| | Soph0571 | Oct 2020 | OP |
| | Mike 03 | Oct 2020 | #1 |
| | T_i_B | Oct 2020 | #2 |
| | JonLP24 | Oct 2020 | #3 |
| | T_i_B | Oct 2020 | #5 |
| | Cosmo Blues | Oct 2020 | #4 |
| Baroness Warsi has had a lot to say about her treatment by the Tory party and the media | Denzil_DC | Oct 2020 | #6 |
| | LeftishBrit | Oct 2020 | #7 |
Edit History
Please
login
to view edit histories.