Thu Sep 7, 2017, 02:45 PM
niyad (80,283 posts)
Kate Millett, Influential Feminist Writer, Is Dead at 82 [View all]
Kate Millett, Influential Feminist Writer, Is Dead at 82
Kate Millett at her home in Sacramento in 1974. Credit Jill Krementz, all rights reserved
Kate Millett, whose 1970 book, "Sexual Politics," made her, as one writer put it, "the principal theoretician of the women's liberation movement," and who went on to be a leading voice on human rights, mental health issues and more, died on Wednesday in Paris. She was 82. Her spouse, Sophie Keir, said the cause was cardiac arrest. Living in New York City, they had been going to Paris every year to celebrate their birthdays, she said.
Ms. Millett was in her mid-30s and a generally unknown sculptor when her doctoral dissertation at Columbia University, "Sexual Politics," was published by Doubleday and Co. Her core premise was that the relationship between the sexes is political, with the definition of politics including, as she once said, "arrangements whereby one group of persons is controlled by another." "However muted its appearance may be," Ms. Millett wrote, "sexual dominion obtains nevertheless as perhaps the most pervasive ideology of our culture and provides its most fundamental concept of power."
The book became a central work of what is often called second-wave feminism, but being a star of the movement did not come naturally to Ms. Millett. "Kate achieved great fame and celebrity, but she was never comfortable as a public figure," Eleanor Pam, another leading feminist, said by email. "She was preternaturally shy. Still, she inspired generations of girls and women who read her words, heard her words and understood her words."
. . . . .
https://www.nytimes.com/2017/09/06/obituaries/kate-millett-influential-feminist-writer-is-dead-at-82.html?mcubz=0
Kate Millett, Sexual Politics author, dies at 82
. . . .
'Bible of Women's Liberation'
Sexual Politics was based on Millett's 1969 PhD thesis from New York's Columbia University and made waves soon after being picked up by a publisher. In a 1970 review, the New York Times called it "the Bible of Women's Liberation". In the same year, the title - alongside an artist's portrait of the author - became a Time magazine cover. The book is often filed with other classics of the era, including Betty Friedan's The Feminine Mystique (1963) and Germaine Greer's The Female Eunuch (1970).
Millett was a renowned feminist activist. She also campaigned for the Equal Rights Amendment in the US, for rights to abortions, and for women's rights in Iran, among other things. In 1981, she collaborated with Ms Keir to write Going to Iran, which told of their joint trip to the country in 1979, during the Iranian revolution. The pair had been arrested during the visit after attending women's protests in Tehran, and Millett later told People magazine of the fear she felt, especially as she overheard the authorities talking about her lesbianism, which she had written about openly.
However, she said she was most concerned for the Iranian women she left behind. "They can't get on a plane. That's why international sisterhood is so important," she said.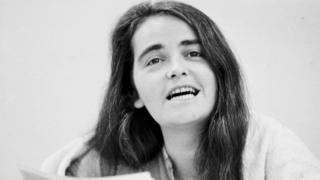 . . . .
http://www.bbc.com/news/world-us-canada-41192087
Postscript: Kate Millet's Radical Spirit
By Rebecca Mead
2:17 P.M.
https://media.newyorker.com/photos/59b1661e7ae17e19caf05f88/master/w_727,c_limit/Mead-Kate-Millet-Postscript.jpg
Kate Millett was best known for her feminist book "Sexual Politics."
Photograph by Cynthia Macadams / The LIFE Images Collection / Getty
Kate Millett, the pioneering feminist author, died this week, at the age of eighty-two. Her obituaries report that she suffered a heart attack while on vacation in Paris, a city she loved, with her spouse, Sophie Keir, on an annual trip the couple took to celebrate their birthdays; it is some small comfort to those who mourn her to hope that her last days were as joyous, adventurous, and loving as that biographical detail suggests.
Millett was born and raised in Minnesota, and studied literature at Oxford University before beginning a career as an artist and writer. She was propelled to unlikely fame in 1970, with the publication of "Sexual Politics," which had started out as her literature dissertation at Columbia University and became one of the seminal texts of second-wave feminism. (Columbia University Press published a new edition of the book in 2016, to which I contributed an afterword that was excerpted on this site.)
"Sexual Politics" is erudite and angry in equal measure: a thrilling and damning critique of the patriarchy and its structural effects. "Male supremacy, like other political creeds, does not finally rely in physical strength but in the acceptance of a value system which is not biological," Millett wrote, and proceeded to demonstrate how that value system was instituted, and how it might be dismantled. First-wave feminism had burned itself out in an attempt to work within the system: having achieved the vote, the movement collapsed in exhaustion. "The suffrage campaign reminds one of nothing so much as a flat tire encountered early on a long journey—a flat which takes so much time, labor and expense to repair that the journey is dejectedly abandoned," Millett wrote, with characteristically pointed humor. The efforts of latter-day feminists, she argued, should not be incremental but revolutionary—should consist in the over-all repudiation of the structural lie upon which society is founded, a lie that insists that gender stereotypes are natural rather than cultural. "There is no way out of such a dilemma but to rebel and be broken, stigmatized and cured," she wrote. "Until the radical spirit revives to free us, we remain imprisoned in the vast gray stockades of the sexual reaction."
Millett, a radical spirit herself, was the subject of a rather perplexed profile in Time, in 1970, which discerned her relevance without having the vision necessary to measure her significance. (An editor's note observed that "reporting on the activities of militant groups is never an easy task" and informed its readers, "in the hope that they could gain an understanding of their subjects that no man could, TIME drew widely on its large group of women staffers to gather material" for the article.) To Time, Millett described the genesis of her book as lying in a speech she gave at Cornell University, in November, 1968. "It was a fiery little speech directed at girls, witty and tart and stuff like that—at least I thought it was," she told her interviewer. "I used to listen to it rhapsodically on tape. It needed a job of editing, but at the time, I thought it was glorious." She was right: it was. "Sexual Politics" remains a model for combining rigor and passion, and a manifesto for a revolution we might yet hope to see completed.
https://www.newyorker.com/books/page-turner/postscript-kate-millets-radical-spirit
Kate Millett, pioneering second-wave feminist, dies aged 82
Author, activist and artist whose 1970 book Sexual Politics was a bestselling and hugely influential critique of patriarchal ideology
Millett pictured in her New York City apartment in 1990.
Millett pictured in her New York City apartment in 1990. Photograph: Barbara Alper/Getty Images
Shares
1,513
Comments
133
Claire Armitstead
Thursday 7 September 2017 07.20 EDT
Last modified on Thursday 7 September 2017 13.13 EDT
?w=620&q=55&auto=format&usm=12&fit=max&s=835634ad1b547013e2be7329076e5da6
Kate Millett, the wayward artist, thinker and activist whose 1970 book Sexual Politics became a keystone of second-wave feminism, has died at the age of 82.
Perhaps aptly for someone who wrote widely and fervently of her pursuit of love, she succumbed to a heart attack during an annual holiday in Paris to celebrate her birthday with her wife and longtime collaborator, the photojournalist Sophie Keir. "Let's always be having an affair. Wherever we meet, however many times a year – let it always be an affair," Millett wrote in Sita, her 1976 account of an earlier lesbian relationship, which, like subsequent autobiographical works, became an exploration of forms of love.
Lena Dunham was among those who paid immediate tribute to her cultural importance, and its continuing impact on a new generation of readers and writers:
So sad to hear about Kate Millett's passing. She pioneered feminist thought, de-stigmatized mental illness, wore massive fashion glasses.
The cultural critic Elaine Showalter said: "A revolution needs leaders, and with Sexual Politics Kate Millett came forward to give the Women's Liberation Movement a national voice and a strong connection to higher education. She was an intellectual and a radical feminist who could also speak effectively to a wide general audience."
. . .
https://www.theguardian.com/books/2017/sep/07/kate-millett-pioneering-second-wave-feminist-dies-aged-82-sexual-politics
1 replies, 1731 views
Replies to this discussion thread