Thu Aug 15, 2013, 09:09 PM
A HERETIC I AM (21,007 posts)
Scotch Eggs (Lots of pics) [View all]
I've been carrying a lunch cooler on and off for a while now, and have begun to take one regularly these days when I am headed out on an overnight trip, which is almost every one! I pack a pretty good lunch, if I do say so myself, but I am always trying to improve the quality and variety beyond the commonplace - the regular P, B & J sandwich and Thermos of soup. I'll make a ham & cheese or roast beef sandwich with all the trimmings, take along chips, a pickle, a piece of fruit or two etc. I'll buy those single serve little yogurts and fruit cups as well.
But I wanted to expand this little moveable feast, if you will and so I've started packing things like a few chunks of pickled herring and marinated artichokes, I just put stuff like that in seperate zip-lock bags.
But the search for more unusual items that will keep in a small ice chest/lunch cooler for up to 2 days got me thinking about good ol' fashioned English Pub Foods.
So I landed on Scotch Eggs.
If you've never heard of this or had them, it's basically a hardboiled egg wrapped in sausage meat and then deep fried.
Like so many recipes, Googling Scotch Eggs will give you many, many results and a nice variety of ingredients and methods, but they are all basically a sausage wrapped hard boiled egg.
So here's mine;
The basic ingredients; Pork sausage, and some herbs and spices to mix into it. 3 hardboiled eggs are cooling.
I am only making 3 here, so I used maybe 3/4 of the roll of sausage and into that I mixed maybe 1/2 tsp of each of the above herbs plus one tablespoon of flour. When it was good and mixed I split it into 3 portions;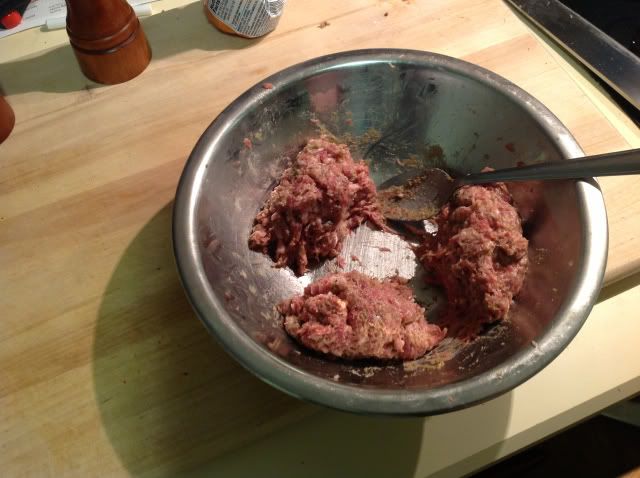 I mixed about 1/2 cup of flour with salt and pepper, some garlic powder, thyme, sage and paprika. I coated the eggs with this;
Now to roll out the sausage. I laid some cling film on the board and placed one of the portions on it, then covered with another sheet of film;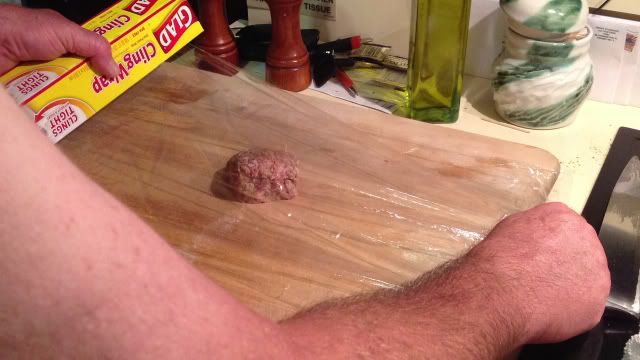 Then rolled it out with my pin;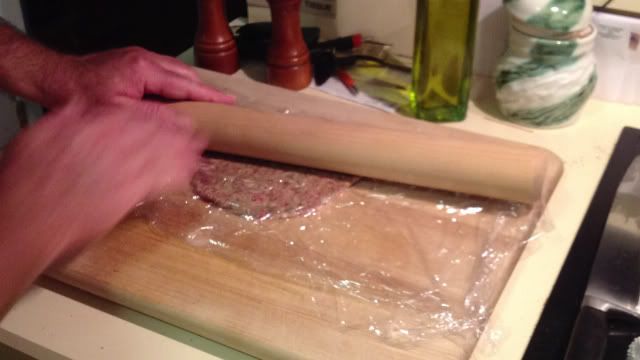 Now to wrap the egg. I placed the first one in the middle and lifting the cling film, proceeded to cover it with the sausage.
Got it all around.
Now to smooth it out
and end up with what looks like a meatball!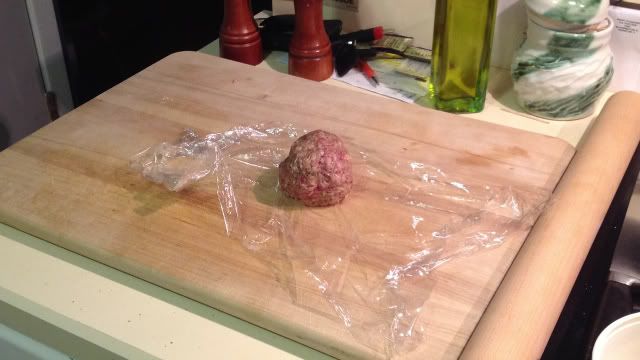 3 of them ready to go;
Now to bread them. The recipes I looked at called for an egg wash and breadcrumbs, so I mixed a raw egg with a dash of cream and put that in a small plastic container. In another plastic container I placed some Italian breadcrumbs.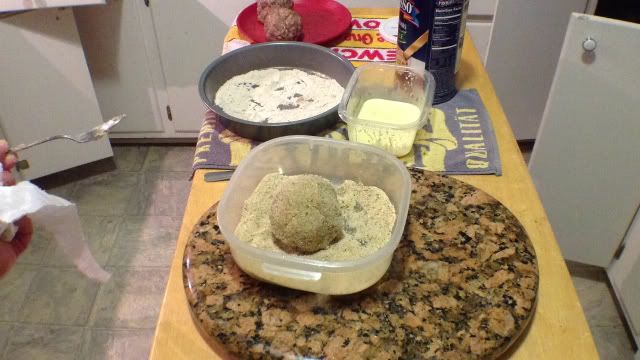 Two of them ready to go;
I don't have a proper deep fryer so I am going to use a small pot with about 2 cups or so of vegetable oil. I used my instant read thermometer to make sure I had the oil about 350 degrees. Marinara and water boiling for my spaghetti dinner. Gently in with the first one;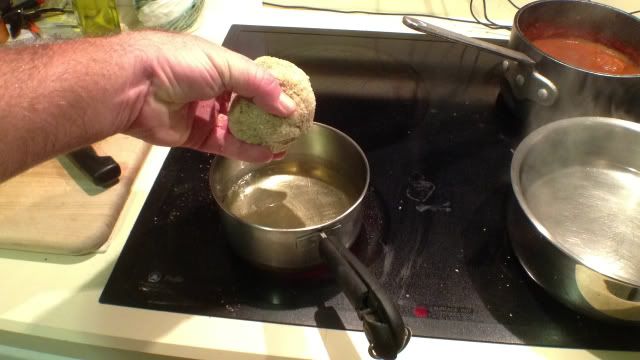 After only about 3 or 4 minutes it was time to turn it.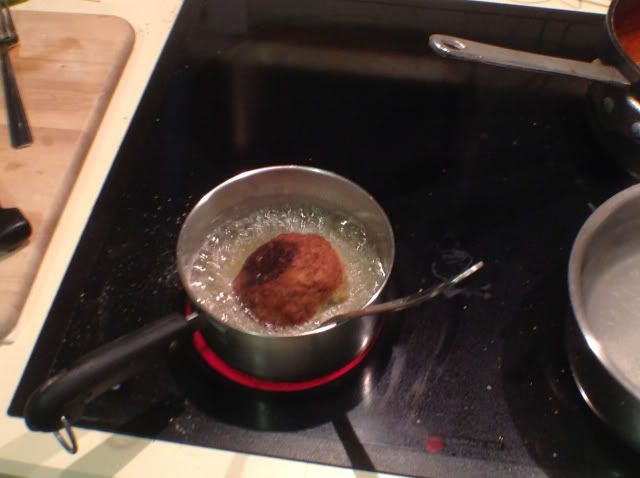 In total it took less than 8 minutes to get it nicely brown all around;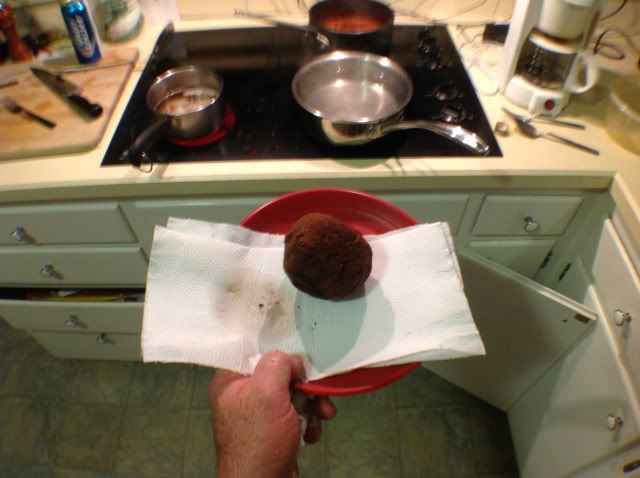 3 of them all finished;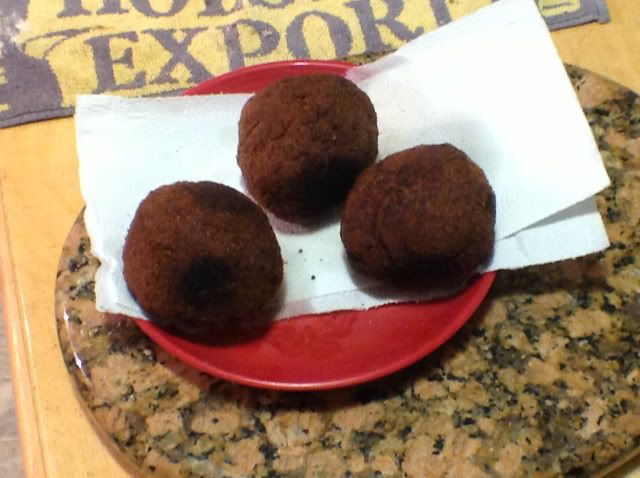 Now for the test - let's see how they look when cut open;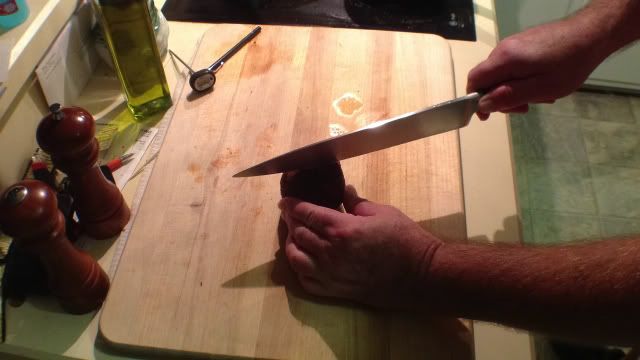 Not bad. Not bad at all;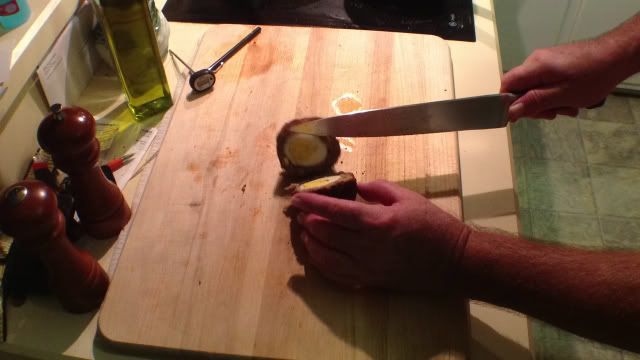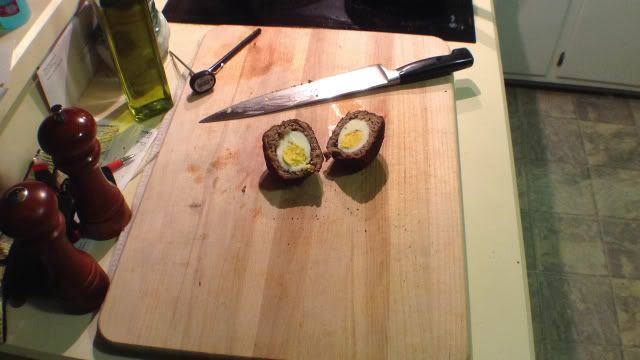 I made a bit of a sauce using ketchup, spicy mustard and some horseradish. It was yum!;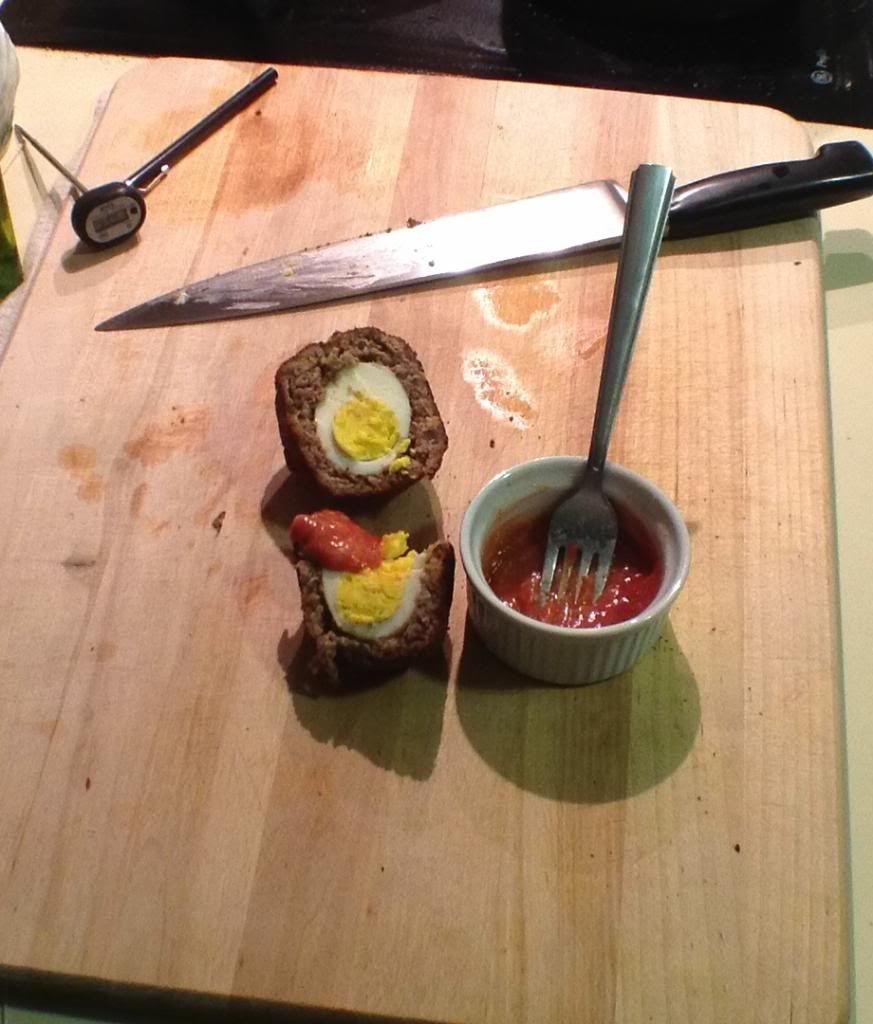 I'm typing this from a hotel in Charleston, SC and I brought one with me. It was delicious chilled as well as warmed in the microwave.
A bit time consuming but really yummy. Give them a try!
Enjoy!
65 replies, 14551 views
Replies to this discussion thread
65 replies
Author
Time
Post

Scotch Eggs (Lots of pics)

[View all]

A HERETIC I AM
Aug 2013
OP
Tuesday Afternoon
Aug 2013
#1
A HERETIC I AM
Aug 2013
#2
Triana
Aug 2013
#3
A HERETIC I AM
Aug 2013
#18
Phlem
Aug 2013
#4
A HERETIC I AM
Aug 2013
#19
nomorenomore08
Aug 2013
#5
A HERETIC I AM
Aug 2013
#20
Jamastiene
Aug 2013
#6
icarusxat
Aug 2013
#17
A HERETIC I AM
Aug 2013
#21
roguevalley
Aug 2013
#7
A HERETIC I AM
Aug 2013
#22
roguevalley
Aug 2013
#34
BillyRibs
Aug 2013
#8
A HERETIC I AM
Aug 2013
#23
MrMickeysMom
Aug 2013
#9
A HERETIC I AM
Aug 2013
#24
bluedeathray
Aug 2013
#10
A HERETIC I AM
Aug 2013
#25
SnowCritter
Aug 2013
#11
A HERETIC I AM
Aug 2013
#26
beerandjesus
Aug 2013
#12
A HERETIC I AM
Aug 2013
#27
bullsnarfle
Aug 2013
#13
A HERETIC I AM
Aug 2013
#28
ficuswoman
Aug 2013
#14
A HERETIC I AM
Aug 2013
#29
Paladin
Aug 2013
#15
A HERETIC I AM
Aug 2013
#30
Lucinda
Aug 2013
#16
A HERETIC I AM
Aug 2013
#31
underpants
Aug 2013
#32
A HERETIC I AM
Aug 2013
#38
populistdriven
Aug 2013
#33
A HERETIC I AM
Aug 2013
#36
Texasgal
Aug 2013
#35
A HERETIC I AM
Aug 2013
#37
Texasgal
Aug 2013
#40
A HERETIC I AM
Aug 2013
#39
Whisp
Aug 2013
#41
A HERETIC I AM
Aug 2013
#46
calikid
Aug 2013
#42
A HERETIC I AM
Aug 2013
#45
LaydeeBug
Aug 2013
#43
A HERETIC I AM
Aug 2013
#44
LaydeeBug
Aug 2013
#50
sir pball
Dec 2013
#64
LaydeeBug
Dec 2013
#65
abelenkpe
Aug 2013
#47
A HERETIC I AM
Aug 2013
#52
msanthrope
Aug 2013
#48
mother earth
Aug 2013
#49
A HERETIC I AM
Aug 2013
#51
blaze
Aug 2013
#53
A HERETIC I AM
Aug 2013
#54
blaze
Aug 2013
#55
A HERETIC I AM
Aug 2013
#56
blaze
Aug 2013
#57
Capt. Obvious
Aug 2013
#58
BlueCollar
Sep 2013
#59
rdharma
Dec 2013
#60
A HERETIC I AM
Dec 2013
#61
rdharma
Dec 2013
#62
A HERETIC I AM
Dec 2013
#63