Wed May 27, 2015, 07:59 AM
GGJohn (9,951 posts)
Fewer and Fewer Americans Own Guns [View all]
X-posted from the other group.
Household gun ownership in America is on a steady, long-term decline.
That's according to data from the latest edition of the General Social Survey (GSS), which is conducted by the National Opinion Research Center (NORC) at the University of Chicago.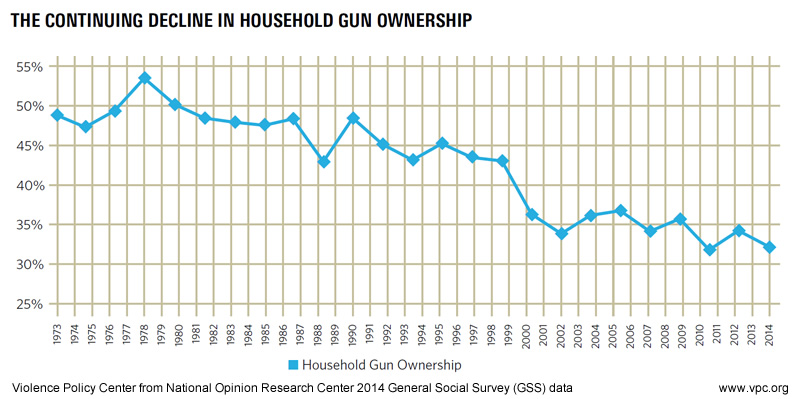 In 1980, 23.5 percent of those under 35 owned a gun while 27.4 percent of those 65 years of age and older owned a gun, an age gap of 3.9 percentage points. By 2014, this gap had expanded to 16.4 percentage points, with gun ownership dropping to 14 percent among those under 35 and increasing to 30.4 percent for those 65 years of age and older.
The facts are these. A clear majority -- two thirds -- of Americans don't have guns in their homes. Almost four out of five Americans don't personally own a gun. And as the gun-owning population continues to age and die off, fewer Americans are taking their place.
http://www.huffingtonpost.com/josh-sugarmann/fewer-and-fewer-americans_b_7382326.html
I've said it many times, there is no way this poll is anywhere near accurate or truthful, I believe that the majority of gun owners won't tell an anonymous pollster that they do own firearms.
It's funny, when I ask the controllers how this can be said as fact, all I get are the standard "NRA talking points" meme or crickets.
46 replies, 6658 views
Replies to this discussion thread
46 replies
Author
Time
Post

Fewer and Fewer Americans Own Guns

[View all]

GGJohn
May 2015
OP
davepc
May 2015
#1
GGJohn
May 2015
#3
Lurks Often
May 2015
#2
benEzra
May 2015
#6
Human101948
May 2015
#7
GGJohn
May 2015
#9
Human101948
May 2015
#12
GGJohn
May 2015
#14
Demit
May 2015
#11
Human101948
May 2015
#15
GGJohn
May 2015
#17
friendly_iconoclast
May 2015
#40
Lurks Often
May 2015
#23
pipoman
May 2015
#4
ileus
May 2015
#20
Eleanors38
May 2015
#29
benEzra
May 2015
#5
Human101948
May 2015
#8
GGJohn
May 2015
#10
Human101948
May 2015
#13
GGJohn
May 2015
#16
Eleanors38
May 2015
#30
discntnt_irny_srcsm
May 2015
#31
Eleanors38
May 2015
#32
discntnt_irny_srcsm
May 2015
#34
jimmy the one
May 2015
#24
jimmy the one
May 2015
#25
Shamash
May 2015
#18
ileus
May 2015
#19
sarisataka
May 2015
#21
GGJohn
May 2015
#22
LongTomH
May 2015
#26
discntnt_irny_srcsm
May 2015
#33
HockeyMom
May 2015
#27
Eleanors38
May 2015
#28
Human101948
May 2015
#35
Eleanors38
May 2015
#36
Human101948
May 2015
#38
friendly_iconoclast
May 2015
#41
Eleanors38
May 2015
#45
Eleanors38
May 2015
#46
pablo_marmol
May 2015
#37
Human101948
May 2015
#39
pablo_marmol
May 2015
#42
DonP
May 2015
#43
Duckhunter935
May 2015
#44