Sun May 10, 2015, 01:54 PM
mr blur (7,753 posts)
"All religions, if you shrink them down, are all about controlling women's sexuality…" [View all]
Last edited Sun May 10, 2015, 04:07 PM - Edit history (1)
[div class="excerpt" style="background-color:#deedfc; color:#00000 0; margin-left:1em; border:1px dashed #7a7b7d ; border-radius:1em; box-shadow:4px 4px 4px #999999;"]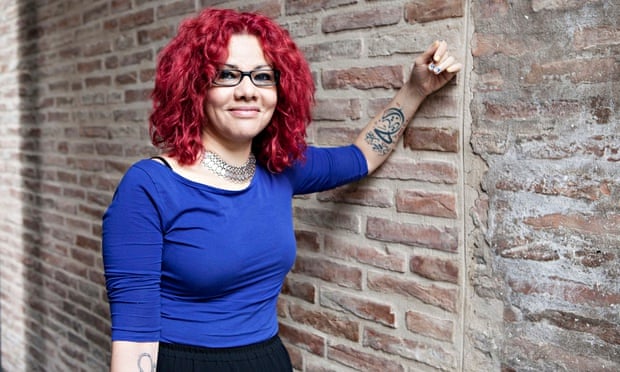 Mona Eltahawy is an award-winning journalist and commentator on Arab and Muslim issues and global feminism. Born in Port Said, Egypt, in 1967, she moved to the UK with her parents (both doctors) when she was seven and then to Saudi Arabia when she was 15. In November 2011, while covering the protests in Egypt, she was physically and sexually assaulted by riot police, and detained for 12 hours by the Interior Ministry and Military Intelligence. The following year, her examination of misogyny in the Muslim world entitled "Why Do They Hate Us?" became a viral sensation. She has now expanded the original article into a book, Headscarves and Hymens: Why the Middle East Needs a Sexual Revolution. Eltahawy lives in Cairo and New York.

Your book is part-manifesto, part-memoir and includes testimony from Muslim women who have experienced abuse throughout their lives. You mention cases of female genital mutilation and rape. Was it difficult to write?

Incredibly difficult. Many times, I literally had to walk away from my laptop. It was triggering for me, especially when writing about sexual assault because of my own experience, not just of the assault but of misogyny. It was not an easy book

<snip>



Incredibly brave woman. And Christians think they're persecuted? Riiiight.

http://www.theguardian.com/world/2015/may/10/mona-eltahawy-interview-religions-obsessed-vagina-headscarves-and-hymens

(Edit: forgot to add): Video at link.



39 replies, 4290 views
Replies to this discussion thread
39 replies
Author
Time
Post

"All religions, if you shrink them down, are all about controlling women's sexuality…"

[View all]

mr blur
May 2015
OP
F4lconF16
May 2015
#1
Curmudgeoness
May 2015
#12
F4lconF16
May 2015
#15
Curmudgeoness
May 2015
#21
F4lconF16
May 2015
#22
LostOne4Ever
May 2015
#26
F4lconF16
May 2015
#35
Duppers
May 2015
#16
F4lconF16
May 2015
#18
LostOne4Ever
May 2015
#27
Cartoonist
May 2015
#2
truebrit71
May 2015
#3
PeaceNikki
May 2015
#8
truebrit71
May 2015
#9
onager
May 2015
#23
Arugula Latte
May 2015
#4
mountain grammy
May 2015
#24
Lordquinton
May 2015
#25
edhopper
May 2015
#5
PeaceNikki
May 2015
#6
PeaceNikki
May 2015
#7
Goblinmonger
May 2015
#10
Mojorabbit
May 2015
#11
Curmudgeoness
May 2015
#13
Warpy
May 2015
#14
F4lconF16
May 2015
#17
beam me up scottie
May 2015
#19
AlbertCat
May 2015
#20
Fumesucker
May 2015
#28
Serial Mom
May 2015
#29
PeaceNikki
May 2015
#31
Serial Mom
May 2015
#32
PeaceNikki
May 2015
#33
beam me up scottie
May 2015
#34
onager
May 2015
#30
MindPilot
May 2015
#36
TheHardWay
May 2015
#37
Lordquinton
May 2015
#38
Yorktown
May 2015
#39