Fri Mar 4, 2016, 02:29 PM
JaneyVee (19,877 posts)
Report: Bernie Sanders proposes $15T in tax increases, hitting most taxpayers . [View all]
Last edited Fri Mar 4, 2016, 09:39 PM - Edit history (2)
Democratic presidential candidate Bernie Sanders has proposed $15.3 trillion in tax increases, according to a new report, and would raise rates on virtually everyone, including the politically all-important middle class.
Not surprisingly for a candidate who has made income inequality his central issue, Sanders's plan would wallop the rich, an analysis released Friday by the Tax Policy Center shows.
The top 0.1 percent would see their tax bills go up by more than $3 million, the report said, which would cut their after-tax incomes by almost half.
But Sanders, going where few politicians dare, would also raise taxes on middle- and low-income families, with those in the dead center of the income spectrum facing a $4,700 tax increase. That would reduce their after-tax incomes by 8.5 percent, the report said.
Read more: 
http://www.politico.com/story/2016/03/bernie-sanders-tax-increases-220267#ixzz41xbGl1Yw
ETA: The funniest part about thread responses are that BERNIE ADMITTED MIDDLE CLASS TAXES WILL GO UP. Some of you just arent hearing it though.
https://lettertosanders.wordpress.com/2016/02/17/open-letter-to-senator-sanders-and-professor-gerald-friedman-from-past-cea-chairs/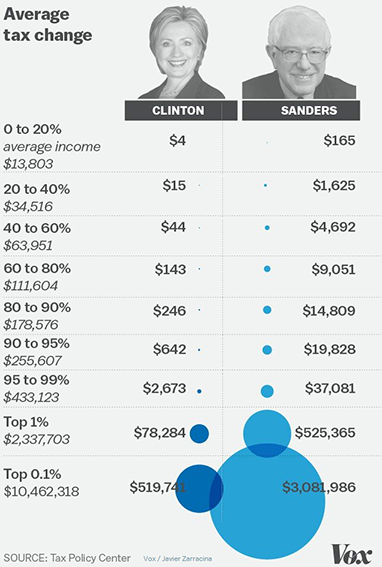 89 replies, 4846 views
Replies to this discussion thread
89 replies
Author
Time
Post

Report: Bernie Sanders proposes $15T in tax increases, hitting most taxpayers .

[View all]

JaneyVee
Mar 2016
OP
litlbilly
Mar 2016
#1
JaneyVee
Mar 2016
#5
UglyGreed
Mar 2016
#29
amborin
Mar 2016
#2
JaneyVee
Mar 2016
#11
TheBlackAdder
Mar 2016
#3
drokhole
Mar 2016
#4
JaneyVee
Mar 2016
#7
Alfresco
Mar 2016
#6
jillan
Mar 2016
#8
JaneyVee
Mar 2016
#9
jillan
Mar 2016
#15
JaneyVee
Mar 2016
#17
MattSh
Mar 2016
#26
CoffeeCat
Mar 2016
#28
JaneyVee
Mar 2016
#37
2pooped2pop
Mar 2016
#42
JaneyVee
Mar 2016
#45
2pooped2pop
Mar 2016
#48
JaneyVee
Mar 2016
#50
TM99
Mar 2016
#64
JaneyVee
Mar 2016
#66
TM99
Mar 2016
#69
JaneyVee
Mar 2016
#72
TM99
Mar 2016
#74
Gothmog
Mar 2016
#87
Nonhlanhla
Mar 2016
#10
JaneyVee
Mar 2016
#13
jillan
Mar 2016
#16
JaneyVee
Mar 2016
#19
jillan
Mar 2016
#22
JaneyVee
Mar 2016
#39
jillan
Mar 2016
#40
JaneyVee
Mar 2016
#51
dana_b
Mar 2016
#52
oasis
Mar 2016
#12
Armstead
Mar 2016
#30
oasis
Mar 2016
#33
Armstead
Mar 2016
#36
oasis
Mar 2016
#47
scscholar
Mar 2016
#63
dana_b
Mar 2016
#35
Gore1FL
Mar 2016
#14
EndElectoral
Mar 2016
#18
JaneyVee
Mar 2016
#20
jillan
Mar 2016
#25
Vinca
Mar 2016
#21
jillan
Mar 2016
#24
Go Vols
Mar 2016
#89
dirtydickcheney
Mar 2016
#23
HooptieWagon
Mar 2016
#27
yodermon
Mar 2016
#31
JaneyVee
Mar 2016
#41
NurseJackie
Mar 2016
#32
msanthrope
Mar 2016
#79
NurseJackie
Mar 2016
#80
msanthrope
Mar 2016
#81
DefenseLawyer
Mar 2016
#34
CoffeeCat
Mar 2016
#38
JaneyVee
Mar 2016
#43
redstateblues
Mar 2016
#44
dana_b
Mar 2016
#49
redstateblues
Mar 2016
#85
Fast Walker 52
Mar 2016
#73
Lans
Mar 2016
#46
raging moderate
Mar 2016
#53
Name removed
Mar 2016
#54
JaneyVee
Mar 2016
#57
vdogg
Mar 2016
#55
JaneyVee
Mar 2016
#58
redstateblues
Mar 2016
#84
Gothmog
Mar 2016
#56
pdsimdars
Mar 2016
#59
thesquanderer
Mar 2016
#60
JaneyVee
Mar 2016
#61
thesquanderer
Mar 2016
#62
JaneyVee
Mar 2016
#65
Kittycat
Mar 2016
#82
PaulaFarrell
Mar 2016
#75
Jitter65
Mar 2016
#67
PaulaFarrell
Mar 2016
#78
Nanjeanne
Mar 2016
#68
Kittycat
Mar 2016
#83
pdsimdars
Mar 2016
#70
Doctor_J
Mar 2016
#71
Svafa
Mar 2016
#76
fredamae
Mar 2016
#77
Yo_Mama_Been_Loggin
Mar 2016
#86
UglyGreed
Mar 2016
#88