Thu Nov 3, 2016, 11:17 PM
sheshe2 (72,968 posts)
Hillary Isnít Obama, But She Doesnít Have To Be [View all]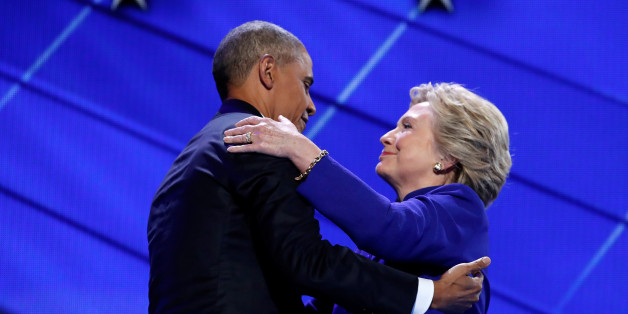 The early voting returns show two unsurprising things. One is that black voters are turning out in smaller numbers in some areas than they did in the 2008 and 2012 presidential elections. The other is that the relatively lighter turnout is in marked contrast to the near record turnout among black voters for candidate Obama in 2008 and President Obama in 2012.
Much shouldnít be made of this for the simple fact that Clinton is not Obama. Clinton doesnít need to match his total among black votes to win the White House. Clinton could never duplicate the euphoria that Obama generated among blacks. His candidacy was not seen as a candidacy, but a crusade ó a history-making crusade. Blacks did not just see this as a chance to put a black president in office, but a chance to snatch a piece of history along the way.
Obama was seen not as a distant, remote, traditional presidential candidate, but almost as a family member ó someone to embrace and take personal pride in their accomplishments. Many blacks in the past were apathetic, lethargic and indifferent to the political process because they thought their vote made no difference, or because of their antipathy to the Democrats, whom they accused of plantationism for taking the black vote for granted and giving little in return.
But the GOP threw down the gauntlet with its crudely disguised, full-throated effort to suppress the black vote, especially in the must-win swing states such as Ohio, Florida and Pennsylvania. This stirred deep anger and resentment among even the wayward black voters at the GOPís naked suppression ploy, and drove even more to the polls for Obama.
Even if none of those pluses and minuses for Clinton were in play, her big political ace-in-the-hole to ensure that she got close to the same overall percentage of the black votes as Obama got in 2012 was Trump. His naked race baiting, polarizing digs, insults, cracks and history of bigotry against blacks quickly materialized in some polls showing him getting zero percent of the black vote. His few showy, media photo-op spectacles at a few handpicked black churches with a thoroughly sanitized audience, fooled no one, and simply added more insult to injury with blacks.
snip/
Read More:
http://www.huffingtonpost.com/earl-ofari-hutchinson/hillary-isnt-obama-but-sh_b_12759254.html?section=us_black-voices
7 replies, 501 views
Replies to this discussion thread
7 replies
Author
Time
Post

Hillary Isnít Obama, But She Doesnít Have To Be

[View all]

sheshe2
Nov 2016
OP
HassleCat
Nov 2016
#1
sheshe2
Nov 2016
#2
duffyduff
Nov 2016
#3
sheshe2
Nov 2016
#5
Cha
Nov 2016
#4
sheshe2
Nov 2016
#6
Cha
Nov 2016
#7