Wed Dec 23, 2015, 05:33 PM
WillyT (72,631 posts)
Whoa II... Shit Just Got Real... 'Dear Hillary, Let Me Introduce You to My Abuela' - HuffPo [View all]
Dear Hillary, Let Me Introduce You to My Abuela
Barbara Sostaita - Latin Voices/HuffPo
Posted: 12/23/2015 9:08 am EST Updated: 12/23/2015 9:59 am EST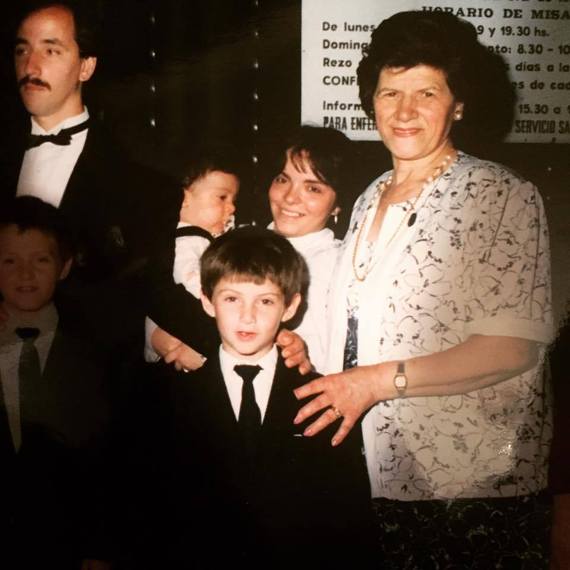 <snip>
Dear Hillary,
Yesterday, a post appeared on your blog titled "8 Ways Hillary Clinton Is Just Like Your Abuela." Many Latinxs took offense to this article. My friends at Latino Rebels published a response to your blog post, including a round up of Twitter reactions, found here:
http://www.latinorebels.com/2015/12/22/just-when-you-thought-hillary-clinton-couldnt-hispander-any-more-she-did-it-again/
Your post also troubles me. Not only because it says you "care about children everywhere," yet you once said Central American refugee children "should be sent back." Not even because you've once again appropriated our language and our culture when it's convenient for your political agenda. I'm upset because of my real, flesh-and-blood abuela, because your narrative erases her reality.
Let me introduce you to my abuela.
My abuela grew up in Buenos Aires in the 1930s and '40s. An orphan, she lived in a nunnery until the age of 18 and, later, with the family whose children she nannied until she met and married my grandfather. My abuela lived through Argentina's Great Depression, through a violent military coup in 1976, through thousands of deaths and disappearances during what is now known as the "Dirty War."
She cried when Evita died. She cried when her husband died of cancer. She cried when she heard that thousands of young boys who could have been her sons died in a failed attempt to save Las Islas Malvinas from the United Kingdom. My grandmother's life was not just the pain of imperialism and the suffering brought on by a cruel political system, however. In 1964, her only son -- my father -- was born.
In 1983, she returned to the polls to choose a president in the new democracy. In 1990, she saw her son marry the love of his life. The next year, she held her first grandchild in her arms for the first time. You see, Hillary, my abuela is nothing like you.
In 1999, my abuela was once again left orphaned when my parents, my sister and I were pushed out of Argentina for economic reasons and forced to resettle in the United States. While Hillary lived in the White House, my sister and I lived apart from our only living grandmother.
Separated from her for six years, we were unable to feel our abuela's love. Meanwhile, she was kept from the only family she had left. In 2005...
<snip>
More:
http://www.huffingtonpost.com/barbara-sostaita-/dear-hillary-let-me-introduce-you-to-my-abuela_b_8865684.html
110 replies, 10607 views
Replies to this discussion thread
110 replies
Author
Time
Post

Whoa II... Shit Just Got Real... 'Dear Hillary, Let Me Introduce You to My Abuela' - HuffPo

[View all]

WillyT
Dec 2015
OP
thereismore
Dec 2015
#1
Bubzer
Dec 2015
#10
Enthusiast
Dec 2015
#16
Bubzer
Dec 2015
#21
Fuddnik
Dec 2015
#44
FrodosPet
Dec 2015
#58
Ken Burch
Dec 2015
#62
Divernan
Dec 2015
#99
MissDeeds
Dec 2015
#15
InAbLuEsTaTe
Dec 2015
#78
arcane1
Dec 2015
#31
Rosa Luxemburg
Dec 2015
#33
840high
Dec 2015
#50
Scuba
Dec 2015
#51
CorporatistNation
Dec 2015
#68
Juicy_Bellows
Dec 2015
#2
CharlotteVale
Dec 2015
#5
MisterP
Dec 2015
#9
farleftlib
Dec 2015
#11
Duval
Dec 2015
#20
Proserpina
Dec 2015
#24
Juicy_Bellows
Dec 2015
#26
Proserpina
Dec 2015
#27
Juicy_Bellows
Dec 2015
#29
Manifestor_of_Light
Dec 2015
#32
Proserpina
Dec 2015
#34
Manifestor_of_Light
Dec 2015
#37
Proserpina
Dec 2015
#38
Fuddnik
Dec 2015
#45
notadmblnd
Dec 2015
#52
Manifestor_of_Light
Dec 2015
#70
CBGLuthier
Dec 2015
#77
Richard D
Dec 2015
#35
Ken Burch
Dec 2015
#67
Spirochete
Dec 2015
#101
Proserpina
Dec 2015
#102
mhatrw
Dec 2015
#43
roguevalley
Dec 2015
#55
Ken Burch
Dec 2015
#66
Ed Suspicious
Dec 2015
#53
Ken Burch
Dec 2015
#63
JackInGreen
Dec 2015
#82
pangaia
Dec 2015
#3
Scootaloo
Dec 2015
#14
InAbLuEsTaTe
Dec 2015
#79
JackRiddler
Dec 2015
#25
pangaia
Dec 2015
#28
JackRiddler
Dec 2015
#30
roguevalley
Dec 2015
#56
pangaia
Dec 2015
#59
roguevalley
Dec 2015
#74
Divernan
Dec 2015
#100
LuvLoogie
Dec 2015
#4
okasha
Dec 2015
#106
99Forever
Dec 2015
#6
roguevalley
Dec 2015
#7
artislife
Dec 2015
#39
roguevalley
Dec 2015
#54
artislife
Dec 2015
#91
shawn703
Dec 2015
#8
Sancho
Dec 2015
#12
Motown_Johnny
Dec 2015
#13
Sancho
Dec 2015
#22
Motown_Johnny
Dec 2015
#48
roguevalley
Dec 2015
#57
Cassiopeia
Dec 2015
#17
artislife
Dec 2015
#40
DhhD
Dec 2015
#96
Enthusiast
Dec 2015
#18
Duval
Dec 2015
#19
NCTraveler
Dec 2015
#23
KittyWampus
Dec 2015
#36
artislife
Dec 2015
#41
Luminous Animal
Dec 2015
#49
Matariki
Dec 2015
#42
Number23
Dec 2015
#46
Bonobo
Dec 2015
#65
DisgustipatedinCA
Dec 2015
#72
Number23
Dec 2015
#73
Bonobo
Dec 2015
#75
Number23
Dec 2015
#76
Post removed
Dec 2015
#80
Number23
Dec 2015
#84
Cha
Dec 2015
#86
Number23
Dec 2015
#87
Cha
Dec 2015
#89
sabrina 1
Dec 2015
#83
senz
Dec 2015
#103
JunkyardAngel83
Dec 2015
#81
Number23
Dec 2015
#85
TheDebbieDee
Dec 2015
#47
Dawson Leery
Dec 2015
#61
Kentonio
Dec 2015
#88
artislife
Dec 2015
#92
murielm99
Dec 2015
#97
Dawson Leery
Dec 2015
#110
WillyT
Dec 2015
#60
Ken Burch
Dec 2015
#64
okasha
Dec 2015
#90
artislife
Dec 2015
#93
okasha
Dec 2015
#95
Ken Burch
Dec 2015
#104
okasha
Dec 2015
#105
nc4bo
Dec 2015
#107
okasha
Dec 2015
#108
nc4bo
Dec 2015
#109
Nonhlanhla
Dec 2015
#69
artislife
Dec 2015
#94
ram2008
Dec 2015
#71
Divernan
Dec 2015
#98