Congratulations to our presumptive Democratic nominee, Joe Biden!
Mon Mar 9, 2020, 02:30 AM
UncleNoel (858 posts)
Meet the Press: It is Biden who is firing up Voter Turnout, not Sanders. [View all]
Link to tweet
Thanks to the biden battalion
@laughinatthegop
Biden is reignighting the Obama coalition, firing up even reliably suburn Republican strongholds.
Here are a couple of pics from the segment.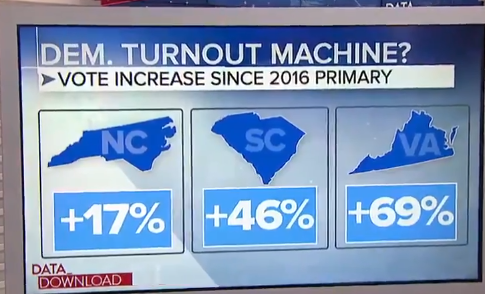 Joegernaut, MoJoe, JoeMentum
Joe will beat tRump like adrum!
If I were to vote in a presidential
primary today, I would vote for:
Joe Biden
34 replies, 2073 views
Replies to this discussion thread
34 replies
Author
Time
Post

Meet the Press: It is Biden who is firing up Voter Turnout, not Sanders.

[View all]

UncleNoel
Mar 2020
OP
Recursion
Mar 2020
#1
djacq
Mar 2020
#13
11 Bravo
Mar 2020
#30
Cha
Mar 2020
#2
UncleNoel
Mar 2020
#3
Cha
Mar 2020
#7
Mme. Defarge
Mar 2020
#4
True Blue American
Mar 2020
#14
Mme. Defarge
Mar 2020
#23
True Blue American
Mar 2020
#25
MustLoveBeagles
Mar 2020
#32
SunSeeker
Mar 2020
#5
UncleNoel
Mar 2020
#6
SunSeeker
Mar 2020
#8
UncleNoel
Mar 2020
#9
LittleGirl
Mar 2020
#10
UncleNoel
Mar 2020
#11
LittleGirl
Mar 2020
#19
Amishman
Mar 2020
#21
griloco
Mar 2020
#12
wishstar
Mar 2020
#15
UncleNoel
Mar 2020
#16
NurseJackie
Mar 2020
#17
oasis
Mar 2020
#22
True Blue American
Mar 2020
#26
Demsrule86
Mar 2020
#18
calimary
Mar 2020
#33
Gothmog
Mar 2020
#20
honest.abe
Mar 2020
#24
pandr32
Mar 2020
#27
showblue22
Mar 2020
#28
Turin_C3PO
Mar 2020
#29
Cha
Mar 2020
#31
SunsetDreams2
Mar 2020
#34