Wed May 23, 2018, 07:05 AM
IronLionZion (39,585 posts)
These are the only two owners of color in the NFL
http://money.cnn.com/2018/05/18/news/nfl-nba-mlb-owners-diversity/index.html?iid=surge-story-summary
The three biggest US sports leagues have just six people of color as principal owners.
Team ownership is still largely the territory of white men.
It's a trend that doesn't look like it'll change anytime soon.
"Historically the wealth in this country belongs to white males," said sports attorney Richard Roth. "It's the same reason most Fortune 500 companies, most law firms, etc. are owned by white males."
Owning a pro sports team can be very lucrative but they're also obscenely expensive to buy, fetching billions of dollars. That's something even most wealthy people can't afford single-handedly, according to Roth.
"I do believe you'll see more [people of color] break that glass ceiling," he said. "It just takes a little longer because of the size of the money."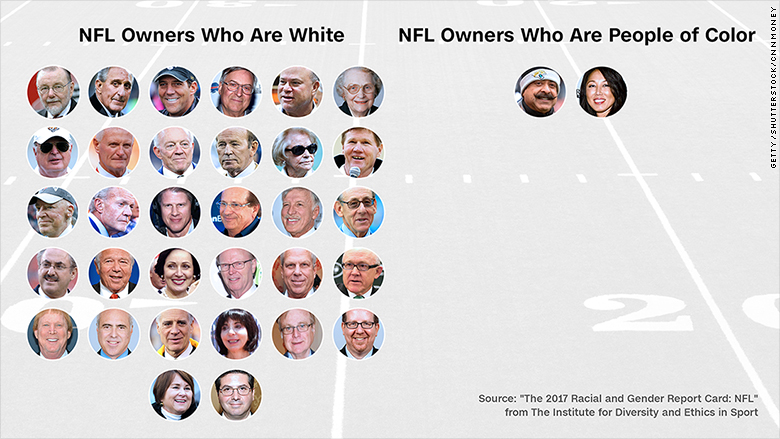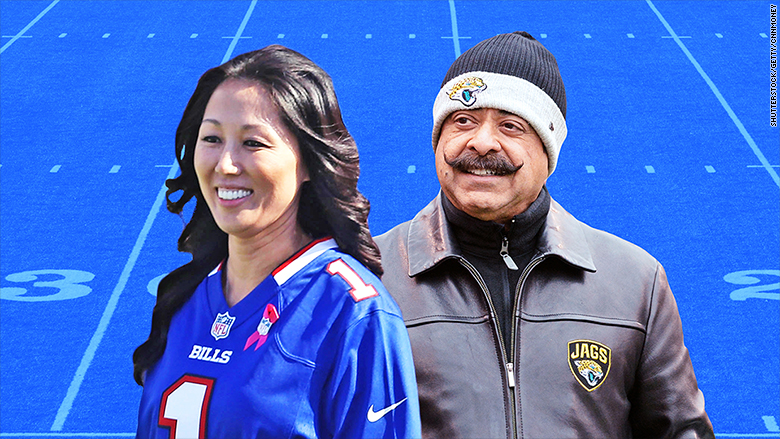 Kim Pegula, co-owner of the Buffalo Bills, and Shahid Khan, owner of the Jacksonville Jaguars.
First we steal your jobs. Then we steal your NFL teams. Eventually we'll steal your hearts too.
There are also about 5 white women owners in the NFL. That's notable too.
4 replies, 1610 views
Replies to this discussion thread
| | | | |
| --- | --- | --- | --- |
| 4 replies | Author | Time | Post |
| These are the only two owners of color in the NFL (Original post) | IronLionZion | May 2018 | OP |
| | Raven123 | May 2018 | #1 |
| | IronLionZion | May 2018 | #4 |
| | heaven05 | May 2018 | #2 |
| | Ferrets are Cool | May 2018 | #3 |
---
Response to IronLionZion (Original post)
Wed May 23, 2018, 07:47 AM
Raven123 (3,300 posts)
1. Perhaps Greenbay as well
As a publicly owned team, probably owned by people of multiple colors.
---
Response to Raven123 (Reply #1)
Wed May 23, 2018, 09:28 AM
IronLionZion (39,585 posts)
4. I wish more teams followed that model
it's better when a city doesn't have to issue lots of special incentives to bribe a team to not move to another city.


---
Response to IronLionZion (Original post)
Wed May 23, 2018, 08:23 AM
heaven05 (18,124 posts)
2. the white owners
are contemplating big fines for those who take a knee or some type of punitive measures. They don't want to lose money because those pesky AA and allies want to KEEP a spotlight on what the ameriKKKan political-monied class has tried so hard to hide for all these generations in a country filled with ameriKKKans who are racist, deadly and itching for a 2nd Civil War. Fascists all, just like their potus and GOP.
---
Response to IronLionZion (Original post)
Wed May 23, 2018, 08:39 AM
Ferrets are Cool (17,494 posts)
3. Worse in MLB
Major League Baseball, which also has 30 teams, is the least diverse. Arte Moreno, who is Mexican American, is the only person of color to be the majority owner of a team.