Sat Nov 16, 2019, 06:43 PM
Kid Berwyn (8,603 posts)
Trumpster File: John SOLOMON
BOLO: Consider armed with disinformation.
A Dozen Questions for John Solomon
by Sidney Blumenthal
November 5, 2019
EXCERPT...
Solomon began his career as a reporter for the Associated Press, but subsequently bounced around in right-wing media from the Washington Times to a website called Circa News (owned by Sinclair Media and now defunct). In 2012, the Columbia Journalism Review concluded that Solomon "has a history of bending the truth to his story line" and "distorting facts and hyping petty stories." Among his claims to infamy is publishing the debunked Uranium One conspiracy.
Starting in March of this year, Solomon's articles in The Hill and his tweets spun out a web of conspiracy theories, in some cases then tweeted by Trump: that parts of the Ukrainian government in coordination with the U.S. ambassador to the Ukraine Marie Yovanovitch colluded to help Hillary Clinton's campaign by leaking financial records of Paul Manafort, Trump's campaign chairman (who had been a consultant to the Russian backed Ukrainian president deposed in the 2014 revolution Viktor Yanukovych); that the U.S. ambassador had pressured the Ukraine prosecutor not to investigate a George Soros-backed group and "Soros-connected names" who helped the Clinton campaign in the alleged scheme; and that the ambassador told the prosecutor not to investigate a list of individuals and that, according to the prosecutor, former Vice President Joe Biden was supposedly attempting to quash the prosecutor's probe of his son Hunter's involvement with Burisma, a Ukrainian gas company.
Solomon depicted a second innocent victim of these conspiracies in addition to Trump: Ukrainian oligarch Dimitry Firtash, "a major target of the Soros group." Firtash — close to Russian President Vladimir Putin and Russian mafia kingpin Semion Mogilevich, and a chief financier of former Ukrainian president Yanukovych — is fighting extradition to avoid U.S. federal charges of bribery and racketeering. Solomon wrote that Robert Mueller's investigation was attempting to frame Firtash to get "some dirt on Donald Trump," but that the case against Firtash was "falling apart." Solomon stated, "The oligarch's defense team told me that Firtash rejected the deal because he didn't have credible information or evidence."
The State Department labeled the charges in Solomon's initial article about Yovanovitch "an outright fabrication." Later, the Ukrainian prosecutor Solomon quoted as his source, Yuri Lutsenko, was dismissed from his position and disavowed Solomon's reporting, saying that Hunter Biden "did not violate anything" and now said that his statements to Solomon about a do-not-prosecute list were false. Lutsenko is now under criminal investigation for abuse of power. Meanwhile, the effort to extradite Firtash to face corruption charges continues.
SNIP...
7. You claim that you met Parnas through Congressman Pete Sessions. When did you first become aware of the Parnas and Fruman financial contributions to Sessions? What other favors has Sessions done for you?
CONTINUES...
https://www.justsecurity.org/66962/a-dozen-questions-for-john-solomon/
11 replies, 1510 views
Replies to this discussion thread
| | | | |
| --- | --- | --- | --- |
| 11 replies | Author | Time | Post |
| Trumpster File: John SOLOMON (Original post) | Kid Berwyn | Nov 2019 | OP |
| | OhNo-Really | Nov 2019 | #1 |
| | Kid Berwyn | Nov 2019 | #3 |
| | OhNo-Really | Nov 2019 | #5 |
| | Faux pas | Nov 2019 | #2 |
| | Kid Berwyn | Nov 2019 | #4 |
| | OhNo-Really | Nov 2019 | #6 |
| | Kid Berwyn | Nov 2019 | #8 |
| | Grins | Nov 2019 | #10 |
| | Kid Berwyn | Nov 2019 | #11 |
| | VarryOn | Nov 2019 | #7 |
| | Kid Berwyn | Nov 2019 | #9 |
---
Response to Kid Berwyn (Original post)
Sat Nov 16, 2019, 06:47 PM
OhNo-Really (3,578 posts)
1. Kent's deposition exposed this
---
Response to OhNo-Really (Reply #1)
Sat Nov 16, 2019, 07:17 PM
Kid Berwyn (8,603 posts)
3. Thank you for the testimony.
---
Response to Kid Berwyn (Reply #3)
Sat Nov 16, 2019, 07:36 PM
OhNo-Really (3,578 posts)
5. Here's a better Lent Depositions link
---
Response to Kid Berwyn (Original post)
Sat Nov 16, 2019, 07:04 PM
Faux pas (12,347 posts)
2. Kickin' with disgust!
---
Response to Faux pas (Reply #2)
Sat Nov 16, 2019, 07:25 PM
Kid Berwyn (8,603 posts)
4. Steams me, too. Solomon in 2016 smeared Ms. Clinton.
Now the same guy is adding to the unhistory of 2016 by creating a Ukrainian conspiracy to assist the Democrats — plus inventing phony criminality to libel the American veep's kid in time for 2020.

No wonder Donnie Putinpuppet said he deserved a Pulitzer.


---
Response to Kid Berwyn (Reply #4)
Sat Nov 16, 2019, 07:38 PM
OhNo-Really (3,578 posts)
6. I'm beginning to think he's the brains in all this
A formerly esteemed journalist

Starts with end in mind then choreographs the moves of useful idiots

🤔 on to something
---
Response to OhNo-Really (Reply #6)
Sat Nov 16, 2019, 08:28 PM
Kid Berwyn (8,603 posts)
8. The guy once was Executive Editor at Washington Times -- Moonie Times
You may be correct regarding the slippery fellow, Solomon.
Here's a photo of his late one-time employer with the late Jerry Falwell.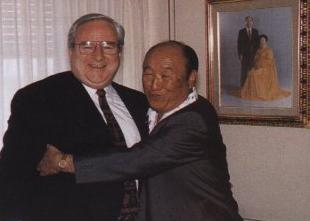 There's bad reason why George HW Poppy Bush called the Washington Times his favorite newspaper.
More Moon Money Flows to Bush Family
By Larry Zilliox Thu May 03, 2007 at 08:37:29 PM EST print story
EXCERPT...
Funding for the Washington Times Foundation comes primarily from the mysterious International Peace Foundation (IPF). The source of the funds IPF donated to the Washington Times Foundation are not known and most likely are untraceable because IPF does not appear to be a legally incorporated entity. The IPF address listed in the Washington Times Foundation tax return is the Unification Movement-owned building at 7777 Leesburg Pike in Falls Church Virginia. A check of the Internal Revenue Service online directory of organizations recognized as exempt failed to find a listing for IPF. A check of GuideStar database of non-profit organizations also found no listing.
IPF was originally incorporated in the District of Columbia in 1988. A check of the District of Columbia online corporate registrations web page shows the status of IPF as "Revoked." District of Columbia corporate records identify Moon's long time right-hand man Bo Hi Pak as an original officer of the organization. Pak has a history of leading many Moon connected businesses and non-profit organizations in the Washington, DC area. One of the oldest organizations with which Pak is associated is the Korean Cultural Freedom Foundation. Pak, serving as Chairman, mismanaged the organization so badly it fell victim to one of the largest Nigerian Fraud Scams in US history. In 2001 and 2002 the Korean Cultural Freedom Foundation reported in it's IRS Form 990 tax return that it had lost nearly $3,000,000 to scammers.
In Virginia, where the Washington Times Foundation tax form lists IPF's current address, the Virginia State Corporation Commission records show the status for IPF as revoked in 2004. The Commission's online database of corporate registrations indicates the online record details for the entity have been purged from their system as of 12/31/2004.
This revelation of money donated to a charity associated with the Bush family is just the latest in a string of donations and payments dating back more than ten years. George H. W. Bush has had a long association with Moon going back to just after he left office. In September 1995 Bush and his wife gave a number of speeches in Asia for the Women's Federation for World Peace an organization headed by Moon's wife Hak Ja Han Moon. In November 1996 Bush spoke in Buenos Aires at a banquet honoring the opening of Moon's South American newspaper Tiempos del Mundo Bush refused to disclose how much he was paid for his Moon-sponsored speaking tour.
In 2003 the Washington Times Foundation funneled a $1,000,000 donation to the Bush Presidential Library through the Greater Houston Community Foundation. In 2005 the Moon sponsored Interreligious and International Federation for World Peace made a donation of $1,000,000, it's largest donation of the year, to the senior Bush's Points of Light Foundation for Hurricane Katrina relief.
The Bush 2005 Inaugural Committee received the maximum $250,000 donation from Moon's Washington Television Center the entity that owns the large office building at 650 Massachusetts Avenue in the District of Columbia. In December 2005 the President's younger brother, Neil, was spotted touring Taiwan and the Philippines with Moon. Less than a year later Business Week published an article titled "No Bush Left Behind" profiling Neil Bush's company Ignite!, Inc. The company sells a high tech teaching aid called "Curriculum on Wheels" or COWs. The article states "A foundation linked to the controversial Reverend Sun Myung Moon has donated $1 million for a COWs research project in Washington ( D.C.)-area schools."
CONTINUED...
http://www.talk2action.org/story/2007/5/3/203729/4512
---
Response to Kid Berwyn (Reply #8)
Fri Nov 22, 2019, 06:59 PM
Grins (4,960 posts)
10. You know who else used to be at 7777 Leesburg Pike?
The Reich wing's then massive direct mail firm, the Richard A. Viguerie Company, Inc.

The building was later sold to an associate of "Reverend" Sun Myung Moon.

---
Response to Grins (Reply #10)
Fri Nov 22, 2019, 07:13 PM
Kid Berwyn (8,603 posts)
11. Small world. And very, very bad.
Thanks for the heads-up on the laundromat.
Washington's information environment is filled with Christian Dominionist wackos and they're all ultra right. Rev Moon's Washington Times still prints, along with the Washington Examiner, owned by Philip Anschutz.
SFTWGAD:
https://www.religiousrightwatch.com/glossary/glossary.htm
---
Response to Kid Berwyn (Original post)
Sat Nov 16, 2019, 07:46 PM
VarryOn (2,237 posts)
7. It's about time there's an effort to counter this guy...
He's been unchallenged for a couple years or more.

I'm also glad to see they brought out one of the big guns--Sydney Blumenthal. With the IG report coming out soon, we'll need him, I'm afrad.
---
Response to VarryOn (Reply #7)
Sat Nov 16, 2019, 08:44 PM
Kid Berwyn (8,603 posts)
9. Professional Propagandist sounds like a career field that's trending upward.
Look at Solomon's friends:
Trump's Ukraine scandal is a Fox News story

Fox helped get Trump into this mess, and it's the key to getting him out of it
WRITTEN BY MATT GERTZ
PUBLISHED 11/13/19 8:05 AM EST
EXCERPT...
Fox supercharged Giuliani's disinformation campaign
Giuliani, with the president's approval, developed a shadow foreign policy campaign in Ukraine, working with corrupt officials to dig up dirt on Joe Biden and his son Hunter Biden, undermine the U.S. intelligence community's conclusion that Russia had interfered in the 2016 presidential election, and remove U.S. and Ukrainian players that posed obstacles to that effort. That disinformation campaign played out on Fox.
Giuliani filtered the results of his investigation through John Solomon, a conservative writer with a long record of serving as a mouthpiece for right-wing opposition research. Solomon would write up aspects of Giuliani's work in columns for The Hill, then go on Fox, where his scoops were woven into the network's conspiracy theories. Over a six-month period, Solomon appeared on Fox News or Fox Business at least 72 times; 51 of those appearances were on Hannity's program. (Solomon's role as a Giuliani henchman led to him landing a contract as a Fox contributor last month.) As Fox's feverish coverage of the Bidens crescendoed, Trump and Giuliani both appeared on the network to bolster the smears.
Depositions from witnesses before the impeachment inquiry reveal that top administration figures at the White House and State Department were forced to monitor Fox for clues about the shape of U.S. foreign policy toward Ukraine. George Kent, a State Department official with oversight over the country, reported tracking extensive coverage from Hannity and Fox host Laura Ingraham. Fiona Hill, a former National Security Council official, testified that she and then-national security adviser John Bolton both regularly tuned in to Fox to keep abreast of Giuliani's antics, adding that the network's coverage began to "have an impact obviously on our work."
Notably, Kent and former U.S. Ambassador to Ukraine Marie Yovanovitch each testified to an effort by the State Department to contact Hannity in order to thwart what Kent termed a "campaign of slander" against the ambassador. Yovanovitch had apparently become a thorn to Giuliani's effort to conduct a shadow foreign policy, and so he promoted lies about her that made their way into Solomon's columns and then onto Fox's airwaves.
Joseph diGenova, a frequent Fox guest who is Solomon's lawyer, argued in March on Hannity's program that Yovanovitch "needs to be called home to the United States for consultation" in order to "answer a slew of questions about her conduct and her assault on the president of the United States."
According to Kent, State Department counselor Ulrich Brechbuhl subsequently "reached out and suggested to Mr. Hannity that if there was no proof of the allegations, that he should stop covering them." (Hannity has since denied that State contacted him about Yovanovitch.) In any case, Giuliani's smear campaign apparently had its intended effect, as Yovanovitch was recalled from her post in May.
SOURCE:
https://www.mediamatters.org/fox-news/trumps-ukraine-scandal-fox-news-story
A Machine of Lies.