Fri Feb 28, 2020, 06:01 PM
ancianita (21,210 posts)
Coronavirus Test Kits and How The Test Is Done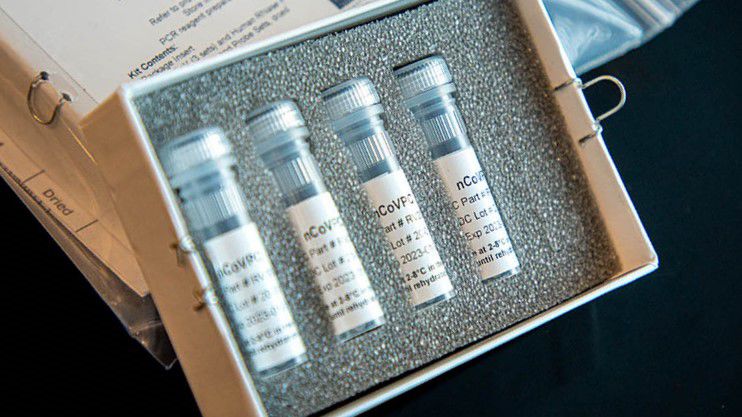 Hoping this is a photo of the correct COVID-19 test and not the ones the CDC labeled inadequate.
As of late Friday morning, The CDC website indicated that 451 coronavirus tests had been conducted nationwide.
What is a coronavirus test like? How are CDC kits handled? Here are the details.
WHAT DOES A CORONAVIRUS TEST KIT LOOKS LIKE?
The CDC on its website provides a photo of the lab test kit
for severe acute respiratory syndrome coronavirus 2 (SARS-CoV-2) the disease named by the International Committee on Taxonomy of Viruses that is caused by the novel coronavirus, also known as COVID-19.
The kit itself contains four small vials inside of a white box of packaging, all of which is bagged in plastic.
WHAT DOES A CORONAVIRUS TEST INCLUDE?
There are two main elements to a COVID-19 test, according to interim guidelines shared publicly by the CDC to clinicians.
The coronavirus is a respiratory disease, so
the test kits take specimens from both the upper and lower respiratory tracts.
--
Tests in the lower respiratory tract include
a branchoalveolar lavage,
a minimally invasive procedure in which the clinician places a bronchoscope through the patient's mouth or nose and into the lungs. A sterile fluid solution is squirted into a small part of the lung, and a specimen is collected for examination.
The patient then
produces a sputum sample: "Have the patient rinse the mouth with water and then
expectorate deep cough sputum directly into a sterile, leak-proof, screw-cap sputum collection cup
or sterile dry container," the CDC's instructions read.
--
In the second test, for the upper respiratory tract, the clinician will swab the patient's nostril as well as the throat.
The test a
lso collects a 2 to 3 milliliter specimen following a nasal "wash" or aspirate, which involves a soft, flexible tube in the nose.
WHAT HAPPENS TO THE TEST KIT AFTER THAT?
These
specimens are refrigerated
until they can be
shipped to the CDC for testing
.
The kit is to be stored at 35-46 degrees Fahrenheit
and kept at that temperature using an ice pack or dry ice as it is shipped to a CDC lab.
WHERE DO THE KITS GET TESTED?

The CDC on its website says laboratory test kits are shipped "to laboratories CDC has designated as qualified, including U.S. state and local public health laboratories, Department of Defense (DOD) laboratories and select international laboratories," the latter of which include facilities with the World Health Organization and Global Influenza Surveillance Response System.

The agency said this week that a protocol developed by the CDC and the U.S. Food and Drug Administration, which "uses two of the three components of the original CDC test kit" to detect for the virus, will allow 40 additional public health labs to begin testing.

CA Governor Gavin Newsom said in Thursday's news conference that the California Department of Public Health would be among those sites performing tests.

HOW DO DOCTORS DECIDE GETS TESTED?
As of this week, healthcare providers have been testing patients for coronavirus only if they met the CDC's set criteria for that patient to be considered a "person under investigation," or PUI.
There are now
three criteria that can be met to warrant lab testing
, according to the CDC website. The third item was added Thursday under revised guidelines, as CDC Director Robert Redfield explained to congressional leaders.
-- Symptoms that include fever or coughing and shortness of breath, along with the epidemiological risk of having close contact with a lab-confirmed COVID-19 patient;
-- Symptoms that include fever and a cough or shortness of breath, along with a history of recent travel to coronavirus hot zones; or
-- A fever and severe symptoms of lower respiratory illness, such as pneumonia, that require hospitalization, even with no source of exposure via travel or contact with a confirmed COVID-19 patient.
HOW LONG DO THE TEST RESULTS TAKE?
The
CDC
does not specify the time frame for which results should be expected, but its
guidelines call for the samples to be shipped overnight.
In the case of the patient being treated at UC Davis
Medical Center, t
he positive diagnosis appears to have been received about three days after testing
.
https://www.sacbee.com/news/local/health-and-medicine/article240733946.html?fbclid=IwAR2PrJ4DMvuWQiuHh-9xDqbCFONm5zPUPh-jQMLeMLY2v9FCgEe1e8aBxNo#storylink=cpy
4 replies, 957 views
Replies to this discussion thread
| | | | |
| --- | --- | --- | --- |
| 4 replies | Author | Time | Post |
| Coronavirus Test Kits and How The Test Is Done (Original post) | ancianita | Feb 2020 | OP |
| | BigmanPigman | Feb 2020 | #1 |
| | ancianita | Feb 2020 | #2 |
| | TexasBushwhacker | Feb 2020 | #3 |
| | ancianita | Feb 2020 | #4 |
---
Response to ancianita (Original post)
Fri Feb 28, 2020, 06:07 PM
BigmanPigman (40,517 posts)
1. CNN just reported that CDC said if you get tested by mid-morning
they will have the results by the end of the same day.
---
Response to BigmanPigman (Reply #1)
Fri Feb 28, 2020, 06:14 PM
ancianita (21,210 posts)
2. Great, multiple labs will make this go faster per CDC's protocol. The #1 problem: test kit shortage.
---
Response to ancianita (Original post)
Fri Feb 28, 2020, 07:35 PM
TexasBushwhacker (16,374 posts)
3. Wow, pretty invasive n/t
---