Sat Sep 24, 2022, 08:03 AM
Kid Berwyn (11,072 posts)
MAGA Secret "Sheriff Fellowship" Curriculum Smells NAZI
Here's the Secret "Sheriff Fellowship" Curriculum From the Country's Most Prominent MAGA Think Tank
BY JESSICA PISHKO
Slate, SEPT 21, 2022
Last November, the Claremont Institute hosted its inaugural class of "Sheriff Fellows." Over the course of a week, eight sheriffs—all white men—chosen from the more than 3,000 in the country stayed at the Waterfront Beach Resort in Huntington Beach, California, attending a series of discussions, lectures, and fireside chats steeped in the far-right-wing think tank's heady intellectualism and radical ideology. While the Claremont Institute restricted public access to the fellowship, a review of the fellowship's previously unreported curriculum reveals a
program that presented for the sheriffs two sets of people in America: those communities sheriffs should police as freely and brutally as they see fit, and those "real" Americans who should be considered virtually above the law.
Public information requests and other reporting have provided insight into the stated and unstated reasons behind the Claremont Institute's recruitment of county sheriffs, and revealed the curriculum of the fellowship. (You can read the full curriculum at the bottom of this article.) What emerges in reviewing this information is
a portrait of the far right's deep investment in sheriffs.
They seem to be a key target of the movement because the office is already vulnerable to extremism and because sheriffs can enable other extremist actors like vigilantes and militias to wreak havoc on society. Claremont provides a historical and intellectual cover for selected sheriffs to continue a march into white Christian nationalism; for Claremont, the sheriffs are elected influencers who can push their message into the mainstream, far from the coterie of intellectual elites.
They also have the authority to use violence under the color of law to enforce these principles in their communities.
Claremont is currently recruiting a second class, with a plan to announce the lucky few this fall. The five-decade-old Southern California institution announced in an email sent during the fall of 2021 that the goal of the fellowship was to connect with sheriffs as
"uncorrupted law enforcement officials … not beholden to bureaucratic masters," whose "jurisdictional latitude … places them on the front lines of the defense of civilization."
While the Claremont Institute hosts a variety of other fellowships, the Sheriffs Fellowship is the first program to focus on elected officials who are currently serving. For that reason, information about the fellowship and the program is important for voters who live in counties where these sheriffs run jails, serve warrants, detain individuals at traffic stops, and help federal officials enforce immigration laws. Sheriffs also have a great deal of discretion in important contested legal areas like the enforcement of gun laws, where they are often in charge of issuing permits and confiscating weapons under red flag laws, and in how to handle health orders, including enforcement of anti-COVID-19 measures like mask mandates, business closures, and vaccination policies.
At least some of the Claremont sheriffs were recruited because of their resistance to COVID orders from state and federal governments.
Sheriff Chad Bianco of Riverside County, California, was specifically praised by the institute for "the courageous stand taken over the past year," clearly a reference to Bianco having allied himself early in the pandemic with anti-vaxxers and with right-wing anti-abortion advocates in Southern California.
Most recently, Bianco accused a Latina Riverside city councilmember, Clarissa Cervantes, of defacing the county courthouse because of her presence at in a pro-choice protest,
spurring calls for his resignation. "You are lucky we couldn't arrest you!" he threatened Cervantes through social media.
Sheriff Kim Cole of Mason County, Michigan, was recruited through Hillsdale College,
whose chairman, Pat Sajak, took controversial positions against stay-at-home orders early in the pandemic and was recently photographed with anti-vaxxer Marjorie Taylor Greene. A Claremont program director explained the reason for the invitation in an email to Cole: "In our research on who to extend invitations to we took recommendations from friend [sic] of the institute and organizations but one thing that I know stood out to us about your leadership in these times has been how you courageously stood up to unconstitutional covid mandates."
During the peak of COVID deaths, Cole appeared regularly on Fox News to critique Michigan Gov. Gretchen Whitmer's stay-at-home orders and signed a letter promising not to enforce COVID protections that said, in part, "We believe that we are the last line of defense in protecting your civil liberties."
Continues…
https://slate.com/news-and-politics/2022/09/claremont-institute-secret-sheriff-fellowship-curriculum-revealed.html?hwystvwidotkenxjshwb
12 replies, 1013 views
Replies to this discussion thread
| | | | |
| --- | --- | --- | --- |
| 12 replies | Author | Time | Post |
| MAGA Secret "Sheriff Fellowship" Curriculum Smells NAZI (Original post) | Kid Berwyn | Sep 2022 | OP |
| | blm | Sep 2022 | #1 |
| | empedocles | Sep 2022 | #3 |
| | Kid Berwyn | Sep 2022 | #5 |
| | bullwinkle428 | Sep 2022 | #2 |
| | Kid Berwyn | Sep 2022 | #6 |
| | Wounded Bear | Sep 2022 | #4 |
| | Kid Berwyn | Sep 2022 | #8 |
| | Initech | Sep 2022 | #7 |
| | Kid Berwyn | Sep 2022 | #9 |
| | Hermit-The-Prog | Sep 2022 | #10 |
| | Kid Berwyn | Sep 2022 | #11 |
| | UTUSN | Sep 2022 | #12 |
---
Response to Kid Berwyn (Original post)
Sat Sep 24, 2022, 09:09 AM
blm (110,734 posts)
1. This definitely needs more attention.
---
Response to blm (Reply #1)
Sat Sep 24, 2022, 09:54 AM
empedocles (15,751 posts)
3. DOJ, et al, needs many, many, more investigators
---
Response to blm (Reply #1)
Sat Sep 24, 2022, 06:29 PM
Kid Berwyn (11,072 posts)
5. Michigan Sheriff Coordinated with Trump Advisers in Attempt to Seize Voting Machines
While Sheriff Leaf failed to make the cut for Claremont Institute, his willing participation in the treason to fix democracy for New Dixie illustrates the extent of the LEO problem.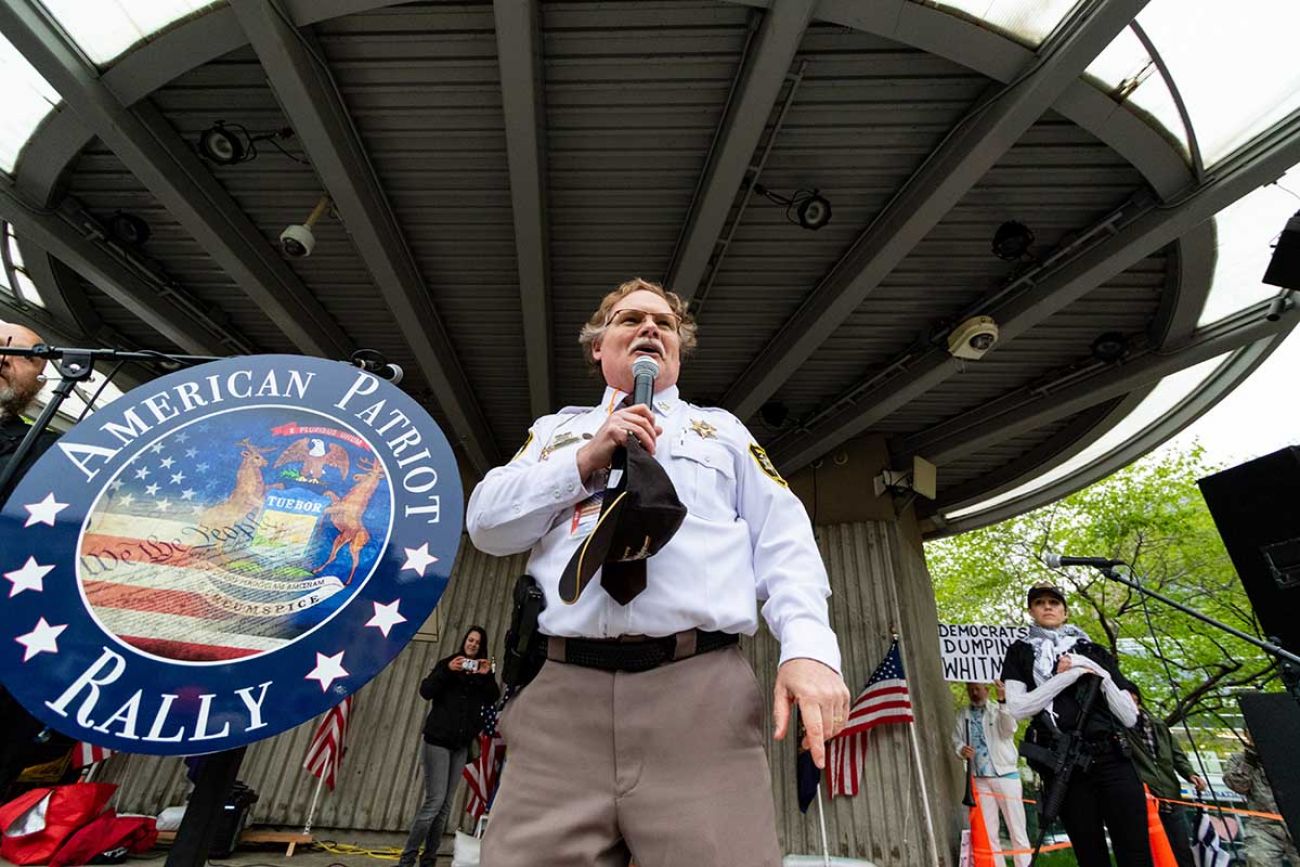 Emails: Michigan sheriff sought to seize voting machines amid Trump claims
by Jonathan Oosting
Bridge Magazine, July 2, 2021
LANSING — Barry County Sheriff Dar Leaf last year tried to enlist fellow "constitutional sheriffs" to seize Dominion voting machines at the heart of an election conspiracy theory promoted by then-President Donald Trump, Bridge Michigan has learned.
A trove of emails obtained by Bridge through the Freedom of Information Act indicate Trump had at least some law enforcement support in his bid to overturn the 2020 election won by Democratic President Joe Biden.
Bridge obtained emails from Leaf that detail his unsuccessful efforts to obtain voting machines and inspect them. The records indicate that Leaf's attorney provided updates on the effort to Trump allies including attorney Sidney Powell and a contact for former National Security Advisor Michael Flynn.
Leaf told Bridge in a brief interview that he worked with other Michigan sheriffs on what he called an "ongoing" matter after the election, but would not divulge specifics.
"It is our job to investigate all acts of voter fraud," said Leaf, a Republican who made national headlines last year for joining armed militia members on stage at a protest against Democratic Gov. Gretchen Whitmer's COVID-19 pandemic orders.
Continues…
https://www.bridgemi.com/michigan-government/emails-michigan-sheriff-sought-seize-voting-machines-amid-trump-claims
They are organized and pledged to a filthy NAZI.
---
Response to Kid Berwyn (Original post)
Sat Sep 24, 2022, 09:15 AM
bullwinkle428 (20,532 posts)
2. This kind of thing genuinely sows the seeds for civil war.
---
Response to bullwinkle428 (Reply #2)
Sat Sep 24, 2022, 07:14 PM
Kid Berwyn (11,072 posts)
6. Precisely.
Making the police think they are called — destined, thanks to the fusion of Rightwing church and state — to deliver the solution by reaction to Steve Bannon's societal breakdown is insidious. Had January 6 continued to escalate in violence, Trump likely would have asked the Sheriffs to lead the big round up in support of National Guard. Their side has been encouraged by NRA types to use every minute since the assault weapons ban expired to buy up as many semiautomatic weapons and large capacity magazines as possible.

Thank Goodness for Gen. Milley.
---
Response to Kid Berwyn (Original post)
Sat Sep 24, 2022, 09:57 AM
Wounded Bear (54,886 posts)
4. Sounds like an outgrowth of the "Sovereign Citizen" bullshit...
you know, the ones who think that county sheriffs are superior to the federal government.

Dangerous shit.
---
Response to Wounded Bear (Reply #4)
Sat Sep 24, 2022, 11:07 PM
Kid Berwyn (11,072 posts)
8. Gold Fringe around the Flag Cuckoo Level
Chaos organized and propagated by dark money.
From LittleSis, the antidote to Big Brother:
Entities
Claremont Institute conservative CA think tank
Kravis Leadership Institute at Claremont McKenna College Founded by Henry Kravis
he Henry Kravis Leadership Institute sponsors a sound education pro...
Network Maps
Colcom Foundation
Claremont Institute Funders
Conservative legal dark money network
Vladimir Zelenko connections
KKR at Claremont McKenna & Columbia
KKR at Claremont McKenna
Ivy league insurrectionists - ties to Q anon, KKK
Michigan Right
USAGM/Michael Pack
Freeport-McMoRan board of directors
Source w/links:
https://littlesis.org/search?q=claremont+institute
---
Response to Kid Berwyn (Original post)
Sat Sep 24, 2022, 07:35 PM
Initech (95,506 posts)
7. Some of those who work forces / are the same that burn crosses
---
Response to Initech (Reply #7)
Sun Sep 25, 2022, 11:47 AM
Kid Berwyn (11,072 posts)
9. Profound band, that Rage Against the Machine.
Doing the work of America's vaunted press and all. While MIA from CNNBCIABCBSNoxFewsNutworks, details on the situation via Reuters:
Prevalence of white supremacists in law enforcement demands drastic change
By Hassan Kanu
Reuters, May 12, 2022
(Reuters) - A Reuters investigation on May 6 indicates that a significant number of U.S. police instructors have ties to a constellation of armed right-wing militias and white supremacist hate groups, a report that adds to a fast-growing body of evidence showing a deadly threat inside U.S. police departments.
The analysis found that some of the instructional information presented by police trainers was explicitly racist, and that some instructors endorsed and interacted with white supremacist criminal groups such as the Proud Boys.
The investigation adds to mounting academic research, government audits and news reporting that demonstrates the pervasiveness of white supremacy in U.S. law enforcement, and a continuing series of incidents documenting the presence of extremist groups and views among law enforcement.
More and more, the evidence suggests the "white supremacist infiltration of law enforcement" that the FBI warned about back in 2006 is getting worse. And it points to a desperate need for policies – departmental and legislative – to prohibit people who engage in racist conduct or join white supremacist groups from becoming police officers or remaining on the force.
Lawmakers in Washington state, for example, enacted legislation last year that requires departments to inquire into police candidates' ties to extremist groups and allows the state to revoke their certification if they are affiliated with those organizations, as NPR reported in November 2021. And California legislators are considering a similar measure.
The analysis by Reuters found at least 15 self-identified law enforcement trainers and dozens of retired instructors listed in a database of members of the Oath Keepers, one of several violent anti-government groups that led the insurrection at the U.S. Capitol on Jan. 6, 2021.
Continues…
https://www.reuters.com/legal/government/prevalence-white-supremacists-law-enforcement-demands-drastic-change-2022-05-12/
Thanks, Initech. Darkness of Greed.
---
Response to Kid Berwyn (Original post)
Sun Sep 25, 2022, 01:39 PM
Hermit-The-Prog (26,654 posts)
10. kick & very recommended
---
Response to Hermit-The-Prog (Reply #10)
Sun Sep 25, 2022, 03:49 PM
Kid Berwyn (11,072 posts)
11. The rich keep getting richer, in part, because they are organized.
Revealed: The Billionaires Funding the Coup's Brain Trust

Conservative mega-donors including the DeVoses and Bradleys are pumping big money into the Claremont Institute think tank that fueled Trump's election-fraud fantasies
BY ANDY KROLL
Rolling Stone, January 12, 2022
Excerpt…
The biggest right-wing megadonors in America made major contributions to Claremont in 2020 and 2021, according to foundation financial records obtained by Rolling Stone. The high-profile donors include several of the most influential families who fund conservative politics and policy: the DeVoses of West Michigan, the Bradleys of Milwaukee, and the Scaifes of Pittsburgh.
Snip…
The donations flowing into Claremont illustrate that although the group's full-throated support for Trump and fixation on election crimes may be extreme, they're not fringe views when they have the backing of influential conservative funders. "Were it not for the patronage of billionaire conservatives and their family foundations, the Claremont Institute would likely be relegated to screaming about its anti-government agenda on the street corner," says Kyle Herrig, president of government watchdog group Accountable.US.
Snip…
But Claremont wouldn't fully land in the spotlight until the end of Trump's presidency. John Eastman, a law professor and Claremont scholar, spoke at the "Save America" rally on Jan. 6, 2021, that preceded the Capitol insurrection. Eastman repeated several election-related conspiracy theories, alleging that "machines contributed to that fraud" by "unloading the ballots from the secret folder," a version of the rampant conspiracy theories spread by Trump campaign lawyers about the company Dominion Voting Systems.
As would later be revealed, Eastman also wrote two memos outlining a plan for how then-Vice President Mike Pence could overturn the 2020 result on January 6. "The main thing here is that Pence should do this without asking for permission — either from a vote of the joint session or from the Court," Eastman wrote. "Let the other side challenge his actions in court…" (Worth noting: The Claremont Review would later publish its own critique of Eastman's memos by a professor of government and ethics at Claremont McKenna college. After walking through a key piece of Eastman's argument, the professor, Joseph Bessette, wrote: "One doesn't have to be a scholar of the American Founding, a professor of constitutional law, or an expert in election law to know that this simply cannot be right.")
Claremont continues to push the stolen-election myth and has apparently helped state lawmakers draft legislation to make election laws more favorable to the Republican Party. In October, Claremont President Ryan Williams told an undercover liberal activist that Eastman was "still very involved with a lot of the state legislators and advising them on election integrity stuff."
Continues…
https://www.rollingstone.com/politics/politics-news/devos-bradley-claremont-trump-election-fraud-insurrection-1274253/
May America's rich rue the day they backed fascism.
---
Response to Kid Berwyn (Original post)
Sun Sep 25, 2022, 05:08 PM
UTUSN (66,874 posts)
12. K&R