Fri May 2, 2014, 08:14 AM
McCamy Taylor (19,144 posts)
Meet Mike Christian (R) Oklahoma, the politician responsible for the 43 min. torture/execution
of Clayton Locke in Oklahoma, along with Oklahoma Governor Mary Fallin (R)
Here is Mike Christian bragging to Fox News before the execution that
he is trying to impeach state Supreme Court justices who delayed the execution of two death-row inmates, saying their decision shows "incompetence" and "personal bias" while violating their oath of office.

The high court has now lifted the delay so inmates Clayton Lockett and Charles Warner are scheduled to die Tuesday by lethal injection.

However, Republican state Rep. Mike Christian, who drafted legislation to impeach the five justices who last week granted the stay, still thinks their decision "constitutes a willful neglect of duty and incompetence."
http://www.foxnews.com/politics/2014/04/28/oklahoma-lawmaker-to-impeach-justices-who-delayed-death-row-executions/
Rep. Christian claimed that the Court overstepped its bounds because this was not a civil case. However, the defense attorney claimed that it was, because the state would not reveal the drug cocktail that it planned to use to execute his client, and therefore, his client had no way to know if his execution would be lawful, i.e. not cruel and not unusual.
Turns out that poor, dead from a heart attack not from a legal lethal injection Clayton Lockett may have had good reason to file a suit.
Condemned murderer Clayton Lockett, who had been declared unconscious after the first drug of a three-drug cocktail was administered, began shaking uncontrollably, gasping, moaning and attempting to raise his body from the gurney to which he was strapped.

The botched execution was halted after 20 minutes, and Lockett died 23 minutes after that — a full 43 minutes after the process began — apparently of a heart attack.

snip

Lockett and inmate Charles Warner sued the state because officials refused to reveal details about the execution drugs, including from which manufacturer they were obtained. The law allowing the secrecy about the drugs was declared unconstitutional by a trial judge, and the Oklahoma Supreme Court stayed the executions last week.

What followed was a game of political football, with two men's lives sadly being the trophy. Gov. Mary Fallin declared that she wasn't bound by the decision of the Supreme Court, which normally hears civil cases, and a state legislator began the process to impeach the five justices who voted for the stay.
Read more here:
http://www.star-telegram.com/2014/05/01/5785427/botched-execution-should-cause.html#storylink=cpy
The state is claiming that the IV failed. However, how can we trust a state government that has kept such a process shrouded in secrecy? For all we know, they chose to use drugs that were inappropriate when administered intravenously or which had never been tested or were not licensed for use in humans. Rep. Mike Christian chose to pander to his base and abuse the power of his office in order to deny a condemned man his rights under the law.
Rep. Mike Christian made this decision knowing that the drug combo was shrouded in secrecy, knowing that something might well go wrong with the execution----and therefore, he deserves to wear a crown of shame for the part he played in this sorry story.
So, this one is for you, Mike Christian. May this be your last 15 minutes of fame.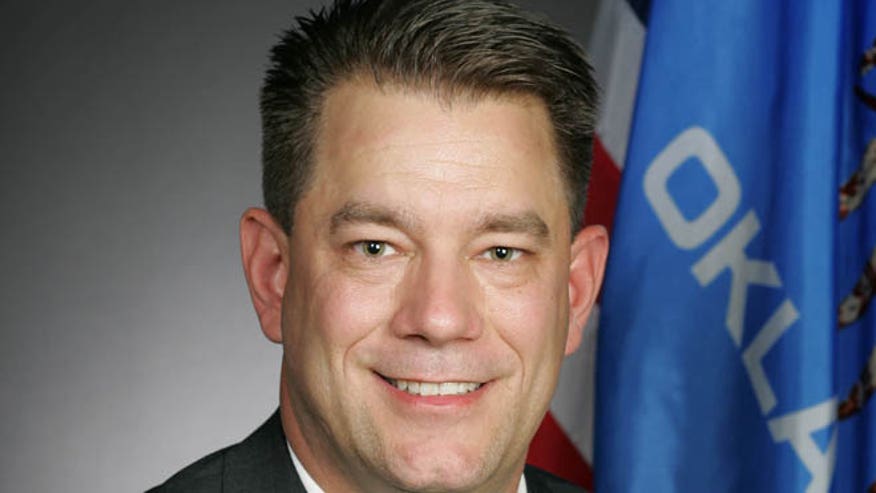 ?ve=1&tl=1
4 replies, 2063 views
Replies to this discussion thread
| | | | |
| --- | --- | --- | --- |
| 4 replies | Author | Time | Post |
| Meet Mike Christian (R) Oklahoma, the politician responsible for the 43 min. torture/execution (Original post) | McCamy Taylor | May 2014 | OP |
| | CurtEastPoint | May 2014 | #1 |
| | malaise | May 2014 | #2 |
| | ladjf | May 2014 | #3 |
| | fredamae | May 2014 | #4 |
---
Response to McCamy Taylor (Original post)
Fri May 2, 2014, 08:26 AM
CurtEastPoint (12,565 posts)
1. Ka-ching...
---
Response to McCamy Taylor (Original post)
Fri May 2, 2014, 08:32 AM
malaise (217,328 posts)
2. How Christian??? Oklahoma inmate Tasered by prison staff on day of botched execution
http://www.theguardian.com/world/2014/may/01/oklahoma-clayton-lockett-tasered-before-botched-execution
<snip>
Clayton Lockett, the death-row inmate who was the subject of a botched execution by the state of Oklahoma, was Tasered by prison staff and had cut his own arm on the day of the failed procedure, according to a timeline released by the state's corrections chief on Thursday.
The document released by the director of the corrections department, Robert Patton, shows that medical staff could not find a suitable vein on any of his limbs in which to inject the lethal drugs intended to kill him, and had to use his groin instead. Lockett died, apparently from a heart attack, 43 minutes after his attempted execution began and 10 minutes after it had been called off.
Patton recommended an indefinite stay of executions in Oklahoma until procedures for judicial killings in the state are completely rewritten and staff retrained. The execution of another inmate, Charles Warner, also due to have been carried out on Tuesday, has already been postponed.
"It will take several days or possibly weeks to refine the new protocols," Patton wrote in a letter to the Republican governor of Oklahoma, Mary Fallin. "Once written, staff will require extensive training and understanding of new protocols before an execution can be scheduled. I recommend asking the court of criminal appeals to issue an indefinite stay of execution." Patton said he supported an "external investigation" of Lockett's death.
---
Response to McCamy Taylor (Original post)
Fri May 2, 2014, 08:50 AM
ladjf (17,320 posts)
3. Don't forget about Gov. Fallin's strong support of the death penalty. nt
---
Response to McCamy Taylor (Original post)
Fri May 2, 2014, 09:12 AM
fredamae (4,458 posts)
4. Does the term: "Sadistic Khristian" Apply here? n/t