Thu Aug 7, 2014, 11:56 AM
Scuba (53,475 posts)
The U.S. ranks 13 out of 16 countries in energy efficiency, Germany is #1
http://www.treehugger.com/energy-efficiency/us-ranks-13-out-16-energy-efficiency-germany-1.html
Waste is ugly. Doing more with less is beautiful. Many of us try to live by these sayings in our personal lives, but at the country level, too few nations really give their best effort. Energy efficiency makes almost everything else that we need to do to transition to a better, more sustainable future easier because so many of our problems can trace their roots back to energy production. If we use less energy to do what we need to do, we both directly reduce pollution from whatever dirty sources we're using, and we make it easier to replace those with clean power.
The American Council for an Energy Efficient Economy (ACEEE), who has been ranking U.S. states by their energy efficiency (see below), has come out with a report that looks at how energy efficient 16 of the biggest economies in the world are. If you look at the map at the top of this article, it shows the results, with the U.S. sadly coming near the bottom, behind China and India, among other big countries, and slightly ahead of Russia, Brazil, and Mexico.
Here's the list if you can't see the numbers on the graphic too well: (1) Germany; (2) Italy; (3) the European Union; (tied for 4) China; (tied for 4) France; (tied for 6) Japan; (tied for 6) United Kingdom; (8) Spain; (9) Canada; (10) Australia; (11) India; (12) South Korea; (13) United States; (14) Russia; (15) Brazil; and (16) Mexico.
Note that the EU was also evaluated as a whole, and ranks #3. Very good for such a diverse set of countries!
State rankings:
8 replies, 766 views
Replies to this discussion thread
| | | | |
| --- | --- | --- | --- |
| 8 replies | Author | Time | Post |
| The U.S. ranks 13 out of 16 countries in energy efficiency, Germany is #1 (Original post) | Scuba | Aug 2014 | OP |
| | badtoworse | Aug 2014 | #1 |
| | Scuba | Aug 2014 | #2 |
| | badtoworse | Aug 2014 | #5 |
| | conservaphobe | Aug 2014 | #3 |
| | hifiguy | Aug 2014 | #4 |
| | pampango | Aug 2014 | #6 |
| | lpbk2713 | Aug 2014 | #7 |
| | hunter | Aug 2014 | #8 |
---
Response to Scuba (Original post)
Thu Aug 7, 2014, 12:17 PM
badtoworse (5,957 posts)
1. It's not clear how they are defining energy efficiency so it's hard to interpret the article
It's also not clear how environmental impacts and cost are being taken into account. An uncontrolled combustion turbine will have a lower heat rate and is more efficient on that basis than a turbine with state of the art controls. The uncontrolled unit is also cheaper, but will also emit far more pollution. Which is better? I think this is an important consideration for countries like China that burn large quantities of coal with minimal emission controls - should they get high marks if their "efficiency" comes as a result of much greater damage to the environment?

I can't disagree that energy efficiency is a good thing; it most certainly is. I've been in the power business for more than 30 years and the subject of energy utilization and efficiency is not simple. I'm not convinced the US deserves a black eye on this.
---
Response to badtoworse (Reply #1)
Thu Aug 7, 2014, 12:37 PM
Scuba (53,475 posts)
2. Well, we can either go with the American Council for an Energy Efficient Economy (ACEEE) ...
... or you.
http://www.aceee.org/about
Overview / Mission
The American Council for an Energy-Efficient Economy (ACEEE), a nonprofit, 501(c)(3) organization, acts as a catalyst to advance energy efficiency policies, programs, technologies, investments, and behaviors. We believe that the United States can harness the full potential of energy efficiency to achieve greater economic prosperity, energy security, and environmental protection for all its people.
ACEEE carries out its mission by:
Conducting in-depth technical and policy analyses
Advising policymakers and program managers
Working collaboratively with businesses, government officials, public interest groups, and other organizations
Convening conferences and workshops, primarily for energy efficiency professionals
Assisting and encouraging traditional and new media to cover energy efficiency policy and technology issues
Educating consumers and businesses through our reports, books, conference proceedings, press activities, and websites
ACEEE was founded in 1980 by leading researchers in the energy field. Since then we have grown to a staff of about 50. Projects are carried out by ACEEE staff and collaborators from government, the private sector, research institutions, and other nonprofit organizations.
ACEEE focuses on these program areas:
Energy policy (federal, state, and local)
Research (including programs on buildings and equipment,utilities, industry,agriculture,transportation,behavior, economic analysis, and international)
Outreach (including conferences, publications, and the Ally Program)
Since 1980, ACEEE has accomplished a great deal and has become known as America's leading center of expertise on energy efficiency. Our reputation is based on the high quality, credibility, and relevance of our work, as well as our bipartisan approach. ACEEE's thorough and peer-reviewed technical work is widely relied on by policymakers, business and industry decision-makers, consumers, media, and other energy professionals.
While I couldn't find their precise metrics on their
peer-reviewed
work, they do provide this ...
http://aceee.org/press/2014/07/germany-italy-eu-china-and-france-to
The ACEEE ranking system looks at both "policy metrics" and "performance metrics" to measure a country's overall energy efficiency. Examples of "policy metrics" include the presence of a national energy savings target, fuel economy standards for vehicles, and energy efficiency standards for appliances. The "performance metrics" measure energy use and provide quantifiable results. Examples of "performance metrics" include average miles per gallon of on-road passenger vehicles and energy consumed per square foot of floor space in residential buildings.
---
Response to Scuba (Reply #2)
Thu Aug 7, 2014, 01:39 PM
badtoworse (5,957 posts)
5. I didn't say they were wrong, I said their report was hard to interpret
Here's an example: Energy prices vary widely around the world. In the US, natural gas has been running around $4.00 - $4.50 per mmbtu, but in Japan it costs as much as $18 per mmbtu and in Europe, the cost is around $11 to $12 per mmbtu. Obviously, any energy saved in Japan or Europe would be worth much more than the same energy saved in the US. For that reason, conservation measures that are commercially attractive in those markets would be commercial losers here in the states.

I didn't see where fuel costs were considered in their report, so it appears to me that they valuing btu's saved equally regardless of fuel costs. Conserving energy is worthwhile in its own right, but the economics of doing so vary widely. It's great that Germany is so energy efficient, but not fair to the US to make a direct comparison because the economic factors are very different
---
---
Response to Scuba (Original post)
Thu Aug 7, 2014, 12:41 PM
hifiguy (33,688 posts)
4. Well, I don't think the oil companies
own huge parts of the German government.
---
Response to Scuba (Original post)
Thu Aug 7, 2014, 01:45 PM
pampango (24,461 posts)
6. China is tied for 4th place with France! I never would have guessed that. n/t
---
Response to Scuba (Original post)
Thu Aug 7, 2014, 02:40 PM
lpbk2713 (36,871 posts)
7. The other twelve don't have idiots driving these stupid things.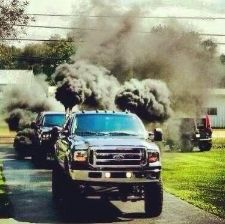 It never ceases to amaze me how some
people like to advertise their stupidity.
---
Response to Scuba (Original post)
Thu Aug 7, 2014, 04:34 PM
hunter (30,485 posts)
8. Efficiency is an economic measure, not an environmental measure.
Germany, as an industrial-consumer society, doesn't do well when measured by per capita fossil fuel use.

Riding the fossil-fueled train to hell, how much does it matter if we slow down from 120 miles per hour to a hundred miles per hour? The destination is still the same, we just get there a little later.

How do we reverse the train? How do we build a comfortable society that doesn't require fossil fuels? How do we get per capita fossil fuel use down to zero? That's the question that needs answering. Germany isn't even close. Their efforts towards efficiency and sustainability have merely been supplemental to their fossil-fuel economy. Building new more "efficient" coal fired power plants is not the answer. Building more efficient cars is not the answer. Getting rid of fossil fueled power plants and automobiles is the answer.

I do the math and I don't believe an industrial-consumer society such as we have in the U.S.A. or Germany can be supported by "sustainable" or "renewable" energy systems. To quit fossil fuels will require radical changes we are unwilling to accept. Giving up our automobiles, our inexpensive air travel, big box stores, etc., etc., etc., it's not going to happen. Therefore the best we can do is adapt to the climate catastrophes as they occur and preserve what's left of the natural environment our species evolved in as best we can. It's going to be a very rough ride. The economic system that caused this global catastrophe probably won't survive. The disease will be self-limiting.

Coming out the other side I hope we can maintain our global communication infrastructure, increase the general level of literacy and education, and not lose our arts and sciences, most especially medicine.

We don't need fossil fuels to teach kids how to read, we don't need fossil fuels to teach people about basic public health measures and birth control. We don't even need fossil fuels to grow food, but that's an area that will require some work since allowing people to starve is not an ethical option. If the last barrels of petroleum are used in farm machines, I'm okay with that. If they are used in war machines, I'm not.