Mon May 11, 2015, 04:25 PM
Playinghardball (11,665 posts)
Bernie Sanders: "What Wall Street and credit card companies are doing is really not much different..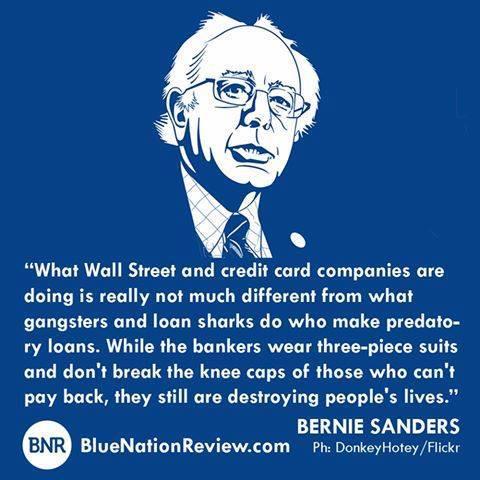 5 replies, 1562 views
Replies to this discussion thread
| | | | |
| --- | --- | --- | --- |
| 5 replies | Author | Time | Post |
| Bernie Sanders: "What Wall Street and credit card companies are doing is really not much different.. (Original post) | Playinghardball | May 2015 | OP |
| | hifiguy | May 2015 | #1 |
| | yeoman6987 | May 2015 | #2 |
| | hifiguy | May 2015 | #3 |
| | freshwest | May 2015 | #5 |
| | rafeh1 | May 2015 | #4 |
---
Response to Playinghardball (Original post)
Mon May 11, 2015, 04:37 PM
hifiguy (33,688 posts)
1. No wonder the Mob is in such dire straits.
All of their business practices have been taken over by the bank$ter$ and the Mob can't compete with them.
---
Response to hifiguy (Reply #1)
Mon May 11, 2015, 05:11 PM
yeoman6987 (14,449 posts)
2. Well then why doesn't Congress act and put a cap on how much
Interest can be allied towards a loan. How about 3 percent for home loans? 5 percent for personal loans and 7 percent for credit cards. That still is enough for banks to make money. Of course the IRS is not innocent their fees and interest is theft too.
---
Response to yeoman6987 (Reply #2)
Mon May 11, 2015, 05:14 PM
hifiguy (33,688 posts)
3. Because the banking industry pays large bribes,
oops, makes large campaign contributions to make sure that will never, ever happen.
---
Response to yeoman6987 (Reply #2)
Tue May 12, 2015, 01:39 AM
freshwest (53,661 posts)
5. The Christian Right controls Congress. They decided that usury is approved by their real god.
Don't tell the Baggers and RW fundies, it'll break their hearts. Oh, hell, Bucket! Tell 'em!
Usury was once a serious sin, and some consider it to be still:
Is a Little Interest Not Usury?
There are some who say that God only condemns excessive interest. Until recently, laws of several states forbid interest rates above 12%. Anyone who charged more was guilty of "usury."

Even Adam Clarke in his famous Bible Commentary agrees with this view. In his note under Exodus 22:25 he states, "It is evident that what is here said must be understood of accumulated usury, or what we call compound interest only; and accordingly neshech is mentioned with and distinguished from tarbith and marbith . . . . interest or simple interest . . . . Perhaps usury may be more properly defined unlawful interest, receiving more for the loan of money than it is really worth and more than the law allows."

Strong's defines tarbith as "multiplication; i.e., percentage or bonus in addition to principal; increase, unjust gain." The related word marbith can mean "increase, or "interest on capital." Tarbith and marbith do not have the bite or sting as does nashak interest. Tarbith is used along with nashak (usury) in Leviticus 25:36, Proverbs 28:8, Ezekiel 18:8, 13, 17 and 22:12, as is marbith in Leviticus 25:37.
The point Clarke misses is that God condemns them both! Any interest or increase from your brother is wrong. However, as we have seen, it is permissible to charge interest to outsiders.
Which is pretty much the way that some of the GOP, like Newt, described his loans that he paid little or no interest or never paid. The rest of us, well, Meh.
http://www.giveshare.org/BibleStudy/050.usury.html
Usury (/ˈjuːʒəri/[1][2])
is the practice of making unethical or immoral monetary loans that unfairly enrich the lender. A loan may be considered usurious because of excessive or abusive interest rates or other factors. However, according to several dictionaries, simply charging any interest at all would be considered usury.[3][4][5] Someone who practices usury can be called a usurer, but the more common term in English is loan shark.

The term may be used in a moral sense—condemning taking advantage of others' misfortunes—or in a legal sense where interest rates may be regulated by law. Historically, some cultures (e.g., Christianity in much of Medieval Europe, and Islam in many parts of the world today) have regarded charging any interest for loans as sinful.

Some of the earliest known condemnations of usury come from the Vedic texts of India.[6] Similar condemnations are found in religious texts from Buddhism, Judaism, Christianity, and Islam (the term is riba in Arabic and ribbit in Hebrew).[7] At times, many nations from ancient China to ancient Greece to ancient Rome have outlawed loans with any interest. Though the Roman Empire eventually allowed loans with carefully restricted interest rates, the Christian church in medieval Europe banned the charging of interest at any rate (as well as charging a fee for the use of money, such as at a bureau de change).
The pivotal change in the English-speaking world seems to have come with lawful rights to charge interest on lent money,[8] particularly the 1545 Act, "An Act Against Usurie" (37 H. viii 9) of King Henry VIII of England.
http://en.wikipedia.org/wiki/Usury
This is what has happened:
http://realitysandwich.com/103908/homepage_sacred_economics/
We now see Usury as a Virtue, a generous way of making money!
When was the last time you heard a large and powerful Christian group come out and return Usury to its category of a heinous sin?
The thing about all this is, when the money becomes big enough, Christians, etc. will choose money over their holy books. Which make it a sham. The Pope has made some reforms, but the overall system is still one of bondage for those who cannot fight back.
Eliminating any control of Usury is the last item on the Koch list Reid and Bernie told us about:
We support the repeal of all state usury laws.
Excuse the rest of the rant. Not that I'm ashamed of it, but we're just talking banks, I guess:
http://www.democraticunderground.com/10026048383#post21
Just had to get that off my chest. Religion is one thing when it's just about a person's walk with whatever, or trying to live an ethical life. When they get rich and right wing, they steall all the oxygen from everyone else.
David Korten has also spoken extensively on this as well, and I've posted a lot on him at DU.
Good night everyone.
---
Response to Playinghardball (Original post)
Tue May 12, 2015, 01:01 AM
rafeh1 (385 posts)
4. well on of the reasos
The banksters hate islam is islamic objection to interest. Any interest. .