Sat Apr 24, 2021, 03:19 PM
Omaha Steve (80,110 posts)
Armenian leader praises Biden's genocide recognition
Source:
AP
By AVET DEMOURIAN
YEREVAN, Armenia (AP) — Armenia's leader is praising President Joe Biden's recognition of the deaths of 1.5 million Armenians in Ottoman Turkey as genocide, calling it "a powerful step."
Biden's announcement Saturday and Prime Minister Nikol Pashinyan's response came on the day that Armenians streamed to a hilltop memorial complex in the capital of Yerevan to lay flowers and mourn the victims.
Armenia on Saturday marked the anniversary of the 1915 rounding up of some 250 Armenian intellectuals, regarded as the first step in the killings that lasted until 1923.
Turkey vehemently rejects the genocide label, conceding that many died in that era, but insisting that the death toll is inflated and the deaths resulted from civil unrest. Biden's statement brought an angry response from Turkey and risks worsening relations between Washington and Ankara.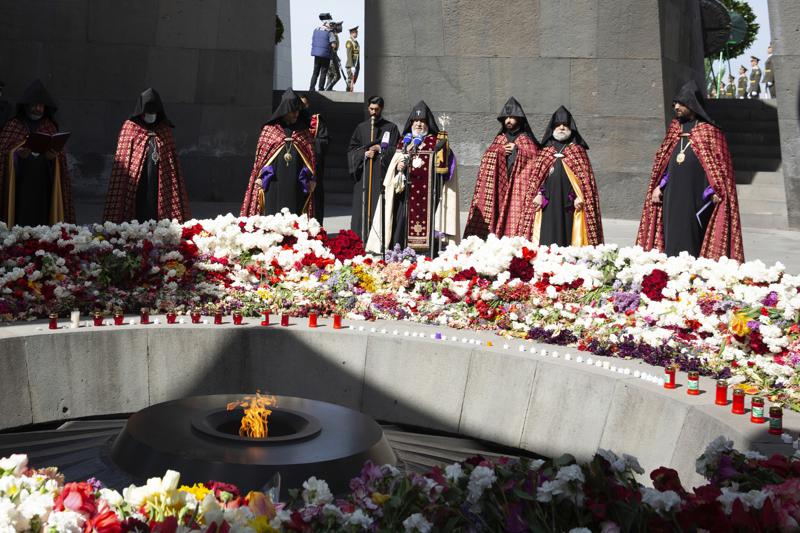 Armenian Apostolic Church leader Catholicos Garegin II, center, attends a memorial service at the monument to the victims of mass killings by Ottoman Turks, to commemorate the 106th anniversary of the massacre, in Yerevan, Armenia, Saturday, April 24, 2021. Armenians marked the anniversary of the death of up to 1.5 million Armenians by Ottoman Turks, an event widely viewed by scholars as genocide, though Turkey refutes the claim. (Grigor Yepremyan/PAN Photo via AP)
Read more:
https://apnews.com/article/armenia-government-and-politics-middle-east-europe-49662c30cf62eec68b1a5c8b11419ff2
3 replies, 988 views
Replies to this discussion thread
| | | | |
| --- | --- | --- | --- |
| 3 replies | Author | Time | Post |
| Armenian leader praises Biden's genocide recognition (Original post) | Omaha Steve | Apr 24 | OP |
| | Faygo Kid | Apr 24 | #1 |
| | seta1950 | Apr 24 | #2 |
| | bdamomma | Apr 24 | #3 |
---
Response to Omaha Steve (Original post)
Sat Apr 24, 2021, 08:04 PM
Faygo Kid (21,422 posts)
1. Thankful that the truth prevails.
I was a counselor at a summer camp for Armenian-American children, northern lower Michigan, 1970-73 (Camp Ararat). Learned a tremendous amount about Armenian music (Hinkala), food (yum), and the warmth and achievements of the Armenian people (undeniable). And of course their history.

Not one kid didn't lose relatives in the genocide, and their stories remain with me still, passed down from their parents, their church (St. John's in Southfield, MI) and others. Grandparents, great uncles and aunts, and more - all gone in the genocide.

Thank you, President Biden, for speaking the truth about a history that must be acknowledged. My heritage is a long way from Armenia (Scandinavian), but I am proud to be an honorary Armenian, especially as an American who is proud of and accepts our nation's history as my history. As it should be. And as for the kids back then? I'm assuming they are now grandparents themselves and sharing their family histories. As it should be.

---
Response to Faygo Kid (Reply #1)
Sat Apr 24, 2021, 10:12 PM
seta1950 (675 posts)
2. Thanks
You are right, there is not 1 Armenian in the world who has not lost someone
---
Response to Omaha Steve (Original post)
Sat Apr 24, 2021, 10:52 PM
bdamomma (61,028 posts)
3. President Biden
Thank you for acknowledging the Armenian genocide, thank you for believing the facts and history. There are many Armenians throughout the world today who thank you for your powerful statement.