Fri May 21, 2021, 11:39 AM
Omaha Steve (81,323 posts)
BBC faces questions of integrity after Princess Diana report
Source:
AP
By DANICA KIRKA
LONDON (AP) — British broadcaster BBC, seen as a respected source of news and information around the world, is facing questions at home about its integrity following a scathing report on its explosive 1995 interview with Princess Diana.
Britain's justice secretary said Friday that the government would review the rules governing oversight of the BBC after an investigation found that one of its journalists used "deceitful behavior" to secure the interview and the corporation obscured this misconduct for 25 years.
Princes William and Harry, Diana's sons, late Thursday excoriated the BBC, saying there was a direct link between the interview and their mother's death in a traffic accident two years later as she and a companion were being pursued by paparazzi.
The interview on the Panorama program came under renewed scrutiny after Diana's brother, Charles Spencer, complained that journalist Martin Bashir used false documents and other dishonest tactics to persuade Diana to grant the interview. As a result, the BBC commissioned an investigation by retired Judge John Dyson, who released a 126-page report on his findings Thursday.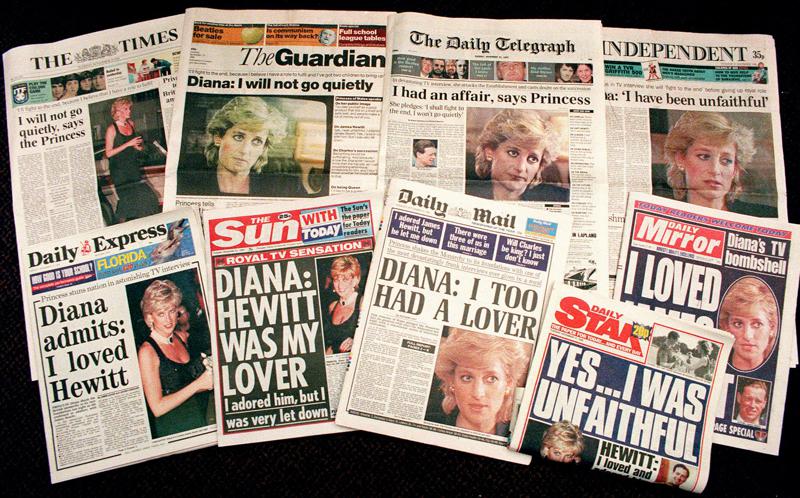 FILE - In this Nov. 21, 1995 file photo a selection of front pages of most of Britains's national newspapers showing their reaction to Princess Diana's television interview with BBC journalist Martin Bashir. Prince William and his brother Prince Harry have issued strongly-worded statements criticizing the BBC and British media for unethical practices after an investigation found that Bashir used "deceitful behavior" to secure Princess Diana's most explosive TV interview in 1995. (AP Photo/Martin Cleaver, File)
Read more:
https://apnews.com/article/bbc-princess-diana-europe-business-arts-and-entertainment-34207020fa9d670b06b6a85762b93f93
5 replies, 1667 views
Replies to this discussion thread
| | | | |
| --- | --- | --- | --- |
| 5 replies | Author | Time | Post |
| BBC faces questions of integrity after Princess Diana report (Original post) | Omaha Steve | May 2021 | OP |
| | TheRealNorth | May 2021 | #1 |
| | LiberalLovinLug | May 2021 | #2 |
| | JI7 | May 2021 | #3 |
| | Marcuse | May 2021 | #4 |
| | Gore1FL | May 2021 | #5 |
---
Response to Omaha Steve (Original post)
Fri May 21, 2021, 12:51 PM
TheRealNorth (4,067 posts)
1. Since when do Conservatives care about journalistic integrity?
I smell an ulterior motive here. In right-leaning rags, lying and misleading the interviewee is Journalism 101.
---
Response to TheRealNorth (Reply #1)
Fri May 21, 2021, 02:55 PM
LiberalLovinLug (12,851 posts)
2. They do if the target is the BBC
---
Response to Omaha Steve (Original post)
Fri May 21, 2021, 03:04 PM
JI7 (85,124 posts)
3. Bashir also did the Michael Jackson interview where he tried to imply
certain things.

After Jackson died Bashir admitted he saw no wrongdoing and didn't think he was committing any crimes.


---
Response to Omaha Steve (Original post)
Fri May 21, 2021, 04:23 PM
Marcuse (4,682 posts)
4. I remember him on MSNBC, in the Nichole Wallace spot I believe.
---
Response to Marcuse (Reply #4)
Fri May 21, 2021, 04:57 PM
Gore1FL (18,271 posts)
5. Before resigning from MSNBC, he essentially said on-air that Sarah Palin deserved to eat shit.
So he's clearly not all bad.