Tue Jan 11, 2022, 09:13 AM
Omaha Steve (85,569 posts)
Safety doors failed in NYC high-rise fire that killed 17
Source:
AP
By DAVID PORTER, MICHELLE L. PRICE and MICHAEL R. SISAK
NEW YORK (AP) — Investigators sought answers Monday for why safety doors failed to close when fire broke out in a New York high-rise, allowing thick smoke to rise through the tower and kill 17 people, including eight children, in the city's deadliest blaze in more than three decades.
A malfunctioning electric space heater apparently started the fire Sunday in the 19-story building in the Bronx, fire officials said. The flames damaged only a small part of the building, but smoke poured through the apartment's open door and turned stairwells into dark, ash-choked death traps. The stairs were the only method of escape in a tower too tall for fire escapes.
Fire Commissioner Daniel Nigro said the apartment's front door and a door on the 15th floor should have been self-closing and blunted the spread of smoke, but the doors stayed fully open. It was not clear if the doors failed mechanically or if they had been manually disabled. Nigro said the apartment door was not obstructed.
The heavy smoke blocked some residents from escaping and incapacitated others as they tried to flee, fire officials said. Firefighters carried out limp children and gave them oxygen and continued making rescues even after their air supplies ran out.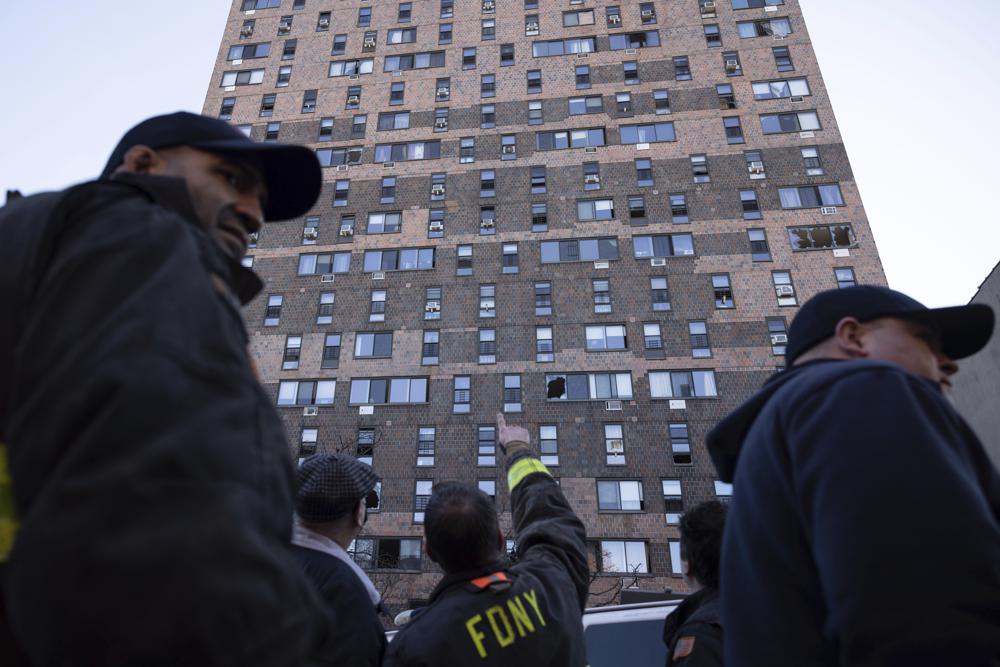 Firefighters work outside the apartment building in the Bronx on Monday, Jan. 10, 2022, in New York. Doctors are working to save the lives of several people gravely injured when smoke from a fire knocked them out or trapped them in their apartments in the New York City high-rise building. (AP Photo/Yuki Iwamura)
Read more:
https://apnews.com/article/fires-new-york-bronx-new-york-city-c8bd4a00e992b6da7380a23e6e7b38e4
4 replies, 1081 views
Replies to this discussion thread
| | | | |
| --- | --- | --- | --- |
| 4 replies | Author | Time | Post |
| Safety doors failed in NYC high-rise fire that killed 17 (Original post) | Omaha Steve | Jan 2022 | OP |
| | Alexander Of Assyria | Jan 2022 | #1 |
| | Old Crank | Jan 2022 | #2 |
| | Yo_Mama_Been_Loggin | Jan 2022 | #3 |
| | TexasBushwhacker | Jan 2022 | #4 |
---
Response to Omaha Steve (Original post)
Tue Jan 11, 2022, 11:12 AM
Alexander Of Assyria (1,972 posts)
1. Answer...government regulators are vastly underfunded...death is acceptable once in
a while so can keep the taxes down fractionally, is the political,calculation.

….speculation, full confession.

Won't hear that much, guessing again.

.


---
Response to Omaha Steve (Original post)
Tue Jan 11, 2022, 01:38 PM
Old Crank (690 posts)
2. Amazing that more lives weren't lost.
When I was at Stanford we had a continuing battle with students who wanted to leave their dorm room doors propped open. All doors had to be on self closures and we checked, and the county checked. Hallways over a certain length needed to have fire doors located in them and placed to make the means of egress clear from smoke. Same with elevators. They have to have self closing doors hooked to the alarm system.
This structure at minimum is existing nonconforming (Grandfathered in) The city has had ample time to increase teh compliance of the old codes, which seem not to have happened in this building.
Unfortunately the codes follow the tragedy.

---
Response to Omaha Steve (Original post)
Tue Jan 11, 2022, 08:50 PM
Yo_Mama_Been_Loggin (83,829 posts)
3. Multiple space heaters were running inside apartment where deadly Bronx fire erupted: FDNY sources
NEW YORK — The Bronx apartment where a deadly fire erupted that killed 17 people had several space heaters running at the time of the fire — and all of them, including the one that sparked the fire, had been left on for days, New York City Fire Department sources said Tuesday.
Firefighters made the discovery as they sifted through the scorched rubble of the second-floor duplex apartment where the Sunday morning fire started.
It was not immediately clear how many space heaters were in use when the fire erupted.
The blaze sent thick plumes of choking smoke throughout the Twin Parks Northwest building on E. 181st Street near Tiebout Avenue in Fordham Heights.
https://www.msn.com/en-us/news/world/multiple-space-heaters-were-running-inside-apartment-where-deadly-bronx-fire-erupted-fdny-sources-say/ar-AASFUNQ?li=BBnb7Kz
---
Response to Yo_Mama_Been_Loggin (Reply #3)
Tue Jan 11, 2022, 10:34 PM
TexasBushwhacker (18,030 posts)
4. That tells me the heat in the building wasn't working n/t