Fri Aug 5, 2022, 06:57 AM
Omaha Steve (87,564 posts)
Indiana lawmakers vote to keep exceptions from abortion ban
Source:
AP
By ARLEIGH RODGERS and TOM DAVIES
INDIANAPOLIS (AP) — A deeply divided Indiana House voted Thursday to keep exceptions in cases of rape or incest in a bill that would ban nearly all abortions in the state.
The Republican-dominated House voted 61-39 to defeat an amendment that would have removed those exceptions, with a majority of GOP members wanting their removal.
The House vote displayed a similar division among Republicans seen in the state Senate over exceptions for rape and incest, which remained in the bill when an attempt in the Senate last week also failed to strip those exceptions.
Republican Rep. Karen Engleman sponsored the amendment, arguing that even a child conceived in a rape or incest attack deserved a chance at life.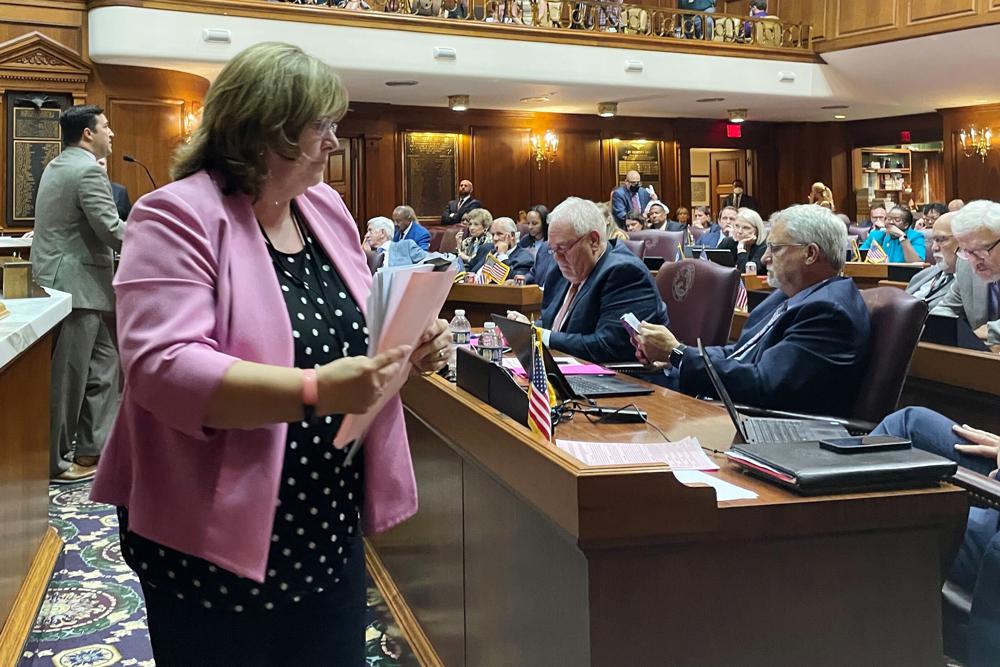 Indiana Republican Rep. Karen Engleman, center, yields to Democratic Rep. Ryan Hatfield, left, during a house session, Thursday, Aug. 4, 2022, in Indianapolis, when lawmakers failed to strip exceptions for rape and incest in a Senate-approved abortion ban being considered by the Indiana House. (AP Photo/Arleigh Rodgers)
Read more:
https://apnews.com/article/abortion-health-indiana-legislature-government-and-politics-c66efda80ea9fcc50598d2f202a433c4
9 replies, 1397 views
Replies to this discussion thread
| | | | |
| --- | --- | --- | --- |
| 9 replies | Author | Time | Post |
| Indiana lawmakers vote to keep exceptions from abortion ban (Original post) | Omaha Steve | Aug 5 | OP |
| | bucolic_frolic | Aug 5 | #1 |
| | Farmer-Rick | Aug 5 | #2 |
| | irisblue | Aug 5 | #3 |
| | roamer65 | Sunday | #9 |
| | mackdaddy | Aug 5 | #4 |
| | LiberalFighter | Aug 5 | #5 |
| | Hugh_Lebowski | Sunday | #7 |
| | Karadeniz | Aug 5 | #6 |
| | RussBLib | Sunday | #8 |
---
Response to Omaha Steve (Original post)
Fri Aug 5, 2022, 07:00 AM
bucolic_frolic (33,288 posts)
1. Rich old GOP dudes angry because they can't get any
Making young people pay for wanting to be free of tyranny over their own bodies
---
Response to Omaha Steve (Original post)
Fri Aug 5, 2022, 07:35 AM
Farmer-Rick (6,752 posts)
2. I heard that the difference between a Catholic's and an Evangelical Protestant's
Stand on forced birth is that Catholics don't want any exceptions and would let a mother die from giving birth; while Evangelicals would like to stop the mother from dying if she was raped.

Weirdly minor differences.

But since this whole forced birth idiocy is merely based on religious dogma, mythology and dueling magical sky daddies, it will always have these nonsensical disagreements between different sects of Christianity.

I mean when you are just making up the whole thing anyway, it really doesn't matter who agrees with who, just so long as someone is suffering for the imaginary sky daddy.
---
Response to Omaha Steve (Original post)
Fri Aug 5, 2022, 07:50 AM
irisblue (28,682 posts)
3. Twitter based vid clips of Rs acknowledging their law will cause pain & deaths of women & girls
---
Response to irisblue (Reply #3)
Sun Aug 7, 2022, 02:42 PM
roamer65 (32,400 posts)
9. So can we tell Davisson he doesn't ever need surgery and he can just die?
---
Response to Omaha Steve (Original post)
Fri Aug 5, 2022, 08:02 AM
mackdaddy (1,342 posts)
4. Can we send someone to smack the AP editor that writes these headlines?
Makes you not want to trust anything they say.

This vote result was to "keep the exceptions IN this bill" not "from" the bill.

Still total crap that the Republicans are doing this, but I hope Voters come out this fall like they did in Kansas this week and toss the bastards out of office.
---
Response to Omaha Steve (Original post)
Fri Aug 5, 2022, 08:06 AM
LiberalFighter (44,277 posts)
5. It is not just men. But sick twisted women that want to ban abortions.
Or proper health care for girls and women.
---
Response to LiberalFighter (Reply #5)
Sun Aug 7, 2022, 11:14 AM
Hugh_Lebowski (27,754 posts)
7. That particular spiel has gotten old to me
Look at who are usually outside abortion clinics protesting in the past. I'd bet money you'll find more women than men, and typically they're organized by a women's group of some kind.

I don't think men in general are anti-choice in a wildly disproportionate % vs. women. I'm sure it's HIGHER, but just how much, I'm not sure. If I was to guess it's maybe 45% of men and 35% of women, something like that.

That said, I'd bet that in a significant % in both genders, ultimately the psychological underpinning for their position derives from a deep dissatisfaction with their own sex lives. Including 'not getting any'.
---
Response to Omaha Steve (Original post)
Fri Aug 5, 2022, 10:55 AM
Karadeniz (16,711 posts)
6. Not good enough. What about ectopic pregnancies and cases where the fetus has died?
Hopefully, those would be covered by federal law.
---
Response to Omaha Steve (Original post)
Sun Aug 7, 2022, 11:30 AM
RussBLib (6,048 posts)
8. well, that's something
keeping exceptions for rape and incest is the right thing to do. I heard earlier this week that an exception still exists to save the life of the mother., so they have not gone totally insane. Still, fuck Indiana.