Thu Nov 24, 2022, 06:48 AM
Omaha Steve (91,142 posts)
Brazil election agency rejects Bolsonaro push to void votes
Source:
AP
By DAVID BILLER today
RIO DE JANEIRO (AP) — The head of Brazil's electoral authority on Wednesday rejected the request from President Jair Bolsonaro and his political party to annul ballots cast on most electronic voting machines, which would have overturned the Oct. 30 election.
Alexandre de Moraes had issued a prior ruling that implicitly raised the possibility that Bolsonaro's Liberal Party could suffer from such a challenge. He conditioned analysis of the request on the presentation of an amended report to include results from the first electoral round, on Oct. 2, in which the party won more seats in both congressional houses than any other, and he established a 24-hour deadline.
Earlier Wednesday, party president Valdemar Costa and lawyer Marcelo de Bessa held a press conference and said there would be no amended report.
"The complete bad faith of the plaintiff's bizarre and illicit request ... was proven, both by the refusal to add to the initial petition and the total absence of any evidence of irregularities and the existence of a totally fraudulent narrative of the facts," de Moraes wrote in his decision hours later.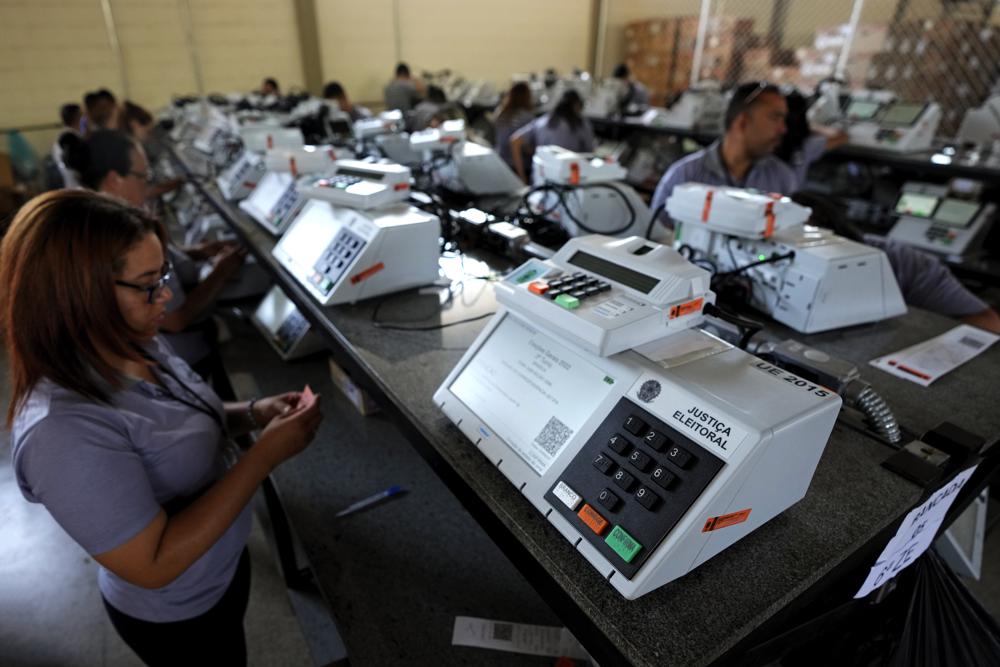 FILE - Electoral Court employees work on the final stage of sealing electronic voting machines in preparation for the general election run-off in Brasilia, Brazil, Oct. 19, 2022, ahead of the Oct. 30 second round vote. Valdemar Costa, president of the ruling Liberal Party, is calling on the electoral authority to annul votes cast on more than half of electronic voting machines used in the Oct. 30 election, citing a software bug. (AP Photo/Eraldo Peres, File)
Read more:
https://apnews.com/article/jair-bolsonaro-caribbean-brazil-b7c872b541371ff2925fae793007af87?utm_source=homepage&utm_medium=TopNews&utm_campaign=position_03
6 replies, 1103 views
Replies to this discussion thread
| | | | |
| --- | --- | --- | --- |
| 6 replies | Author | Time | Post |
| Brazil election agency rejects Bolsonaro push to void votes (Original post) | Omaha Steve | Nov 24 | OP |
| | Lovie777 | Nov 24 | #1 |
| | republianmushroom | Nov 24 | #2 |
| | Temeret | Nov 24 | #3 |
| | LiberalLovinLug | Nov 24 | #4 |
| | lambchopp59 | Nov 24 | #5 |
| | ck4829 | Nov 28 | #6 |
---
Response to Omaha Steve (Original post)
Thu Nov 24, 2022, 07:12 AM
Lovie777 (6,444 posts)
1. shithole's crazies are with the Brazilian crazies .....
---
Response to Omaha Steve (Original post)
Thu Nov 24, 2022, 12:31 PM
republianmushroom (1,865 posts)
2. I like it
---
Response to Omaha Steve (Original post)
Thu Nov 24, 2022, 01:59 PM
Temeret (45 posts)
3. Bolsonaro loses again
---
Response to Omaha Steve (Original post)
Thu Nov 24, 2022, 02:29 PM
LiberalLovinLug (13,488 posts)
4. Its all in the Bannon book of sowing chaos.
Never concede. Always claim fraud.
Even if it doesn't work this time, you groom voters for next time. You let it stew and grow through social media misinformation sites run by cult members, your own troll army, and foreign trolls.
Inevitable that Lulu will eventually have a political issue, and will be denied progress by not having a majority of party members, which can be exploited and conflated with an already suspicious cult loyalist crowd. Solidifying a good strong base to work from for the next election
---
Response to Omaha Steve (Original post)
Thu Nov 24, 2022, 06:41 PM
lambchopp59 (2,275 posts)
5. Don't take those blood pressure pills, Jair!
They were developed by a transgender scientist with a secret formula to make you gay, gay, gay!!!
Gotta find just the right Brazilian website to translate and post this.
---
Response to Omaha Steve (Original post)
Mon Nov 28, 2022, 08:36 AM
ck4829 (33,914 posts)
6. Kick