Mon Mar 12, 2018, 09:44 PM
Wwcd (6,288 posts)
4 replies, 1020 views
Replies to this discussion thread
| | | | |
| --- | --- | --- | --- |
| 4 replies | Author | Time | Post |
| ANDREW JANZ for Congress. "SEIUCAL has just endorsed me to replace Nunes in #CA22." (Original post) | Wwcd | Mar 2018 | OP |
| | BigmanPigman | Mar 2018 | #1 |
| | Wwcd | Mar 2018 | #2 |
| | RussBLib | Mar 2018 | #3 |
| | Hortensis | Mar 2018 | #4 |
---
Response to Wwcd (Original post)
Tue Mar 13, 2018, 12:40 AM
BigmanPigman (22,495 posts)
1. I hope he can beat Nunes but it won't be easy.
CNN went to his district with him a month ago and most of the people only cared about the water supply and immigration. They have a lot of farms and need the water (tough shit...so does everyone in CA!) and immigration (only if they can get undocumented labor for $1.50 an hour and 12 hours a day that is). Every single person they approached with Janz and the CNN cameras people said, "Fake news" and refused to talk to them and no one knows anything at all about Russia.
---
Response to BigmanPigman (Reply #1)
Tue Mar 13, 2018, 04:17 AM
Wwcd (6,288 posts)
2. Wow. Guess that explains Nunes .
You know there's a LOT of those areas in the US.
Ugh.


---
Response to Wwcd (Original post)
Tue Mar 13, 2018, 11:27 AM
RussBLib (3,097 posts)
3. Nunes needs to be brought up on obstruction of justice charges
Nunes should be beatable after that crap he has pulled in the House.
---
Response to Wwcd (Original post)
Thu Mar 22, 2018, 12:40 PM
Hortensis (27,699 posts)
4. Janz so far may be Democrats' best chance to beat Nunes.
He's out ahead of several Democratic candidates, including Jose Sigala, Dr. Mallory Kremer, Ricardo Franco, Bobby Bliatout and Paul Vargas, with possibly more coming. This billboard was put up by Janz's group.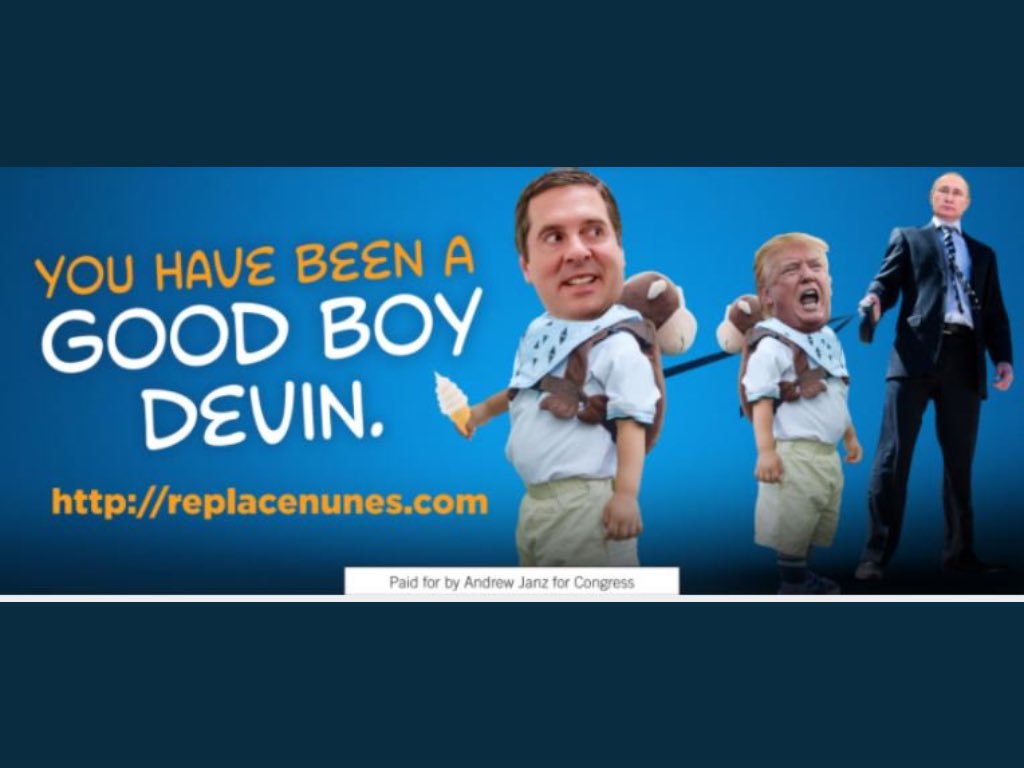 Janz grew up in Visalia and has a solid and varied background, including prosecuting criminals. That'd appeal to conservatives, of course, but also to some degree to most everyone in low income/inadequately policed areas. He has a BA in economics, something in a perfect world all legislators would have.
Reportedly, there's high (60s) independent voter support for a generic Democratic candidate, including among Hispanic and young voters. But would they turn out?
A capital-P Progressive group opposes Janz because of his work as a prosecutor.
But this conservative district has been electing Nunes since 2002, and right now apparently our national party is standing back and letting locals work on it.