Sun Feb 10, 2019, 04:27 PM
underpants (141,831 posts)
What I learned today - John Punch.
I ran into this story via
Brooklynite's
thread about Gov. Northam.
John Punch. Often referred to as the "first slave in the New World" but really he has the first slave in the English colonies.
John Punch was a servant of Virginia planter Hugh Gwyn, a wealthy landowner, a justice, and a member of the House of Burgesses, representing Charles River County (which would become York County in 1642).[13]
In 1640, Punch ran away to Maryland accompanied by two of Gwyn's European indentured servants. All three were caught and returned to Virginia. On 9 July, the Virginia Governor's Council, which served as the colony's highest court, sentenced both Europeans to have their terms of indenture extended by another four years each. However, they sentenced Punch to a life of servitude. In addition, the council sentenced the three men to thirty lashes each.[1]
https://en.wikipedia.org/wiki/John_Punch_
(slave)
John Punch Wasn't the First Slave in America -- Just the First Slave in the English Colonies


One of the problems with the announcement this week is the researchers said "first slave in the United States," meaning the thirteen English colonies on the East Coast, but should have said the thirteen colonies or North American colonies, because some of the media, picking up on the story, simply wrote the "colonies." Researchers should have identified the "colonies," because the date they named for the first slave -- 1640, when John Punch was sentenced to a lifetime of perpetual slavery in Virginia -- was hundreds of years after African slavery began in the Americas.
By 1640, other African slaves were enchained in chattel slavery in the Spanish, Portuguese, and English colonies in the Carribbean and South America.
There was a Spanish colony established in 1526 in South Carolina, San Miguel de Gualdape, built in today's South Carolina (possibly Georgia -- the exact location remains obscured) by African slave labor. The colony was abandoned the following year after a slave revolt. Another, more permanent colony was established in Florida in 1565 -- Saint Augustine.
So, when the burgesses who ruled the Virginia colony sentenced John Punch to indentured servitude in perpetuity, they sentenced him to a form of chattel slavery that already existed in the New World -- even in what would become the United States. He was not the first slave in America -- merely the first slave owned by the English.
https://historynewsnetwork.org/article/147607
1 replies, 774 views
Replies to this discussion thread
| | | | |
| --- | --- | --- | --- |
| 1 replies | Author | Time | Post |
| What I learned today - John Punch. (Original post) | underpants | Feb 2019 | OP |
| | appalachiablue | Feb 2019 | #1 |
---
Response to underpants (Original post)
Sun Feb 10, 2019, 05:51 PM
appalachiablue (19,904 posts)
1. More on African slavery in the North American, English colonies.
Last edited Sun Feb 10, 2019, 06:21 PM - Edit history (1)
- Researchers Seek Fuller Picture of First Africans, Feb. 7, 2019 (Judi Lynn OP)
https://www.chron.com/news/us/article/Researchers-seek-fuller-picture-of-first-Africans-13598003.php
https://www.democraticunderground.com/1016226015
- The Misguided Focus on 1619 as the Beginning of Slavery in the U.S. Damages Our Understanding of American History. The year the first enslaved Africans were brought to Jamestown is drilled into students' memories, but overemphasizing this date distorts history, Smithsonian Magazine, 2017.
https://www.smithsonianmag.com/history/misguided-focus-1619-beginning-slavery-us-damages-our-understanding-american-history-180964873/#4d52qHwEOH5YdKJS.99
-Excerpt:
"There are important historical correctives to the misplaced marker of 1619 that can help us ask better questions about the past. Most obviously, 1619 was not the first time Africans could be found in an English Atlantic colony, and it certainly wasn't the first time people of African descent made their mark and imposed their will on the land that would someday be part of the United States. As early as May 1616, blacks from the West Indies were already at work in Bermuda providing expert knowledge about the cultivation of tobacco.
There is also suggestive evidence that scores of Africans plundered from the Spanish were aboard a fleet under the command of Sir Francis Drake when he arrived at Roanoke Island in 1586. In 1526, enslaved Africans were part of a Spanish expedition to establish an outpost on the North American coast in present-day South Carolina. Those Africans launched a rebellion in November of that year and effectively destroyed the Spanish settlers' ability to sustain the settlement, which they abandoned a year later. Nearly 100 years before Jamestown, African actors enabled American colonies to survive, and they were equally able to destroy European colonial ventures."
___________
The Ideological Origins Of Chattel Slavery In The British World, 2007.
http://www.liverpoolmuseums.org.uk/ism/resources/origins_chattel_slavery.aspx
Excerpt:
"Slavery is not a passé subject although it has an ancient history. Modern countries in Africa, Asia, and the Americas still suffer from relentless and peculiar forms of human bondage, whether it is the Saudi Arabian businessman who holds a Filipino against her will or an American who employs a Mexican and works him for endless hours without relief knowing that the Mexican without legal papers will not report abuses for fear of deportation.
In these cases, of course, we have individuals willing to "sell" their labour for food and shelter. There are severe situations of labour stress in economies like China and India where people are forced to work in horrible conditions for little pay. They are often taken advantage of but it is not the same as the slavery that uprooted millions of Africans."
wiki, Slavery, SEE 'Chattel'
https://en.wikipedia.org/wiki/Slavery
Portrait of woman with enslaved servant girl, New Orleans, mid-19th c.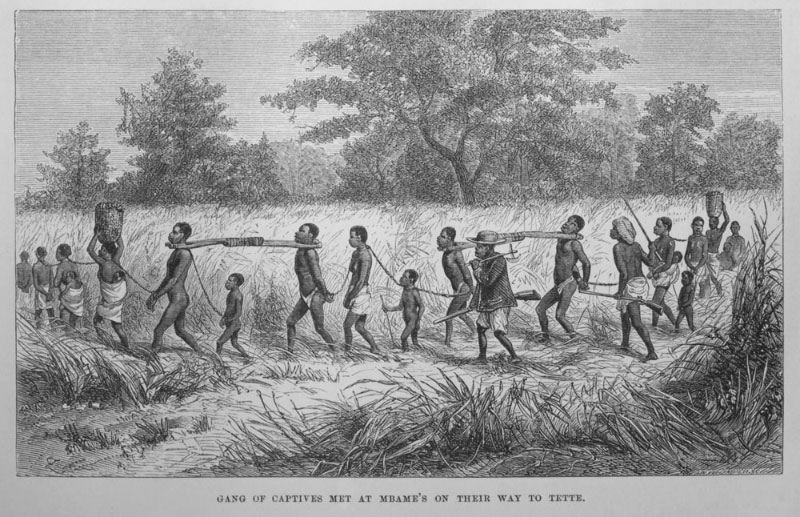 Coffle gang of captured Africans to be sold slaves.