Thu Feb 28, 2019, 04:05 AM
Judi Lynn (142,496 posts)
CIA archives capture Richard Nixon's failed 1958 "goodwill" trip to Latin America

February 27, 2019
Congress criticized the Agency for not warning the then-vice president about angry mobs, proper soccer techniques
Written by Carolyn Komatsoulis
Edited by JPat Brown
In 1958, then-Vice President Richard Nixon didn't quite understand soccer.
While in Quito, Ecuador during one stop on his Spring 1958 South American tour, Nixon was offered the chance to literally "kick off" a ceremonial soccer match. However, as the story goes, Nixon wasn't really in the mood for kicking, so he decided to use his head instead. The only problem was he used the top of his head and not his forehead, gracing humanity with this photograph: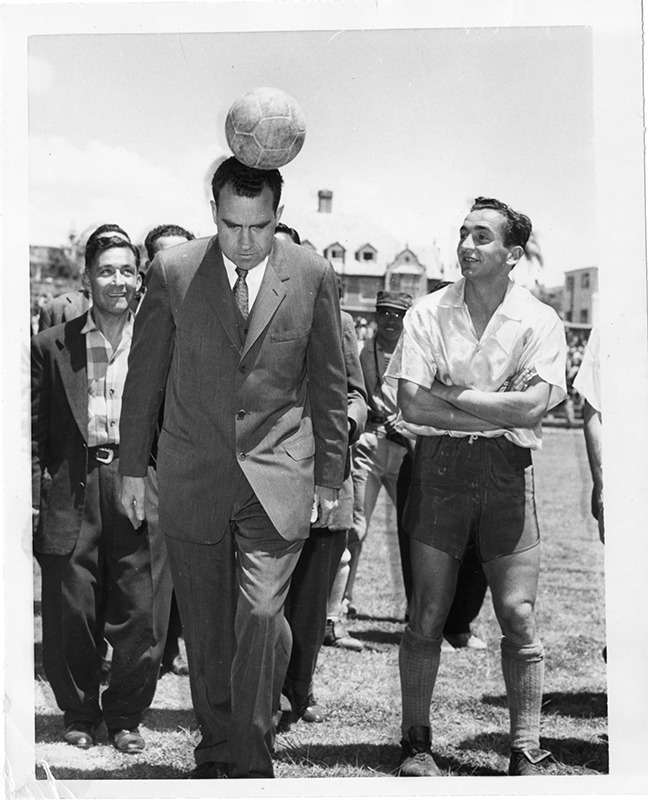 Soccer balls were heavier in 1958, and Nixon's noggin (and pride) and were both slightly bruised, though Nixon's time in Quito would be remembered as the best part of his trip. Although the Deputy Under Secretary of State Robert D. Murphy described that the trip was intended to "promote better understanding and good will between this country and our southern neighbor," Murphy later testified before Congress that Nixon was not well-received.

The "indignities" included riots and protesters attacking the car Nixon was traveling in. In Peru, the New York Times reported on a "screaming, rock-hurling, communist-led mob"
More:
https://www.muckrock.com/news/archives/2019/feb/27/cia-nixon-soccer/
3 replies, 814 views
Replies to this discussion thread
| | | | |
| --- | --- | --- | --- |
| 3 replies | Author | Time | Post |
| CIA archives capture Richard Nixon's failed 1958 "goodwill" trip to Latin America (Original post) | Judi Lynn | Feb 2019 | OP |
| | murielm99 | Feb 2019 | #1 |
| | ROB-ROX | Feb 2019 | #2 |
| | sandensea | Feb 2019 | #3 |
---
Response to Judi Lynn (Original post)
Thu Feb 28, 2019, 07:09 AM
murielm99 (26,631 posts)
1. He was such a dork.
He was awkward and he knew it. That was one of the reasons he resented Kennedy.

I only wish he could have been honest. He could have had a great Presidency and a great legacy. What a waste.
---
Response to Judi Lynn (Original post)
Thu Feb 28, 2019, 02:08 PM
ROB-ROX (767 posts)
2. They had idiot drones who voted for him
I grew up at this time. Even I know he was a 100% hello turd. In 1972 he was a regular GOP Reagan, Bush, etc. which means stupid turd. In this country we have to many stupid drones who do not know the evil of their masters........Old Bone Spurs makes nixon look GOOD.......Remember Nixon later flew to China to get the money ball rolling....Republicans do not work with COMMUNIST, but they do it for CASH.......
---
Response to ROB-ROX (Reply #2)
Thu Feb 28, 2019, 08:53 PM
sandensea (11,782 posts)
3. Republicans do not work with Communists - but they do it for Cash
Well said.

Big business saw China as a way to get around unionized labor (and those pesky first-world wages) by simply movingmost of our industrial capacity over there.

I believe Nixon himself admitted at the time this was his primary motivation for the overtures to Mao - rather than triangulating against the USSR, as Kissinger has always claimed (a reliable source if there ever was one).

That geopolitical consideration was there; but was no doubt secondary.