Fri Sep 11, 2020, 10:24 PM
Make7 (8,066 posts)
Social-Media Platforms Will Discourage Premature Election Victory Claims
By Ed Kilgore
The success of any Red Mirage scenario on Election Night — a potential Trump victory claim based on in-person votes counted first and heavily skewed toward the GOP thanks to Trump's demonization of voting by mail — depends on a great deal of media complicity. Team Trump would need news outlets to help spread its bogus claims, most obviously. The effort would also require just enough credulity from media figures to keep Trump and his surrogates from being howled down before MAGA folk can take to the streets demanding an end to the counting of "fraudulent" mail ballots.
So it's very good to hear that two social-media platforms that would be especially important in Trump's effort to preemptively claim victory are letting it be known that they'll put up at least a bit of a fight, as Politico reports:
[Twitter's] rules currently prohibit a narrower set of election-related tweets, including posts that stoke confusion about how to vote and other forms of voter suppression. And the platform in recent months has flagged some tweets by President Donald Trump and his allies that contained misleading information about mail-in voting.

But under its new guidelines, set to take effect next Thursday, Twitter will slap warning labels or take down posts "claiming victory before election results have been certified" or seeking to "prevent a peaceful transfer of power," the company said in a blog post. And Twitter will take the same action against "disputed claims" about the electoral process, including "unverified information about election rigging, ballot tampering, vote tallying, or certification of election results."
Facebook issued similar warnings last week, as Newsweek reported:
<– snip –>
We've got 54 days to get this right, media folk. That's plenty of time unless you are asleep at the wheel.
https://nymag.com/intelligencer/2020/09/social-media-platforms-to-denounce-premature-victory-claims.html
I hope all the news networks adopt some reasonable guidelines to ensure results are not declared prior to being warranted. Trump believes he won the popular vote in 2016 – this year will be an ideal circumstance for him to plant the seeds of doubt.
2 replies, 742 views
Replies to this discussion thread
| | | | |
| --- | --- | --- | --- |
| 2 replies | Author | Time | Post |
| Social-Media Platforms Will Discourage Premature Election Victory Claims (Original post) | Make7 | Sep 2020 | OP |
| | Hoyt | Sep 2020 | #1 |
| | Make7 | Sep 2020 | #2 |
---
Response to Make7 (Original post)
Fri Sep 11, 2020, 10:35 PM
Hoyt (47,405 posts)
1. Kornacki will keep us straight. If trump is ahead, Kornacki will
tell us where the votes are out, how many, expected Democratic percentage, uncounted Mail-in votes, etc.
I know he grates on folks' last nerve, but until he calls it, it's not over as far as I'm concerned.
---
Response to Hoyt (Reply #1)
Sat Sep 12, 2020, 12:12 AM
Make7 (8,066 posts)
2. Trump is trying to convince his followers that the election will be stolen from him.
I doubt if his voters are going to be tuning into Kornacki's analysis. They will be watching FOX or OANN on election night for a definitive result (in favor of Trump).
Even if only 50 million ballots are counted by election night, Trump will try to claim victory if over 25 million of those votes are cast for him. I just hope conservative media will point out the total number of votes by state tallied on the night of November 3rd compared to the number of votes cast for the 2016 election. Trump will almost certainly say he won even if less than half the estimated total ballots expected for this years election are counted that Tuesday night.
Trump believed Obama lost the popular vote in 2012: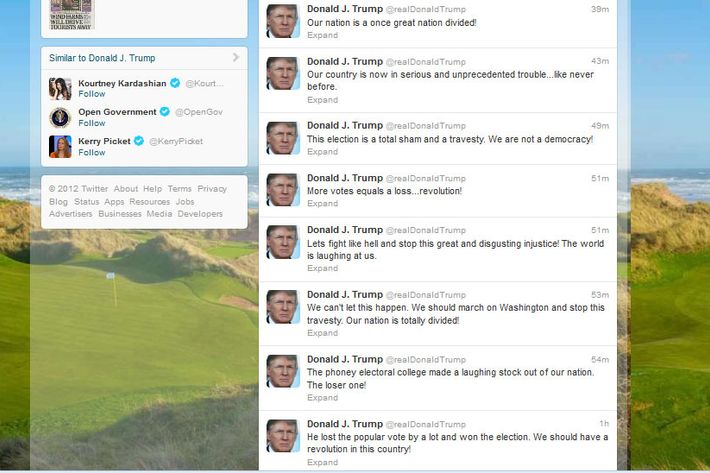 Most of those are still up at Twitter (
link
link
link
link
link
). The one following that screen cap is a doozy:
Obama won the popular vote by 4,982,291 votes (51.1% to 47.2%). Trump was posting unfounded conclusions prematurely on Election Night 2012 – his interest this year probably supersedes it of that night.
I just hope the media's desire for a horse race doesn't create a narrative for a contested election where there shouldn't be one. Most people will probably be patient and wait for the results to be tallied, but many conservatives don't allow facts to get in the way of their worldview.