Sat Oct 17, 2020, 08:11 PM
appalachiablue (28,150 posts)
Racial Tensions In America's 'Sundown Towns': AP Road Trip
'AP Road Trip: Racial Tensions In America's 'Sundown Towns,' by Tim Sullivan, Noreen Nasir, Oct. 14, 2020.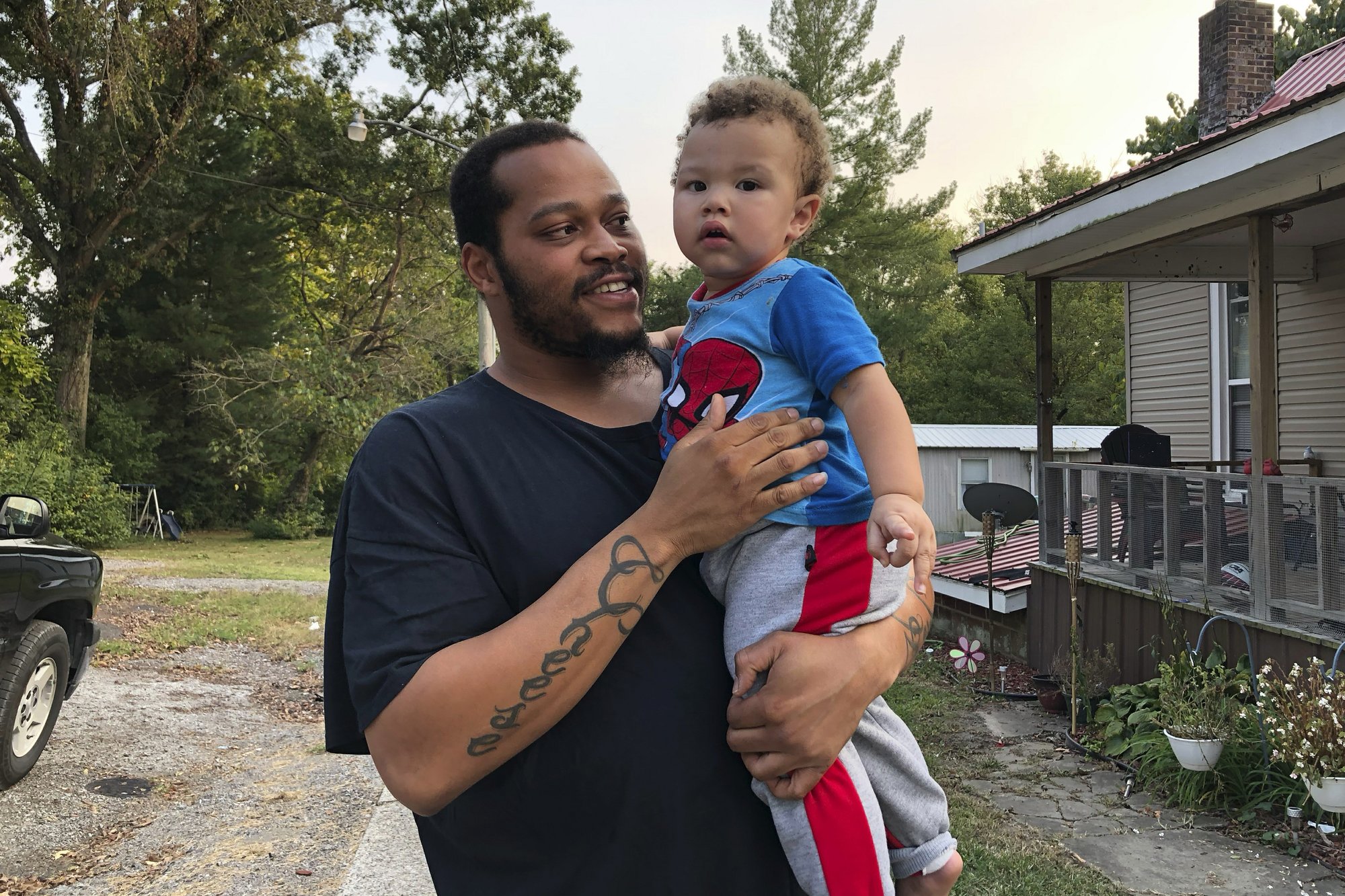 - Nickolas Lewis holds his son, Nick Jr. near their home in Vienna, Ill.
VIENNA, Ill. (AP) — Ask around this time-battered Midwestern town, with its empty storefronts, dusty antique shops and businesses that have migrated toward the interstate, and nearly everyone will tell you that Black and white residents get along really well. "Race isn't a big problem around here," said Bill Stevens, a white retired prison guard with a gentle smile, drinking beer with friends on a summer afternoon. "Never has been, really."
"We don't have any trouble with racism," said a twice-widowed woman, also white, with a meticulously-kept yard and a white picket fence. But in Vienna, as in hundreds of mostly white towns with similar histories across America, much is left unspoken. Around here, almost no one talks openly about the violence that drove out Black residents nearly 70 years ago, or even whispers the name these places were given: "sundown towns."
"It's real strange and weird out here sometimes," said Nicholas Lewis, a stay-at-home father. "Every time I walk around, eyes are on me."..The rules of a sundown town were simple: Black people were allowed to pass through during the day or go in to shop or work, but they had to be gone by nightfall. Anyone breaking the rules could risk arrest, a beating or worse. These towns were an open secret of racial segregation that spilled over much of the nation for at least a century, and still exist in various forms, enforced today more by tradition and fear than by rules.
Across America, some of these towns are now openly wrestling with their histories, publicly acknowledging now-abandoned racist laws or holding racial justice protests. Some old sundown towns are now integrated. But many also still have tiny Black communities living alongside residents who don't bother hiding their cold stares of disapproval. They were called "grey towns," in some parts of America, "sunset towns" in others. The terms were used by both Black and white people. Very often, especially in well-to-do suburbs that didn't want to be known as racist, they had no name at all. But they still kept out Black residents.
There were hundreds of such towns, scholars say, reaching from New York to Oregon. Perhaps thousands.
James Loewen, a historian who spent years studying sundown towns, found them in the suburbs of Detroit, New York City and Chicago. He found them outside Los Angeles, in midwestern farming villages and in New England summer towns...
More,
https://apnews.com/article/virus-outbreak-race-and-ethnicity-violence-db28a9aaa3b800d91b65dc11a6b12c4c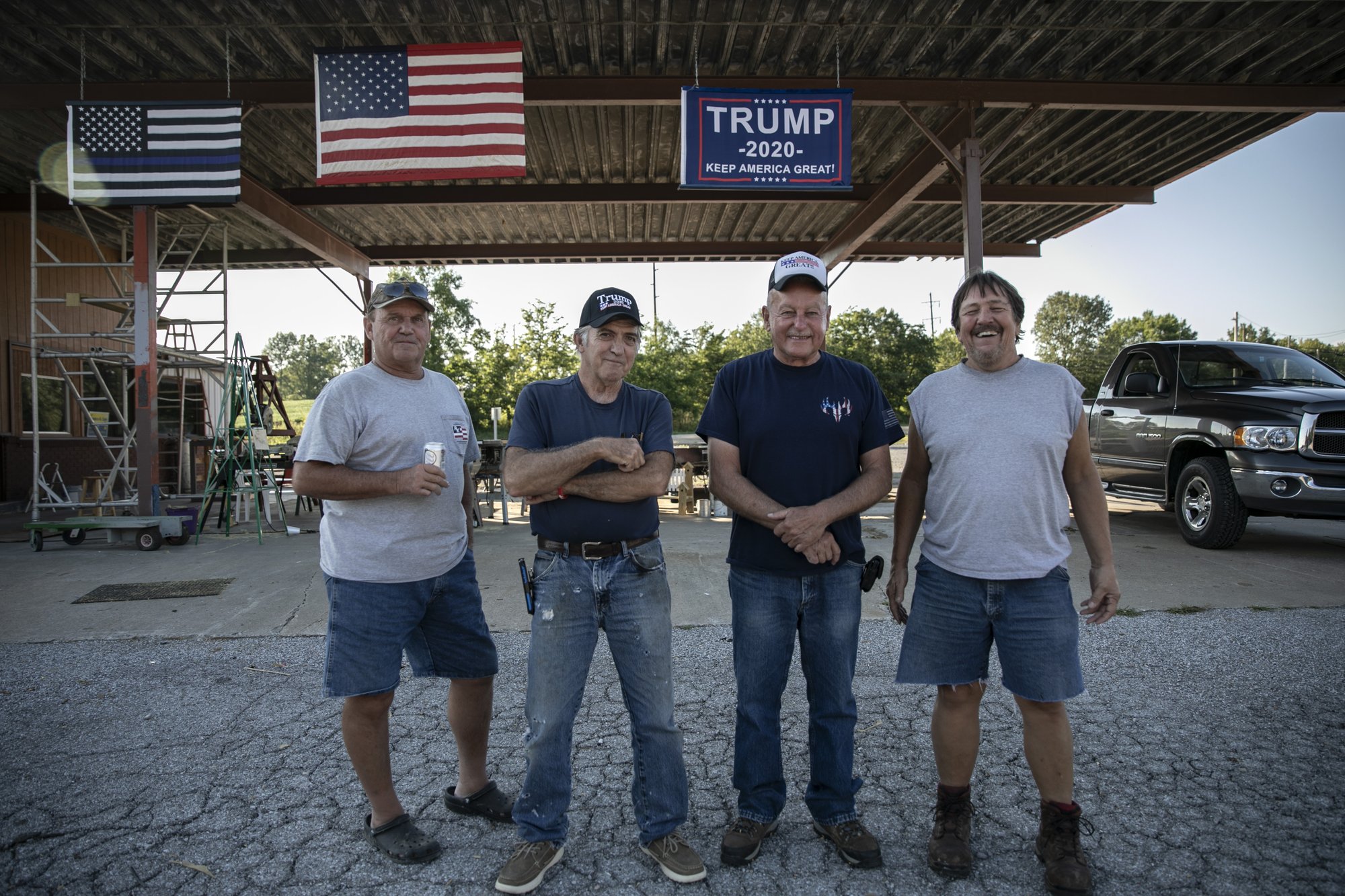 - Trump supporters Jim Rainbolt, 57, left, Rick Warren, 65, Bill Stevens, 76, & Roger Plott, 65, stand outside their clubhouse in West Vienna, Ill.
4 replies, 803 views
Replies to this discussion thread
| | | | |
| --- | --- | --- | --- |
| 4 replies | Author | Time | Post |
| Racial Tensions In America's 'Sundown Towns': AP Road Trip (Original post) | appalachiablue | Oct 17 | OP |
| | Karadeniz | Oct 17 | #1 |
| | Ellen Forradalom | Oct 18 | #3 |
| | yonder | Oct 17 | #2 |
| | Best_man23 | Oct 18 | #4 |
---
Response to appalachiablue (Original post)
Sat Oct 17, 2020, 08:37 PM
Karadeniz (9,686 posts)
1. Everything's peachy.....and none so blind as those who will not see.
---
Response to Karadeniz (Reply #1)
Sun Oct 18, 2020, 12:01 AM
Ellen Forradalom (16,100 posts)
3. None so blind as those who will Nazi
---
Response to appalachiablue (Original post)
Sat Oct 17, 2020, 08:44 PM
yonder (5,380 posts)
2. Nice photo. Which one's Hank? Which one's Boomhauer?
---
Response to appalachiablue (Original post)
Sun Oct 18, 2020, 12:29 AM
Best_man23 (3,263 posts)
4. Twelve percent brain function in that tRump group