Tue Jun 12, 2012, 04:04 PM
Bertha Venation (21,467 posts)
My post about torn-out trees and our new tree.
In reaction to seeing that magnificent tree killed, I vowed to plant a tree.
A couple of weeks ago we planted (rather, had planted) a peach tree in our front yard. Here's a pic. (I'm usually a little savvier than this but I can't figure out how to turn it. Maybe someone else can do it.)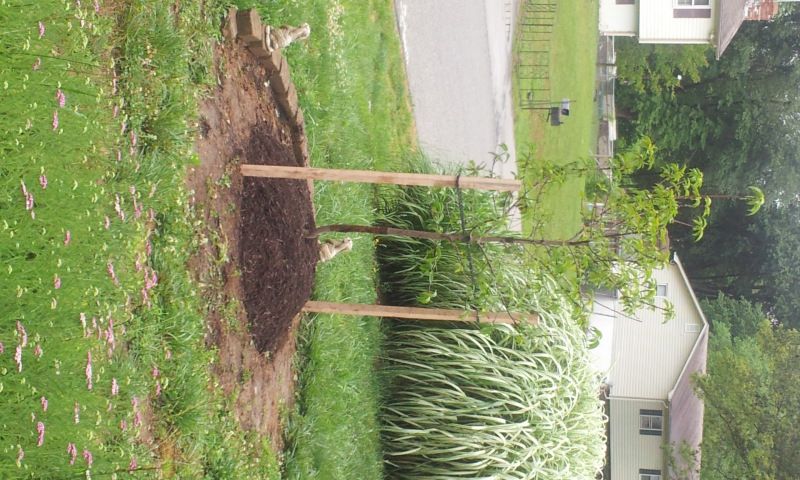 the torn-out trees thread
http://www.democraticunderground.com/1018117716
9 replies, 4522 views
Replies to this discussion thread
| | | | |
| --- | --- | --- | --- |
| 9 replies | Author | Time | Post |
| My post about torn-out trees and our new tree. (Original post) | Bertha Venation | Jun 2012 | OP |
| | OriginalGeek | Jun 2012 | #1 |
| | irisblue | Jun 2012 | #2 |
| | lunatica | Jun 2012 | #3 |
| | HopeHoops | Jun 2012 | #4 |
| | Major Nikon | Jun 2012 | #5 |
| | Bertha Venation | Jun 2012 | #6 |
| | Major Nikon | Jun 2012 | #8 |
| | csziggy | Jun 2012 | #9 |
| | Honeycombe8 | Jun 2012 | #7 |
---
Response to Bertha Venation (Original post)
Tue Jun 12, 2012, 04:26 PM
OriginalGeek (11,598 posts)
1. Here ya go!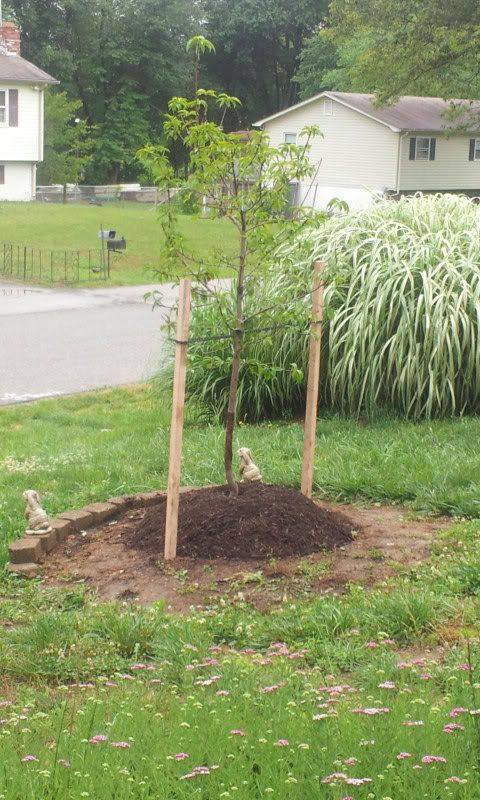 (there's an editor built right into photobucket and one of the functions is rotate.)
Cool tree! Peaches are one of my favorite things.
edit~sunnumma!
hang on...
alrighty then - gotta finish the job and save the newly rotated... lol
---
Response to Bertha Venation (Original post)
Tue Jun 12, 2012, 04:28 PM
irisblue (23,659 posts)
2. love guard bunnies! n/t
---
Response to Bertha Venation (Original post)
Tue Jun 12, 2012, 04:38 PM
lunatica (50,321 posts)
3. It's going to look beautiful in the Spring
It broke my heart when you showed the before and after pictures of your gorgeous tree.
But Yay for your new peach tree!

---
---
Response to Bertha Venation (Original post)
Tue Jun 12, 2012, 07:16 PM
Major Nikon (34,798 posts)
5. What a coincidence! Today is peach harvest day at Casa de Nikon
I'm no expert on growing peaches by any stretch of the imagination, but I've been doing it for the last 15 years or so. Here's a few tips I've learned which I wish someone would have told me when I first started.
1) Peach trees are fairly drought tolerant, but they really need a lot of water to produce well. Water frequently for the first year after planting and during the growing season every year thereafter.
2) Your tree will start to develop peaches next spring. Resist the urge to let them stay on the tree and cull all of them when they are marble sized. For the first year or two, your tree needs to focus on getting bigger and not making peaches.
3) For the 2nd spring, if your tree is say 6-8' tall and wide, it's probably big enough to go ahead and grow your first crop of peaches.
4) When your tree is ready to grow peaches, the first thing you need to do is spray for bugs. When the tree starts to bloom in the spring (they make lovely pink blooms), a small fly (I can't remember the name of the bug) will lay it's eggs on the developing buds. The eggs (larva) will develop inside the peach as it grows. As the fly matures, it will burrow out of the peach. It's not uncommon for these bugs to ruin an entire crop of peaches, so they must be controlled if you want to harvest your peaches. Right before the tree starts to bloom, when there are just buds on the tree, start spraying it with a horticultural oil. I use a concentrated horticultural oil and use a hose end sprayer for application. It takes just a few minutes to spray the whole tree this way. You want to coat the hell out of the whole tree. Keep spraying every few days for as long as the tree has blooms and just beyond. Horticultural oil is a very safe pesticide. It's made from mineral oil, which is safe enough to drink(I think there might be organic versions made out of vegetable oil, but not sure about that). It works by smothering the bugs and isn't harmful to humans. Personally I only spray my peaches once in the early spring. I do get a few bugs after the peaches start to ripen, but I also get a pretty good number of ladybugs and spiders which keep the bad bugs pretty well controlled. The birds will start to peck at some of the peaches and those are the ones the bugs go for anyway. I let the birds have the peaches that are up high, but you can put a net over them when they first start to turn red if you're losing too much of your crop to birds.
5) When the peaches get to be marble sized, you will need to cull about half to 2/3rds of them. This sounds like a lot, but if you don't do this you'll get really small peaches that tend to grow together. The peaches will tend to grow in clumps, so what you want to do is remove all the peaches from the clump except one. You also want a good amount of space between the peaches.
6) Water often during the growing season. One trick you can use is to take a 5 gal bucket and drill a small hole in the bottom. Fill the bucket up each day at leave it by the base of the tree. The more water your tree gets, the bigger the peaches will be.
7) You will want to prune the tree each winter. You want just a few sturdy branches instead of a lot of weak branches. As you can see from my first picture, the branches must support a lot of weight when the peaches get larger.
8) The peaches are ready to harvest when you can pull them off the branch with just a gentle twist and a tug. This usually happens about 2-3 weeks after they first start to turn red. The peaches will usually be hard when you first harvest them, but they will soften up in a few days and will be ready to eat or to make preserves with. If you pick them too early, they won't be sweet, even if they do manage to soften up.
This is the tree I harvested from today. The poor thing has its branches bent over, but they will come back after harvest. Both of my trees are about 10 years old, but they both were producing a decent crop by their 2nd or 3rd year. Abby the border collie is running circles around everything and everyone as usual.
This is my second peach tree. It produces peaches later in the season and will be ready to harvest in 6 weeks or so.
Here is just part of my harvest, from one tree.
---
Response to Major Nikon (Reply #5)
Tue Jun 12, 2012, 09:51 PM
Bertha Venation (21,467 posts)
6. Dude! Thank you so much for the advice.
As spring approaches next year (actually, probably in January), I'll return to this thread and heed your advice.

Is this horticultural oil something I can find at Tractor Supply, or perhaps a mega-hardware-superstore?
---
Response to Bertha Venation (Reply #6)
Tue Jun 12, 2012, 10:17 PM
Major Nikon (34,798 posts)
8. You should be able to find it at most any hardware store or garden supply
The area where you live may present its own problems in the way of climate and pests. I haven't had a problem with peach borers, but they are a problem in some areas. Nematodes are a good control and it's an organic solution to the problem. If you find that a lot of sap is collecting around the base of the tree, you probably have peach borers. There's also tons of information on youtube about fruit trees. Some of the information I told you may not be the best, but it's just what I've found works. However, at least I've given you the basics so you can get started and hopefully have a good harvest in a couple of years or so. Your best source of information will come from your local county extension office.

Keep track of what variety of peach tree you bought. This will let you know the general time harvest will happen. If you plant another peach tree, plant a different variety that ripens at a different time. That way you get fresh peaches for a longer period.
---
Response to Bertha Venation (Reply #6)
Tue Jun 12, 2012, 11:36 PM
csziggy (30,385 posts)
9. Call your local cooperative extension office - they can give advice on local pests
Here is where you can find your local Cooperative Extension System Offices :
http://www.csrees.usda.gov/Extension/
They also have tons of other info on gardening, cooking and lots of stuff. Nearly all of their publications are free.
---
Response to Bertha Venation (Original post)
Tue Jun 12, 2012, 09:53 PM
Honeycombe8 (37,648 posts)
7. You had a baby tree! It'll grow, esp with that bunny guarding it. nt