Thu Nov 14, 2019, 10:35 AM
left-of-center2012 (25,759 posts)
'One in a million' deer captured on camera in Michigan woods
A retired Michigan legislator went into the woods to capture wildlife. He ended up with images of a rare three-antlered deer. Steven Lindberg, 75, was out walking with his Shih Tzu-bichon frise mix in the woods near his home in Marquette, Mich., over the weekend. He has made a habit of taking along his camera while exercising his beloved pup, Max, he said.
Lindberg had taken some pictures of a river otter earlier in the walk, which the amateur photographer was happy about, he said. "It's kind of hard to find something different to take a picture of," he said of his wildlife photography hobby. "Then, I spotted this deer. He didn't realize the buck had three antlers when he was taking its picture because trying to capture a moving subject with the backdrop of the outdoors can be challenging, he said.
He snapped dozens of photos of the deer with his camera and telephoto lens, but Lindberg said he never got the perfect picture. It wasn't until he got home and uploaded the images onto his computer that he realized what he had captured. He had never seen an animal like that.
Large-animal veterinarian Steve Edwards told the Detroit Free Press that the buck was a "one-in-a-million" find. It could be even rarer, but the actual numbers are hard to track, said John Bruggink, professor of wildlife biology at Northern Michigan University. Extra antlers have been reported as early as 1965, when researchers found a deer with an additional antler growing off its cheekbone. The extra antler on Lindberg's deer could be attributed to damage to the pedicels, the bony structures that support and develop antlers on animals, Bruggink said.
https://www.washingtonpost.com/science/2019/11/13/one-million-deer-captured-camera-michigan-woods/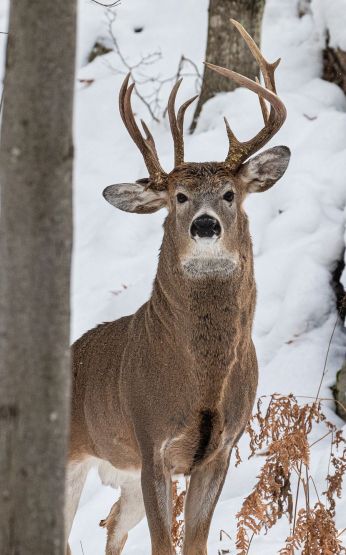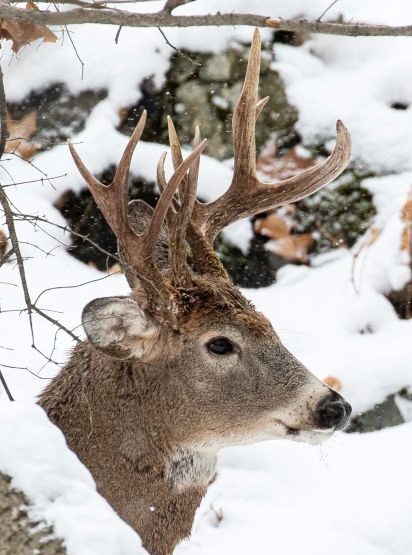 3 replies, 1624 views
Replies to this discussion thread
| | | | |
| --- | --- | --- | --- |
| 3 replies | Author | Time | Post |
| 'One in a million' deer captured on camera in Michigan woods (Original post) | left-of-center2012 | Nov 2019 | OP |
| | RainCaster | Nov 2019 | #1 |
| | roamer65 | Nov 2019 | #2 |
| | DetroitLegalBeagle | Nov 2019 | #3 |
---
Response to left-of-center2012 (Original post)
Thu Nov 14, 2019, 10:47 AM
RainCaster (6,856 posts)
1. We have a one-point buck who visits our house
One of his new horns is broken and dangling in front of his eye. Not is cool as this.

Thanks for the post!
---
Response to left-of-center2012 (Original post)
Thu Nov 14, 2019, 10:51 AM
roamer65 (24,585 posts)
2. Warning to MI deer hunters.
Don't kill him. You will have a LOT of negative press if you do.
---
Response to roamer65 (Reply #2)
Thu Nov 14, 2019, 11:21 AM
DetroitLegalBeagle (666 posts)
3. They don't care.
Guaranteed this article just put a fat target on that deer.

Which is sad because there are no shortage of deer in Michigan. They are everywhere.