Mon Sep 21, 2020, 02:13 PM
question everything (39,705 posts)
Yo, the ones who attended a school football play in Davison
Putting your hand on your heart during the national anthem is not patriotic; wearing a mask is.
Yes, you the lady in the center, yes, you the gentleman next to the one on her right.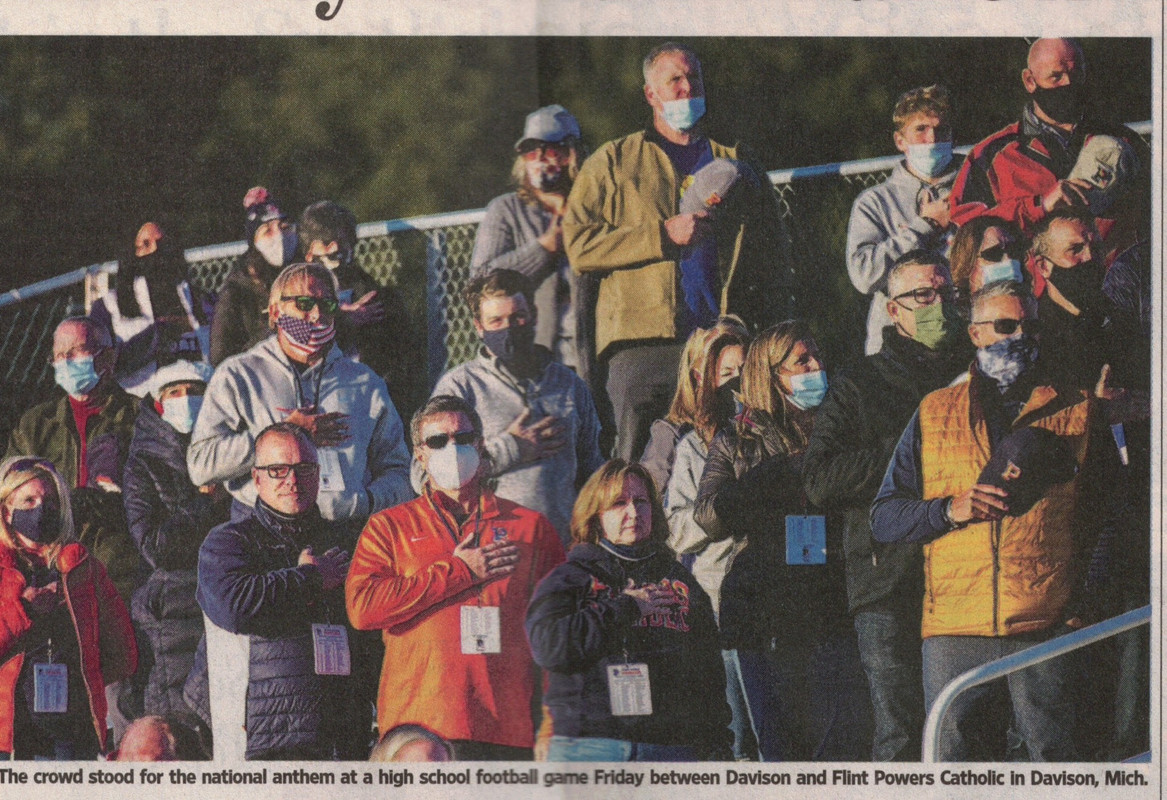 (from the WSJ in a story that Herd Immunity is far off..)
3 replies, 629 views
Replies to this discussion thread
| | | | |
| --- | --- | --- | --- |
| 3 replies | Author | Time | Post |
| Yo, the ones who attended a school football play in Davison (Original post) | question everything | Sep 21 | OP |
| | Moostache | Sep 21 | #1 |
| | PoindexterOglethorpe | Sep 21 | #2 |
| | question everything | Sep 21 | #3 |
---
Response to question everything (Original post)
Mon Sep 21, 2020, 02:23 PM
Moostache (8,092 posts)
1. Reminded me of another thought I had recently...
Kneeling.

Why are the same people who refuse to wear masks to protect the ability of their own children to even HAVE a football game or season always the same ones with the hideous "Blue Lives Matter" flags and the same ones who are so offended by kneeling during the national anthem by silent protesters?

First the "Blue Lives Matter" thing...this was about 'respecting the flag', right? That was the initial claims from these people - they were VERY ANGRY at the protesters for "disrespecting the flag". Well, what do they do about it? They desecrate the flag and national colors of the United States of America via a bastardization of the nation's banner. So, if kneeling in silent protest is "disrespect" and burning in effigy is "unpatriotic" what exactly is turning the flag into a color negative and adding a blue stripe to it????

While waiting for that answer, I started thinking about that act - kneeling - and how in EVERY context I can imagine, it is a show of respect and of subservience and NOT a desecration or act of disloyalty...

When kids at a football game all take a knee while the injured player gets treated, are they disrespecting the injured?
When soldiers take a knee in remembrance of a fallen comrade or brother-in-arms, are they disrespecting the fallen?
When the faithful fall to their knees in prayer and connection to their deity, are they disrespecting god by doing so?

Or could it be that these people are simply racist assholes that only desire one thing in life - permission from their 'leaders' to go on being racists and hateful and proud of their own ignorance? I know what I believe....
---
Response to question everything (Original post)
Mon Sep 21, 2020, 03:18 PM
PoindexterOglethorpe (17,165 posts)
2. And wear the mask properly.
---
Response to PoindexterOglethorpe (Reply #2)
Mon Sep 21, 2020, 07:58 PM
question everything (39,705 posts)
3. Covering the nose will protect the wearer; covering the face will protect the ones around them