Thu Feb 14, 2019, 02:02 PM
TexasTowelie (69,509 posts)
Limo driver avoided car at stop sign before crashing into parking lot
Schoharie -- New details from the National Transportation Safety Board appear to indicate that the driver in the deadly Oct. 6 limousine crash in Schoharie swerved out of the way of a car stopped at the bottom of a long hill on Route 30 before careening into the parking lot of the Apple Barrel Country Store and Cafe.
Recommended Video
That description, included in a preliminary report made public by the NTSB on Monday, matches a Times Union report published in November that revealed the account of a witness whose car was stopped at the bottom of Route 30 just seconds before the crash occurred.
The witness, who had another passenger in the car, told investigators that as they were at the stop sign at the intersection with Route 30A, the stretch 2001 Ford Excursion sped down the hill behind them and swerved out of the way and flew through the intersection.
Sal Ferlazzo, an Albany attorney who is representing the family of crash victim Amanda Rivenburg, said he has interviewed the same witness as part of the civil lawsuit he has filed against Prestige Limousine of Wilton, which owned the Excursion.
Read more:
https://www.timesunion.com/news/article/NTSB-report-shows-limo-avoided-car-before-crash-13609951.php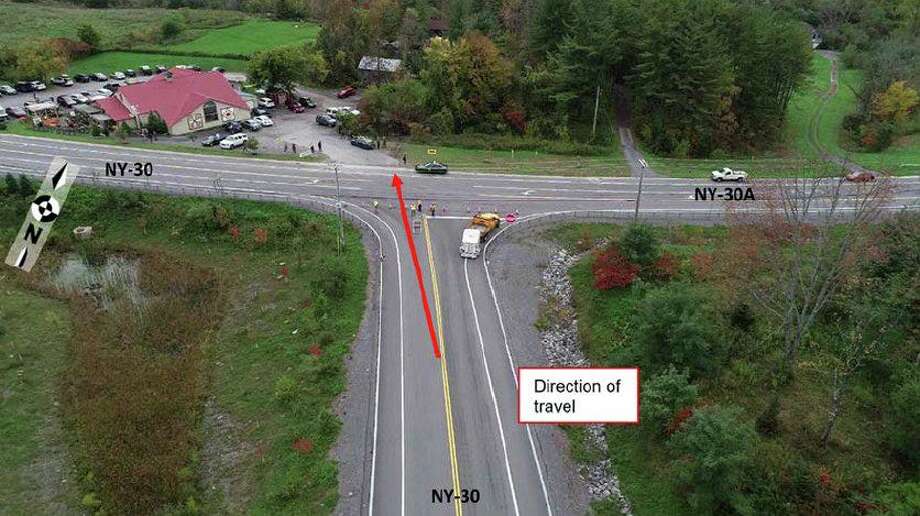 The National Safety Transportation Board released this image of the Oct. 6, 2018, limo crash site in Schoharie, N.Y. in a Feb. 11, 2019, preliminary report. The arrow shows the direction that the lilmo took to apparently avoid a car that was at the stop sign at the "T" intersection at the time. The NTSB is investigating the crash in order to issue safety recommendations to prevent similar tragedies in the future.
1 replies, 842 views
Replies to this discussion thread
| | | | |
| --- | --- | --- | --- |
| 1 replies | Author | Time | Post |
| Limo driver avoided car at stop sign before crashing into parking lot (Original post) | TexasTowelie | Feb 2019 | OP |
| | PoindexterOglethorpe | Feb 2019 | #1 |
---
Response to TexasTowelie (Original post)
Thu Feb 14, 2019, 02:39 PM
PoindexterOglethorpe (11,083 posts)
1. Swerved to avoid a car stopped at a stop sign.
Several things suggest themselves to me. One is that the brakes failed. Another is that the driver of the limo didn't really know how to drive a limo, which is probably somewhat different from driving ordinary cars. Another is that the limo driver was unfamiliar with the local roads, although it's not as though that part of NY hasn't always been hilly. I'm slightly familiar with another part of northern NYS, and steep hills are everywhere.