Wed Jul 24, 2019, 10:47 PM
Denzil_DC (5,155 posts)
Johnson's Potemkin government
Last edited Wed Jul 24, 2019, 11:51 PM - Edit history (1)
Who knows what the next few months hold in store?
But a persuasive theory doing the rounds at the moment is that the installation of
Dominic Cummings
as Johnson's Special Adviser indicates that the new cabinet isn't so much geared to governing (what may well prove to still be an ungovernable Parliament, probably even more so than under May) as to gearing up to fight a general election some time between now and the autumn.
This may explain the ragtag mob now assembled in the cabinet and some eyebrow-raising appointments. Here's one example: Priti Patel, the new Home Secretary, here seen being humiliated (but lacking the insight to realize it) by
Private Eye
's Ian Hislop on BBC
Question Time
over her unquestioning championing of the death penalty.
Link to tweet
Jonathan Lis
@jonlis1

Honestly the only positive of having Priti Patel in the Cabinet is that Andrea Leadsom and Liz Truss now appear moderately intelligent and competent. But otherwise the promotion of such an eye-watering inadequate to Home Secretary is a national scandal

[Twitter video]

Maybe you have some other examples?
2 replies, 724 views
Replies to this discussion thread
| | | | |
| --- | --- | --- | --- |
| 2 replies | Author | Time | Post |
| Johnson's Potemkin government (Original post) | Denzil_DC | Jul 2019 | OP |
| | Soph0571 | Jul 2019 | #1 |
| | Denzil_DC | Jul 2019 | #2 |
---
Response to Denzil_DC (Original post)
Thu Jul 25, 2019, 04:41 AM
Soph0571 (8,169 posts)
1. I cannot get over Raab as Foreign Secretary and 1st Secretary of state?
Joachim von Ribbentrop probably had better diplomatic skills...
---
Response to Soph0571 (Reply #1)
Thu Jul 25, 2019, 07:31 AM
Denzil_DC (5,155 posts)
2. There are certainly mindboggling horrors enough in the new cabinet.
I'll try my best to keep it light, though (there's a lot more to say about Patel, for instance,
who five years later sort of, fudgily, backtracked from her support of capital punishment
, including the fact she was forced to leave her last government post in disgrace after effectively freelancing her own covert foreign policy in the Middle East; this without mentioning her awful stances on LGBT rights and civil liberties in general).
Raab, who as Brexit Secretary didn't realize how important Dover-Calais was as a UK trade route, seems to have an enduring problem with maritime geography:
Link to tweet
Real_JasonJHunter
@JJHTweets
When your new Foreign Secretary appears to think the Red Sea has something to do with the Irish Backstop.... where is the facepalm emoji when it's so desperately needed?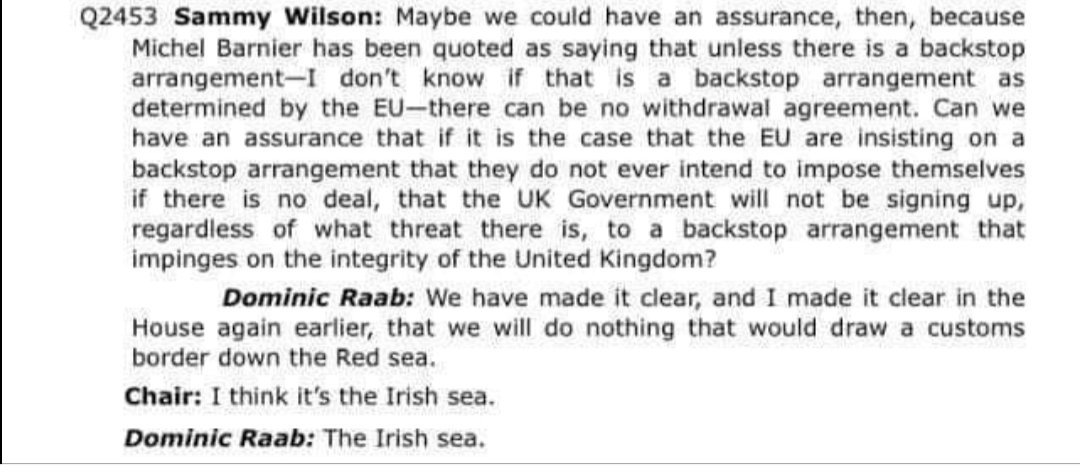 He probably confused it with the Red Hand of Ulster. He'd also never read the full Good Friday Agreement (this lack seemed to be a necessary qualification for all those May appointed to oversee Northern Ireland).
As Brexit Secretary, he was involved in negotiating the draft Withdrawal Agreement, then resigned because he opposed it as "a betrayal of public trust".
Perhaps more relevant to his new role, he opposed the government taking any sort of hard line against the Saudi regime over the murder of Jamal Khashoggi because of the risk to British jobs (mainly in the arms trade).
He is a black belt in karate, though, which may come in handy during negotiations.