Fri Feb 22, 2013, 04:18 PM
ellisonz (27,186 posts)
The "F" That is a Badge of Honor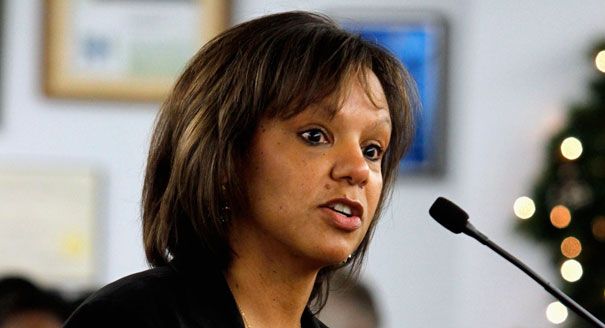 February 21, 2013
By Alex Showerman
In a city ravaged by gun violence, a special election for Congress has turned into a national referendum on gun safety as two candidates go head-to-head -- one with an A rating from the NRA, the other with an F rating.
Welcome to IL-02.
There are an unbelievable number of candidates running in the primary to replace Jesse Jackson Jr. -- and in this solid blue district, the primary is the only thing that matters. For months, these candidates have been jockeying for attention and polls have been muddled. Now, one candidate is surging: Robin Kelly.
Robin Kelly has an F rating from the NRA and she's wearing it as a badge of honor. Her main opponent, conservative former Rep. Debbie Halvorson, has an A rating from the NRA.
Robin has an opportunity to pull off a huge upset victory in next week's primary, but she needs the resources to kick her Get Out The Vote operation into high gear. That's why we're announcing our endorsement of Robin today.
Early voting has already started and the election is next week. Please, contribute $15 to Robin now.
https://secure.actblue.com/contribute/page/supportrobin?ak_proof=1&refcode=cerkblog213
The Chicago area endured over 500 murders last year, more than 400 of which were the result of gun violence.
We can win this -- and we can deliver a huge blow to the NRA in the middle of a national debate on gun violence prevention.
http://www.democracyforamerica.com/blog/613-the-f-that-is-a-badge-of-honor
C'mon Robin Kelly
4 replies, 2265 views
Replies to this discussion thread
| | | | |
| --- | --- | --- | --- |
| 4 replies | Author | Time | Post |
| The "F" That is a Badge of Honor (Original post) | ellisonz | Feb 2013 | OP |
| | MADem | Feb 2013 | #1 |
| | Lifelong Protester | Feb 2013 | #2 |
| | calimary | Feb 2013 | #3 |
| | ellisonz | Feb 2013 | #4 |
---
Response to ellisonz (Original post)
Fri Feb 22, 2013, 04:33 PM
MADem (135,425 posts)
1. I am liking Robin--K and R...! nt
---
Response to ellisonz (Original post)
Fri Feb 22, 2013, 04:48 PM
Lifelong Protester (8,414 posts)
2. We need more "F" rated by NRA members of Congress
My (Dem) Congressman is too proud of his NRA "A" rating to care what his constituents think. I'm tired of that. I hope he is primaried.
---
Response to ellisonz (Original post)
Fri Feb 22, 2013, 07:21 PM
calimary (62,862 posts)
3. Kick and Rec'd!
Go Robin!

I see they reached their goal, but I still donated a little.
---
Response to ellisonz (Original post)
Tue Feb 26, 2013, 11:11 PM
ellisonz (27,186 posts)
4. Robin Kelley Wins - Per MSNBC