Fri Mar 22, 2013, 02:50 PM
ellisonz (27,186 posts)
This is interesting - DFA is suggesting Hillary for 2016
From DFA Facebook:
https://www.facebook.com/DFAaction?fref=ts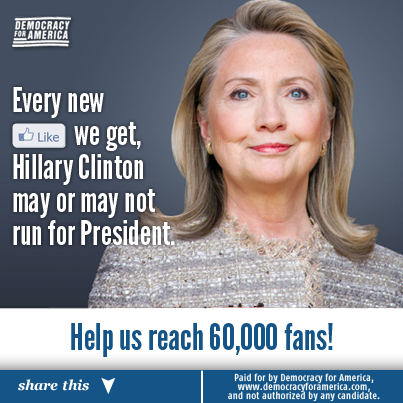 Definitely getting mixed reaction - I would obviously support Hillary in General, but I'm not sure if she'd be my choice in a primary. I also wonder if this doesn't indicate that Howard will not run and wonder who at DFA decided to create that graphic and put it up.
Thoughts people-powered people?
4 replies, 1508 views
Replies to this discussion thread
| | | | |
| --- | --- | --- | --- |
| 4 replies | Author | Time | Post |
| This is interesting - DFA is suggesting Hillary for 2016 (Original post) | ellisonz | Mar 2013 | OP |
| | elleng | Mar 2013 | #1 |
| | Little Star | Mar 2013 | #2 |
| | gcomeau | Mar 2013 | #3 |
| | Benton D Struckcheon | Mar 2013 | #4 |
---
Response to ellisonz (Original post)
Fri Mar 22, 2013, 02:54 PM
elleng (107,042 posts)
1. Dunno about the internals at DFA at all,
but neither have I thought that Howard would run again. Has been pretty well beaten up by Dem ptb.
---
Response to ellisonz (Original post)
Fri Mar 22, 2013, 02:59 PM
Little Star (17,055 posts)
2. How the heck did that website get infested with republicans. Ugh!
---
Response to ellisonz (Original post)
Fri Mar 22, 2013, 03:00 PM
gcomeau (5,764 posts)
3. Supporting anyone over Hillary in a primary would be a complete and total waste of time and effort.
There are only so many times you're going to be handed a juggernaut built to roll over any possible opposition in the general and nearly guarantee that the GOP is kept out of the White House for another 4-8 years. I get wanting the ideal Liberal candidate but *nobody* else in the field comes within shouting distance of Clinton's viability. With a megaphone. And a 20 foot tall bank of speakers.

If she runs it's a done deal barring something happening between now and '16 which somehow renders her electorally damaged in a huge way. There is no Obama equivalent in the making right now that could possibly go up against her and have a shot in hell. (And nobody say Warren. Yes she's awesome, no she wouldn't have a chance at this time.)
---
Response to gcomeau (Reply #3)
Fri Mar 22, 2013, 03:38 PM
Benton D Struckcheon (2,347 posts)
4. Totally agree.
The importance of keeping the WH Democratic for at least another four years can't be underestimated. The very first thing a Rep will do is try to repeal Obamacare, or at least gut it so badly it's useless. It needs the extra time to become embedded as deeply as Medicare or SS.