Sat Nov 1, 2014, 05:09 PM
Judi Lynn (147,816 posts)
Meet Ibeyi: French-Cuban twins with a musical sixth sense
Meet Ibeyi: French-Cuban twins with a musical sixth sense
The daughters of a famous Cuban percussionist, Naomi and Lisa-Kaindé Díaz have won attention transforming their fiery relationship into electro-tinged 'contemporary negro spirituals'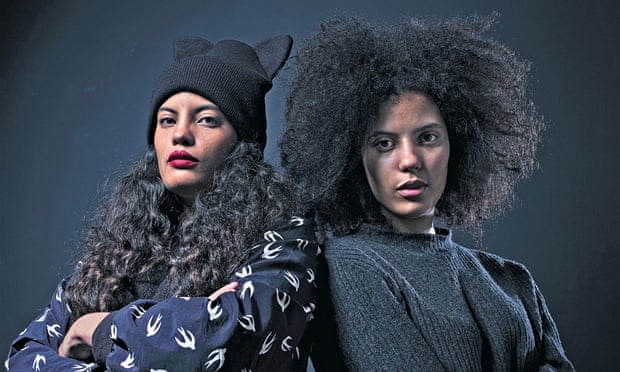 [font size=1]
'We were screaming at each other just two hours ago' … Ibeyi, AKA Naomi (left) and Lisa-Kaindé Díaz.
Photograph: Sarah Lee for the Guardian
[/font]
Tim Jonze
Thursday 30 October 2014 11.28 EDT
Sometimes Lisa-Kaindé Díaz will be wandering around her apartment, singing to herself, only to find twin sister Naomi singing exactly the same song, at exactly the same part.
"It is not strange to us for that to happen," she says. Or at least I think Lisa-Kaindé says it – their tendency to complete each other's sentences, disagree furiously mid-sentence, or just tumble their thoughts over the top of each other's makes it hard to untangle exactly who is saying what.
"With music, we just look in each other's eyes, and we know," adds Naomi (or at least I think it's Naomi, etc etc).
The 19-year-old French-Cuban sisters are currently putting their musical sixth sense to good use as Ibeyi, adding an electronic edge to their piano and percussion compositions to produce what they describe as "contemporary negro spirituals". Much of their inspiration comes from Yorùbá tradition, from the chants brought over to Cuba from Nigeria and Benin on slave ships. These songs have always been an integral part of their lives thanks to their mother, who grew up singing them. Ibeyi's unique combination of the ancient and modern is no doubt what persuaded XL boss Richard Russell to sign them and produce their self-titled debut album.
The sisters' story is pretty remarkable. Their father was the famous Cuban percussionist Miguel "Angá" Díaz, a conguero who played with the Buena Vista Social Club, among others, before his death in 2006. Asked what musical lessons he gave them, Lisa-Kaindé gestures a "zero" sign: "He would ask if we wanted to do music and we would say, 'No, we want to go to the beach!' So he let us do that."
The girls credit their Venezuelan mother (who also acts as their manager) for really pushing them and inspiring their love of Yorùbá culture. Yet their father's influence seems undeniable: the day after he died, Naomi picked up her first instrument – the cajón – and began playing.
More:
http://www.theguardian.com/music/2014/oct/30/ibeyi-french-cuban-twins-naomi-lisa-kainde-diaz-miguel-anga
(Please go to the link and listen to their songs. Wonderful!)
4 replies, 1229 views
Replies to this discussion thread
| | | | |
| --- | --- | --- | --- |
| 4 replies | Author | Time | Post |
| Meet Ibeyi: French-Cuban twins with a musical sixth sense (Original post) | Judi Lynn | Nov 2014 | OP |
| | Demit | Nov 2014 | #1 |
| | Judi Lynn | Nov 2014 | #4 |
| | flamingdem | Nov 2014 | #2 |
| | Judi Lynn | Nov 2014 | #3 |
---
---
Response to Demit (Reply #1)
Sun Nov 2, 2014, 04:13 PM
Judi Lynn (147,816 posts)
4. Just found out about them with this article! So glad to stumble across it. Thanks for listening. n/t
---
Response to Judi Lynn (Original post)
Sun Nov 2, 2014, 11:21 AM
flamingdem (38,584 posts)
2. Wow! Their father was a genius
Didn't know about his twins.
---
Response to flamingdem (Reply #2)
Sun Nov 2, 2014, 04:12 PM
Judi Lynn (147,816 posts)
3. Thanks for mentioning the father. Went to find some YouTubes:
Where on earth would someone get such high energy? Good grief! Wonderful. This video was done in 1996, in Havana.




This one features his discussing his career, was earlier than the first video:



Those great girls have a fantastic musical heritage. I hope their father knew how beautifully they sing before he died.