Sun May 31, 2015, 04:12 PM
Judi Lynn (147,066 posts)
San Agustin and the mythical story behind its ancient statues
Last edited Mon Jun 1, 2015, 04:40 AM - Edit history (1)
San Agustin and the mythical story behind its ancient statues
Posted by Torkan Omari on May 31, 2015
Around a little southwest Colombian town called San Agustin lay archaeological remains that tell stories of Gods, masters, and ordinary people belonging to a culture that flourished between the 8th and the 1st century BC.
A UNESCO world heritage since 1995, San Agustin presents the largest group of religious monuments and megalithic sculptures in South America.
Although a park has been created around the monuments, it is rather a collection of ceremonial and burial sites scattered over an area of 250 square miles, and are centered around three areas close to the town: the San Agustin plateaus, the Idols Hill, and the Stones Hill.
The archaeological landscape hosts sculptures ranging from 20 centimeters to seven meters, from abstract to realist art. The sculptures resemble human figures with threatening, smiling, or somber faces. But also rather divine creatures, warriors armed with clubs, round eyes or jaguars' teeth of mythical heroes. Some seem to depict serenity and wisdom, others fear and darkness.
More:
http://colombiareports.com/colombias-san-agustin-and-the-mythical-story-behind-ancient-statues/
[center]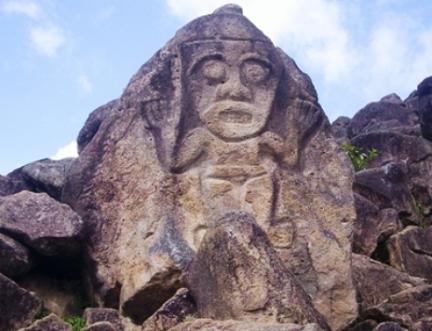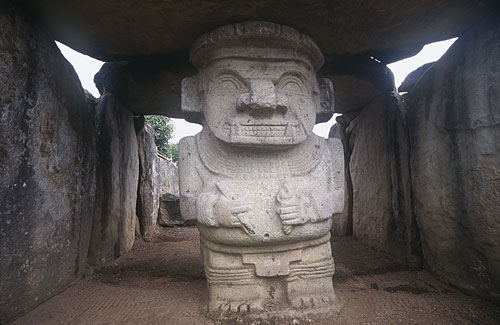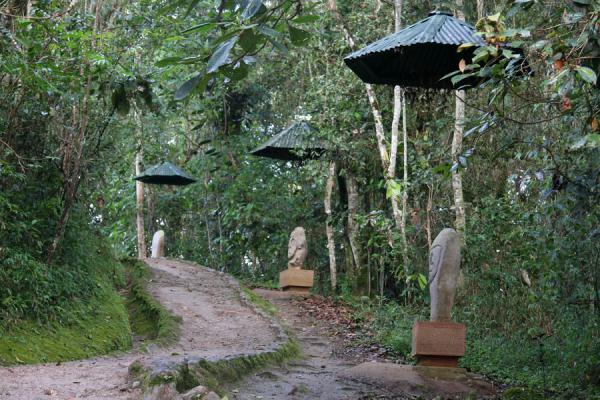 San Agustin Archaeological Park
More:
http://www.4gress.com/sights/entry/100289.html
[/center]
More from google images:
https://www.google.com/search?sourceid=navclient&ie=UTF-8&rlz=1T4TSND_enUS566US566&q=stone+statues+of+san+agustin+colombia&tbm=isch&gws_rd=ssl#imgrc=_
Anthropology:
http://www.democraticunderground.com/12292112
2 replies, 2922 views
Replies to this discussion thread
| | | | |
| --- | --- | --- | --- |
| 2 replies | Author | Time | Post |
| San Agustin and the mythical story behind its ancient statues (Original post) | Judi Lynn | May 2015 | OP |
| | flamingdem | May 2015 | #1 |
| | Judi Lynn | Jun 2015 | #2 |
---
Response to Judi Lynn (Original post)
Sun May 31, 2015, 07:23 PM
flamingdem (38,581 posts)
1. These are stunning
saw them in the 80s. The area is exceptionally beautiful with waterfalls and green, green everywhere.
---
Response to flamingdem (Reply #1)
Mon Jun 1, 2015, 06:34 PM
Judi Lynn (147,066 posts)
2. That would have been an exceptional trip! I never heard of these artifacts until this article.
Now the news is getting out more, it might be getting more crowded, not nearly as pleasant.