Mon May 29, 2017, 04:28 PM
sandensea (18,300 posts)
Argentine Foreign Minister Susana Malcorra resigns; Macri loyalist Jorge Faurie to replace her
Argentine Foreign Minister Susana Malcorra announced her resignation today.
Malcorra's resignation comes as the right-wing Mauricio Macri administration faces growing criticism at home and abroad for its use of arbitrary detention and judicial harassment against political opponents, as well as for its ties to international corruption scandals such as Brazil's Lava Jato and Odebrecht bribery cases and the Panama Papers.
Malcorra, 62, had worked for UN Secretary General Ban Ki-moon as his Cabinet Chief from March 2012 until Macri took office in December 2015. Her appointment was touted as "reinserting Argentina in the world."
Her failed bid to succeed Ban Ki-moon in 2016 instead resulted in scandal when it was revealed in November that her office had spent nearly $100,000 in travel and entertainment expenses in her effort to secure the post.
The foreign minister's resignation nevertheless took the Macri administration by surprise. "Our foreign minister leaves us for personal reasons," Macri said in a hastily-called press conference at the Casa Rosada with Malcorra and Chief of Staff Marcos Peña.
"She will stay on as an adviser with ministerial rank from her residence in Spain," Peña added.
·Our best diplomat·
The Foreign Ministry will, as of June 12, reportedly be headed by the current ambassador to France, Jorge Faurie. The administration does not plan to submit the nomination for senate approval.
Faurie, 65, was appointed ambassador after working on Macri's 2015 campaign and chairing his inaugural committee. He had served as deputy foreign minister during the interim presidency of Eduardo Duhalde in the wake of Argentina's 2001 collapse; but was forced to resign in August 2002 after it was revealed that he shared an undisclosed Swiss bank account with Ramón Hernández, then private secretary to the scandal-ridden former President Carlos Menem.
Faurie and Hernández, who was issued a diplomatic passport by Faurie, were reportedly laundering the proceeds through a small Mexican restaurant in Buenos Aires' upscale Palermo Racecourse.
Asked about his choice, Macri described Faurie as "the best from our diplomatic corps."
At:
https://translate.google.com/translate?sl=auto&tl=en&js=y&prev=_t&hl=en&ie=UTF-8&u=http%3A%2F%2Fwww.eldestapeweb.com%2Fsorpresivo-renuncio-susana-malcorra-la-cancilleria-n29353&edit-text=
And:
https://translate.google.com/translate?sl=auto&tl=en&js=y&prev=_t&hl=en&ie=UTF-8&u=http%3A%2F%2Fwww.politicargentina.com%2Fnotas%2F201705%2F21164-quien-es-jorge-faurie.html&edit-text=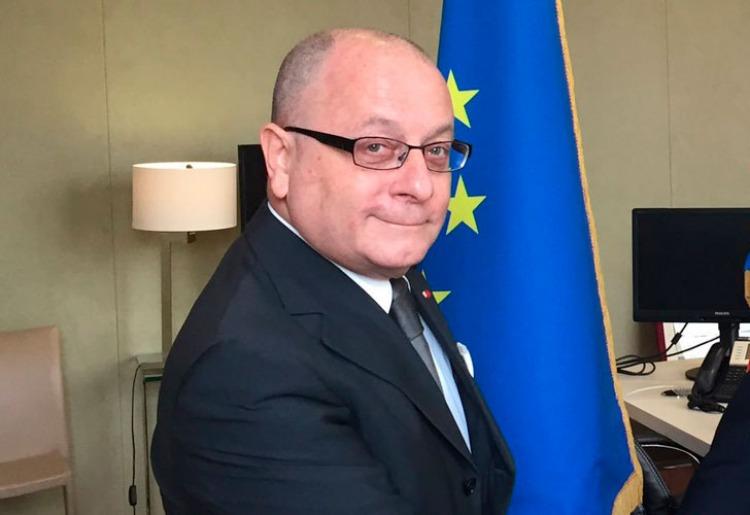 Jorge Faurie
2 replies, 8388 views
Replies to this discussion thread
| | | | |
| --- | --- | --- | --- |
| 2 replies | Author | Time | Post |
| Argentine Foreign Minister Susana Malcorra resigns; Macri loyalist Jorge Faurie to replace her (Original post) | sandensea | May 2017 | OP |
| | Judi Lynn | May 2017 | #1 |
| | sandensea | May 2017 | #2 |
---
Response to sandensea (Original post)
Mon May 29, 2017, 06:26 PM
Judi Lynn (155,218 posts)
1. OMG. Jorge Faurie is the living embodiment of a total slippery sleaze artist.
He's the picture of Political Dorian Gray. Good grief!

Is there no depth to which he wouldn't stoop?

This rates him high on the scale with Macri, no doubt. People like Macri probably dream of people so greedy they will do anything, risk everything at the chance of grabbing even more for themselves.

Maybe Susana Macorra hopes to live east of the Atlantic indefinitely because she's afraid of getting arrested if leftists get back in charge. It's not too cool for her to get by with the crimes she's committed already.

Thank you, sandensea. Very interesting news.

Macri should be none too proud of taking a gutter muffin like Jorge Faurie into his employ officially. He looks too dirty to be anywhere!
---
Response to Judi Lynn (Reply #1)
Mon May 29, 2017, 06:56 PM
sandensea (18,300 posts)
2. Not surprisingly, Argentine RW media 'neglected' to mention Faurie's 2002 Swiss banking scandal.
The only problem there being that U.S. media, which typically just cuts-and-pastes Argentine-related stories from Clarín and/or La Nación, have no idea of that either (it goes without saying that if Faurie had been a Kirchner appointee, his 2002 scandal would have been part of the headline itself).

Oh, well. At least he won't make Rex Tillerson look bad.