Tue Nov 20, 2018, 12:05 AM
Judi Lynn (150,679 posts)
Chilean police resign over shooting of indigenous youth
Updated 1:06 pm CST, Sunday, November 18, 2018
SANTIAGO, Chile (AP) — Two senior police officials have resigned in Chile after the discovery that officers destroyed video showing the shooting of a young indigenous man whose death set off large protests.
Interior Minister Andres Chadwick said via Twitter on Sunday that destruction of the memory card from a monitoring camera was "unacceptable." He said Gen. Mauro Victoriano and Col. Ivan Contreras Figueroa and four members of special forces unit resigned.
Thousands of people attended Saturday's funeral of 24-year-old Camilo Catrillanca, who was shot Wednesday. Police said they fired while pursuing people who stole three vehicles. Catrillanca's family said he was shot in the back while riding on a tractor.
Indigenous activists accuse the government of using heavy-handed tactics against the Mapuches, some of whom have been agitating for greater land rights.
More:
https://www.chron.com/news/crime/article/Chilean-police-resign-over-shooting-of-indigenous-13403139.php#photo-16524660
Family and friends of Camilo Catrillanca, a Mapuche indigenous youth who was shot in the head when police were chasing unidentified car thieves, hold an ancestral Mapuche rites funeral in Temuco, Chile, Saturday, Nov. 17, 2018. Indigenous representatives and leaders across the country attended the ceremony.
~ ~ ~
Mapuche Youth Assassinated by Colombian and US-Trained Chilean Police Unit
24-year-old Camilo Catrillanca was assassinated on Wednesday, November 14, during an invasion of his community by the special 'anti-terrorist' unit of the Chilean police, Comando Jungla.
Zoe PC 17 Nov 2018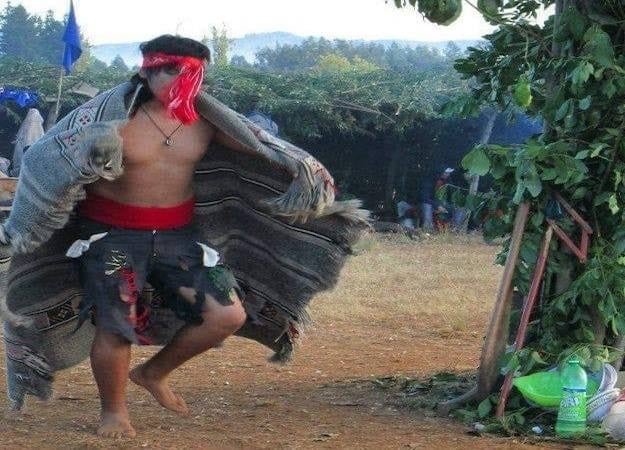 Camilo Catrillanca was shot by the police while he was returning home from work on his tractor.
On Wednesday, November 14, the Mapuche traditional community of Temukuikui was invaded by a special 'anti-terrorist' unit of the Chilean police, the
Comando Jungla
. During the invasion, which involved nearly 400 police personnel and two helicopters circling overhead, officers shot Camilo Catrillanca, a young Mapuche community member who was returning home from work on his tractor.
Community members condemned the fact that despite having suffered serious gunshot wounds, Catrillanca was only taken to a local clinic, where he was surrounded by police officers, and was not taken to a hospital. They also said that a minor, who was in the tractor with Catrillanca, was gravely injured and was later detained along with other youth from the community.
The special police unit, Comando Jungla (Jungle Command), was inaugurated in June 2018 by Chilean president Sebastian Piñera and is the latest in a series of harsh and repressive actions against the Mapuche communities in Chilean and Argentine territory. The special unit of the Chilean police has been trained in Colombia and the United States in combating "terrorist forces". The Comando Jungla has been deployed to combat 'terrorist' activity in the southern part of Chile, which is above all Mapuche territory.The intensified militarization of Mapuche territories is a grave threat to the indigenous communities who continue to peacefully resist and reiterate their right to remain on their land.

On both sides of the Andes, in Chile and Argentina, Mapuche communities have been engaged in processes of land recuperation to take back their ancestral territory from large property owners. Due to this, the repression unleashed against these communities has intensified. It is worth remembering that these communities have already been subject to state genocide and oppression with the intent of ensuring their extinction. The communities have been facing a campaign of threats, harassment, repression and violence from the State, large landowners and multinational companies that seek to occupy this economically profitable and strategically important territory. The Mapuche's struggle to remain on their land is thus classified as terrorism. Already, many Mapuche leaders or Lonkos, as well as community members, have suffered this repression first hand and several are serving long sentences in prisons in Chile.
More:
https://www.newsclick.in/mapuche-youth-assassinated-colombian-and-us-trained-chilean-police-unit
0 replies, 414 views