Fri May 3, 2019, 04:06 PM
sandensea (9,153 posts)
Violating own statutes, IMF authorizes Argentina to use bailout loans to prop up currency
Argentina's Central Bank announced that it would intervene more actively in the currency market, reversing a previous pledge to let the peso float freely within a designated band.
The central bank also reserves the right to sell up to $250 million a day should the peso weaken past 51.45 to the dollar (currently around 46 pesos).
The policy, though publicly endorsed by the IMF,
violates the Fund's own Article VI
, which bars the use of IMF funds to prop up a local currency.
For countries relying on IMF loans, the only response authorized by Article VI is
currency controls
- something the right-wing Mauricio Macri administration refuses to consider.
"The IMF has never allowed the use of its own loans to fend off a run on the currency," former Deputy Economy Minister Emmanuel Álvarez Agis noted.
"But Macri was able to exploit an inconsistency in the (bailout) agreement: The first section has it that you can't manipulate currency markets;
but its debt sustainability clause concedes that what would most make the debt unsustainable is a sharp fall in the currency
."
Flagging peso and polls
The central bank is under pressure from Macri, who's entering his
re-election campaign
amid an economic crisis and 24% approval, to prop up the flagging peso.
Carlos de Sousa of Oxford Economics believes the central bank could burn through $14-18 billion of its gross reserves in a bid to prop up the peso.
After Macri's 2016-17 carry-trade debt bubble imploded in April 2018, the central bank torched $16 billion in reserves between March and September and raised baseline interest rates from 27% to
74%
.
The debt crisis forced Macri to turn to the IMF - which granted Argentina a record $56 billion bailout program,
only to see the currency lose 56% of its value against the dollar from a year ago
.
Argentina's central bank does not have much room for error.
While IMF loans have swelled Central Bank reserves to $72 billion, net reserves — those actually available,
short of seizing dollar deposits
, to fend off any potential runs are $22 billion.
Skeptics fear that a return to discretionary intervention could spell disaster for Argentina and set the country on a course to again burn through its dwindling stock of foreign reserves, to no avail.
The crisis would likely be inherited by Macri's successor,
who will face around $40 billion in annual debt payments
until 2024.
At:
https://www.ft.com/content/635058a0-6cdd-11e9-80c7-60ee53e6681d


Labor union members prepare meals in an improvised soup kitchen in Buenos Aires during the May 1st Labor Day celebrations.

Since Macri's 2016-17 carry-trade debt bubble imploded in April 2018, 253,000 jobs have been lost and inflation has more than doubled to nearly 60%.

IMF South America head Roberto Cardarelli reportedly admitted during a monitoring visit in February that the IMF bailout is "unsustainable" and that his "sole mission was to help guarantee Macri's re-election, at Washington's request."
2 replies, 636 views
Replies to this discussion thread
| | | | |
| --- | --- | --- | --- |
| 2 replies | Author | Time | Post |
| Violating own statutes, IMF authorizes Argentina to use bailout loans to prop up currency (Original post) | sandensea | May 2019 | OP |
| | Judi Lynn | May 2019 | #1 |
| | sandensea | May 2019 | #2 |
---
Response to sandensea (Original post)
Sun May 5, 2019, 02:53 AM
Judi Lynn (134,869 posts)
1. Unbelievable! Roberto Cardarelli will be working to get Macri re-elected "at Washington's request."
Roberto Cardarelli, IMF South America
How on earth did it get so bad so fast? Macri clearly is a practitioner of the black arts. I recall he insisted upon having his inauguration around midnight, didn't he, sandensea?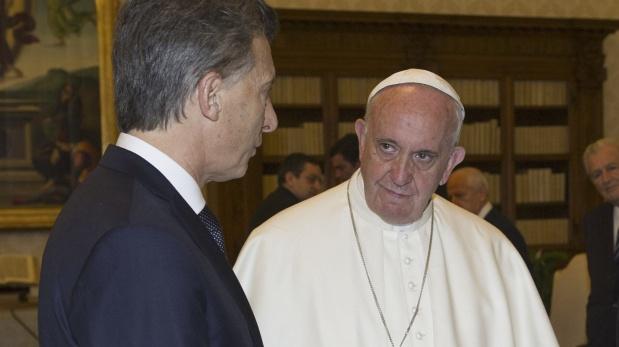 Very interesting to hear the man who's going to try to ramrod Macri's candidacy for re-election through has publicly acknowledged that the IMF plan Macri secured will damn Argentina even more than it already was screwed by Macri.
So Trump wants to make sure Macri does continue to unsucceed for Argentina.
Probably so many desperate people in Argentina trying to decide what on earth they are going to do.
Thank you for the latest. It's very appreciated.
~ ~ ~
Adding an article from 2016:
Pope Francis Rejects $16 Million Donation from Macri's Gov't
Published 12 June 2016
Pope Francis rejected a donation of US$16 million from the Argentine government of President Mauricio Macri to a an education project he sponsors, local media reported Saturday.
In a letter addressed to Cabinet Chief Marcos Peña sent on Thursday but made public Saturday, José María del Corral and Enrique Palmeyro — directors of Pope Francis's Scholas Occurrentes education network — confirmed the decision "to suspend the non-refundable contribution fee amounting to 16,666,000 pesos" granted to the foundation "taking into account that some may try to distort this gesture," according to Buenos Aires Herald.
The daily La Nación reported that the directors were following direct orders from the pope. "The Argentine government needs to address so many needs you shouldn't be demanding a single penny from it," Francis said in a letter to Corral and Palmeyro.
The two directors said in their letter to the government that their foundation would "try to obtain that necessary contribution from multilateral credit agencies and with the help of private donors."
More:
https://www.telesurenglish.net/news/Pope-Francis-Rejects-16-Million-Donation-from-Macris-Govt-20160612-0008.html
(Pope Francis had his number, even then.)
---
Response to Judi Lynn (Reply #1)
Tue May 7, 2019, 03:21 PM
sandensea (9,153 posts)
2. Right. Trying to move the inaugural up by 12 hrs. to have Jupiter rising was very Nancy-esque of him
But the fault, as Shakespeare might have told Macri, isn't in the stars but himself.

And then, as you mentioned, there was the donation to the Pope's foundation in an amount with three 6's (about $1.2 million at the time).

I suppose that, not being able to get an astrologically auspicious hour for the inaugural, he thought invoking Satan might work. Satan has done enough for him already, I'm sure - and I doubt Old Scratch likes being used like that.

On another note, today is the 100th anniversary of Evita's birth. It's probably best that she isn't around to see what's being done to her beloved Argentina.

Certainly something to cry for.

Thanks again for all the time you take to read, consider, and respond, Judi. It's very good of you.

Here's hoping for better days ahead.