Fri Jul 19, 2019, 09:33 PM
sandensea (11,208 posts)
Renowned Argentine-American architect Cesar Pelli dies at 92
César Pelli, the Argentine designer behind the iconic Petronas Twin Towers in Malaysia, has died aged 92, marking the passing of one of the contemporary architectural greats.
Pelli established himself as a visionary and educator, making a name for himself in the United States where his main studio was based in the Yale University campus.
Born in San Miguel de Tucumán, in northwestern Argentina, in 1926, Pelli studied architecture at the University of Tucumán. He emigrated to the U.S. in 1952 to attend the University of Illinois School of Architecture, where he received his master's degree in 1954.
He became partner for design at Gruen Associates in Los Angeles in 1968, and many of Pelli's earliest works in the U.S. were in Southern California - including the the Lawrence Welk Plaza building in Santa Monica, CA (1969-71); the San Bernardino City Hall (1972); and the Pacific Design Center in West Hollywood (1975).
In 1977, Pelli became dean of Yale University's School of Architecture and founded Cesar Pelli & Associates - since renamed Pelli Clarke Pelli, and which lists offices in New York, Abu Dhabi, San Francisco, Tokyo and Shanghai.
His most famous works include:
·World Financial Center, in Manhattan (1982-88)
·Norwest Center, in Minneapolis (1986-88)
·Carnegie Hall Tower, in Manhattan (1987-91)
·Key Tower, in Cleveland (1988-91)
·777 Tower, in Los Angeles (1988-91)
·One Canada Square, in Canary Wharf, London (1988-91)
·Bank of America Center in Charlotte, NC (1989-92)
·Terminals B and C at Reagan National Airport in Washington, DC (1993-97)
·Petronas Towers in Kuala Lumpur, Malaysia (1993-96) - at the time the tallest buildings in the world
·International Finance Centre, in Hong Kong (2000-03)
·Gran Torre Santiago, Chile (2006-12)
·and Abenu Harukas, in Osaka (2010-14)
He also designed four office buildings in his native Argentina, in downtown Buenos Aires: República (1994-96); BankBoston (1998-2001); YPF (2005-08); and Banco Macro (2013-16).
Pelli was named one of the ten most influential living American Architects by the American Institute of Architects in 1991.
At:
https://www.reuters.com/article/us-people-cesar-pelli/csar-pelli-argentine-architect-behind-the-petronas-towers-dies-aged-92-idUSKCN1UE2RM


Argentine-American architect César Pelli (1926-2019) in his Yale studio.

He once remarked that "one of America's strengths has always been its openness to the new: both new ideas and new people."
5 replies, 826 views
Replies to this discussion thread
| | | | |
| --- | --- | --- | --- |
| 5 replies | Author | Time | Post |
| Renowned Argentine-American architect Cesar Pelli dies at 92 (Original post) | sandensea | Jul 2019 | OP |
| | CaptainTruth | Jul 2019 | #1 |
| | sandensea | Jul 2019 | #2 |
| | Judi Lynn | Jul 2019 | #3 |
| | Judi Lynn | Jul 2019 | #4 |
| | sandensea | Jul 2019 | #5 |
---
Response to sandensea (Original post)
Fri Jul 19, 2019, 10:34 PM
CaptainTruth (2,159 posts)
1. I studied Pelli's work in architecture classes. Saw one of his buildings in Milan.
---
Response to CaptainTruth (Reply #1)
Fri Jul 19, 2019, 10:41 PM
sandensea (11,208 posts)
2. Quite an addition to the thread. Thank you!
And the Unicredit Tower is quite an addition to Milan's rather stodgy skyline.
My own favorite Pelli building is probably the Norwest Ceter, in Minneapolis. A glorious throwback, I think, to the Art-Deco office high-rises of the 1920s.
---
Response to sandensea (Original post)
Sat Jul 20, 2019, 06:32 AM
Judi Lynn (140,932 posts)
3. What magnificent structures. Hard to imagine anyone could accomplish so many enormous buildings
for the world to enjoy so very much longer than he would live.
Looking at the list left in the O.P., I knew I had to examine the Petronas Towers images in google, and I'm so glad to see them:
Later in the day, I want to go look up the others in the list in the original post. Don't want to miss even one of them.
It was also great seeing the amazing buildings in Milan, posted in the following post. Looked them up, and saw the nighttime view of them was mind-boggling, as well.
Looks as if Argentines and U.S. Americans will both be pleased to claim Pelli as their own amazing architect.
Thank you, very much, sandensea.
---
Response to sandensea (Original post)
Sat Jul 20, 2019, 07:54 PM
Judi Lynn (140,932 posts)
4. You could spend hours looking through the links on images of Abeno Harukas,
Pelli's astonishing project for the people of Japan in Osaka. So beyond spectacular.
Thank you, sandensea, for opening our eyes to this amazing builder of public spaces. Overwhelming ideas, affecting so many people, becoming more valuable as each year passes.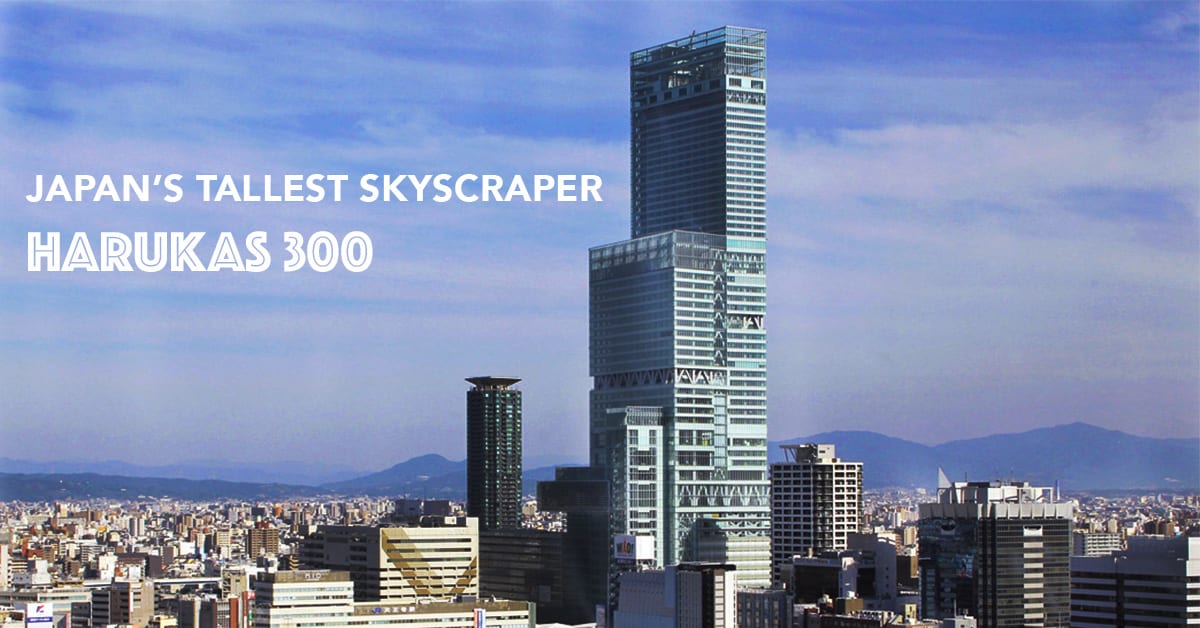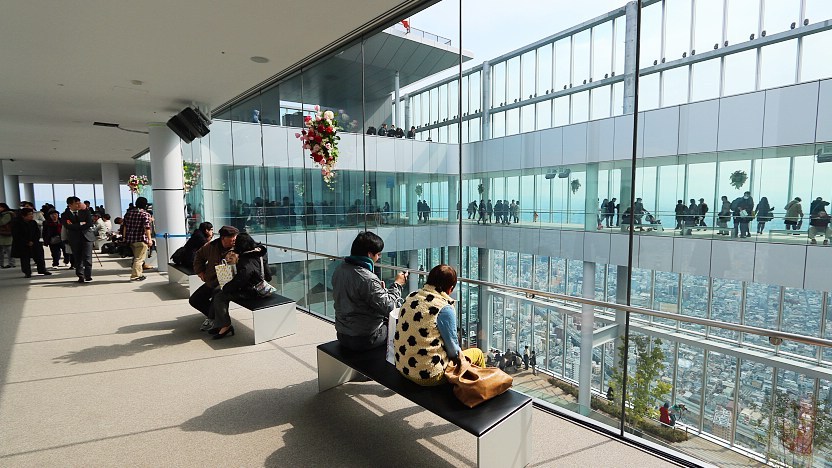 Night views from ABENO HARUKAS
Impressions
Opened in March 2014, Abeno Harks is the highest skyscraper in Japan."Harukas 300", an observatory which occupies the three top floors, stands 300 meters high.
Harukas 300 is a" roof-top style" observatory in which the 1st floor does not have a roof. The 2nd to the 3rd floor is an indoor observatory with a unique construction with no similarities seen around the world.
The first floor is a stylish observatory with foliage plant on the wooden decks. With low indoor lighting, it is a perfect atmosphere to enjoy the night view. On clear days, you can see from Mount Ikoma to the Akashi Kaikyō Bridge, and this may be considered to be one of the greatest night view spots in Japan.
There is a garden on the 16th floor of Abeno Harukas. This view is no comparison to the view from the observatory, but the free view from here is as high as the Tsutenkaku, and well-known landmark of Osaka. The garden closes at 7 PM, so you cannot see the night view during warm seasons when the sun sets late.
https://ext.yakei.jp/spot.php?i=harukas
So unbelievably people-friendly!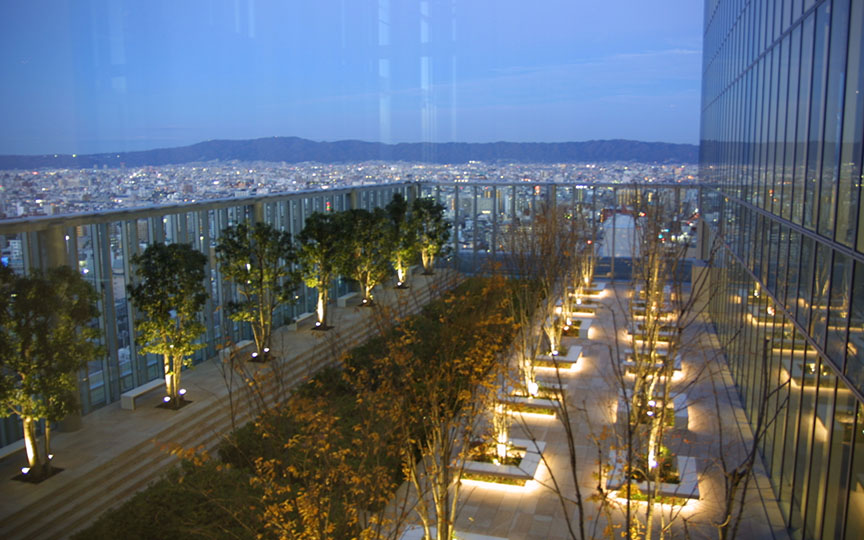 ---
Response to Judi Lynn (Reply #4)
Sat Jul 20, 2019, 09:44 PM
sandensea (11,208 posts)
5. Very modern and functional, yet spacious and welcoming. Thanks for posting these, Judi.
Personally, I find Abeno Harukas much more elegant than this best-known work, the Petronas Towers.

I remember reading at the time ('96), that the Malaysian government interfered constantly in Pelli's design process, as they found his first blueprints "too western."

My favorite Pelli building, though, is Norwest Center in Minneapolis - followed by Key Tower in Cleveland. Gorgeous adaptations of the 1920s Art-Deco office high rises, I think.

Pelli - along with Skidmore, Owings & Merrill; Phillip Johnson; and John Portman - really helped redefine downtown skylines across the U.S. during the 1980s and '90s.

They created a clear departure from the van der Rohe-inspired international style that had dominated new high-rise office construction until 1975 or so (which I very much like as well).

I've always really enjoyed U.S. city skylines for that reason: that mostly very graceful juxtaposition between all those styles.