Sun Aug 11, 2019, 05:47 AM
Judi Lynn (147,933 posts)
Chagabi Etacore: The leader killed by contact with the outside world
By Rosie Blunt
BBC News
11 August 2019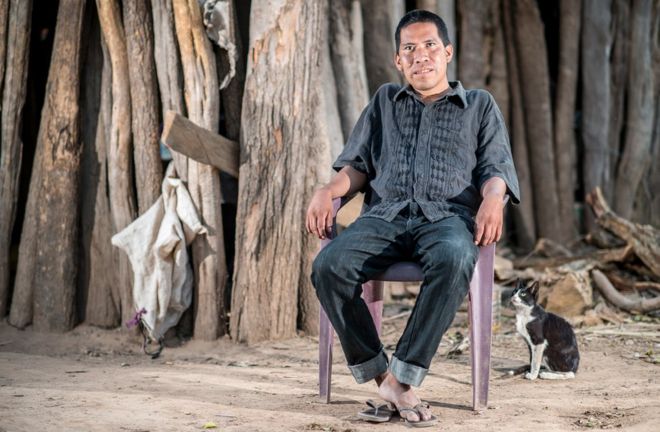 GERALD HENZINGER/SURVIVAL
Image caption
Chagabi Etacore: A "resolute and determined" yet "reserved" leader
Chagabi Etacore was a young child in 1986 when he heard a helicopter hovering over his home in Paraguay's Chaco forest.
A member of the Ayoreo Totobiegosode tribe, Chagabi had never before seen the outside world. His family lived nomadically, sleeping around a hearth and growing melons in the forest's sandy ground. The arrival of the helicopter marked the end of Chagabi's life as he knew it.
Trucks arrived, and a group of indigenous people ran into the clearing where Chagabi's tribe had set up camp. The indigenous people, who had been co-opted by missionaries, attempted to capture the whole tribe.
A battle ensued, but the Ayoreo Totobiegosode eventually submitted and were forced into the trucks. They were driven to a base set up by a group of American fundamentalist Christians known as the New Tribes Mission.
The missionaries had sent indigenous people that they had already evangelised on a "manhunt" to capture Chagabi's tribe. At the mission, Chagabi and his tribe lived for years in unpaid servitude and were exposed to diseases to which they had no immunity. Many died. Chagabi contracted a chronic lung infection from which he suffered for the rest of his life - and which eventually caused his death this week.
More:
https://www.bbc.com/news/world-latin-america-49264245
"New Tribes Mission"?
Doesn't take long to figure out their agenda, does it?
Wikipedia:
Ethnos360[3], formerly known as New Tribes Mission (NTM), is an international, theologically evangelical Christian mission organization based in Sanford, Florida, United States. NTM has approximately 3,300 missionaries in more than 20 nations.
The organization sends missionaries from local churches around the world to Latin America, West Africa, Southeast Asia and the Arctic. Countries include Brazil, Bolivia, Burkina Faso, Colombia, Greenland, Guinea, Ivory Coast, Liberia, Mexico, Mozambique, Panama, Papua New Guinea, Paraguay, Philippines, Senegal, Tanzania, Thailand and formerly Venezuela.[4] New Tribes Mission is also a member of the Forum of Bible Agencies International.
Focus and beliefs
The mission's focus is on groups where no translation of the Bible exists.[5] When such a group is identified, Ethnos360 first attempts to make contact and establish a relationship. Then, missionaries are sent to learn the language and the culture of the native people, while further developing relationships and providing humanitarian aid.[citation needed] The missionaries translate biblical literature into the indigenous language, as well as teach natives how to read and write in their own language. The professed goal, however, is to establish fully functioning churches that operate independently of missionaries, which "in turn reach out to their own people and to neighboring tribes."[6]
The core belief of Ethnos360 is "Sola Scriptura," accompanied by a historical-grammatical hermeneutic in interpreting the scriptures. This emphasis on "word by word inspiration" leads to literal belief "in the fall of man resulting in his complete and universal separation from God and his need of salvation." Those who die unsaved go to "unending punishment" (hence the mandate to evangelize those without access to the gospel). Additionally, Etnos360 is a dispensational organization, subscribing to the "imminent...pretribulation and pre-millennial return" of Jesus Christ to earth.[7]
More:
https://en.wikipedia.org/wiki/Ethnos360
Follow this URL to google images to see photos of the Chaco Forest in Paraguay to scan to see what the hell has happened to what was once a vast forest where these people lived before exploiters seized control of land which did NOT belong to them:
https://tinyurl.com/yydn5c8r
1 replies, 691 views
Replies to this discussion thread
| | | | |
| --- | --- | --- | --- |
| 1 replies | Author | Time | Post |
| Chagabi Etacore: The leader killed by contact with the outside world (Original post) | Judi Lynn | Aug 2019 | OP |
| | lunasun | Aug 2019 | #1 |
---
Response to Judi Lynn (Original post)
Sun Aug 11, 2019, 08:32 AM
lunasun (21,169 posts)
1. Kick