Sun Dec 29, 2019, 04:57 AM
Judi Lynn (147,067 posts)
Meet the Intellectual Founder of Brazil's Far Right
Meet the Intellectual Founder of Brazil's Far Right
Olavo de Carvalho's anger has inspired a number of Brazilian far-right politicians, the country's president
Story by Letícia Duarte
DECEMBER 28, 2019
Editor's Note: This article is part of our "Democracy Undone" series about the erosion of liberal democracy around the world.
PETERSBURG, Virginia—Talking with Olavo de Carvalho can be an exercise in self-restraint. As I walked into his house for an interview recently, he was sitting behind his desk, his gray hair neatly combed back. More than 100 smoking pipes were lined up on a rack, and thousands of books were stacked on the shelves of his home office alongside at least 20 rifles. He greeted me with a deep frown and wide eyes before pointing at a printout of a recent article I had written and bellowing, "What the fuck is that?"
So began our second meeting.
Sitting across from him, I saw that he had already set up his computer to film our exchange, his laptop camera framing my face. (He records all his interviews with reporters, whom he calls "enemies of the people," often releasing them on YouTube. These are then spread by his followers, with titles such as "Olavo humiliates journalist.") His wife, daughter, and a handful of other relatives and friends sat on a couch behind me, eating Burger King and smoking cigarettes, like an audience waiting for a show.
I had been trying for months to get back in touch with him, and just two hours earlier, he had agreed to meet. He had read my story about him and wanted a chance to respond. Before long, he was extending his right arm and pointing his index finger at my face. "You're very malicious, naughty, a liar—you are defaming me!" he shouted.
"You're a slut," he went on, wagging his finger. "You come to my house with this cynical smile … You're worth nothing, woman!"
His language could be disregarded if they were random attacks, if he were an eccentric from the political hinterland. But Olavo de Carvalho is something else: Known simply as "Olavo" across his native Brazil, the former astrologist, former communist, and former journalist has become the most virulent voice against the left in Brazil. His commentary immediately reverberates across the country, propagated by his more than 1 million followers on YouTube and Facebook. Worshipped by the right and ridiculed as an extremist by the left, Olavo and his beliefs are discussed almost daily in Brazil, everywhere from threads on Twitter to long magazine articles.
He is powerful for another reason. The 72-year-old is the architect of Brazilian President Jair Bolsonaro's far-right vision. A self-educated philosopher who never completed high school, Olavo has formed a new generation of conservative leaders in Brazil through an online philosophy course he has taught for 10 years. He estimates that about 5,000 students are currently enrolled in his program, and 20,000 people have watched his classes, including members of Bolsonaro's cabinet.
More:
https://www.theatlantic.com/international/archive/2019/12/brazil-olavo-de-carvalho-jair-bolsonaro/604117/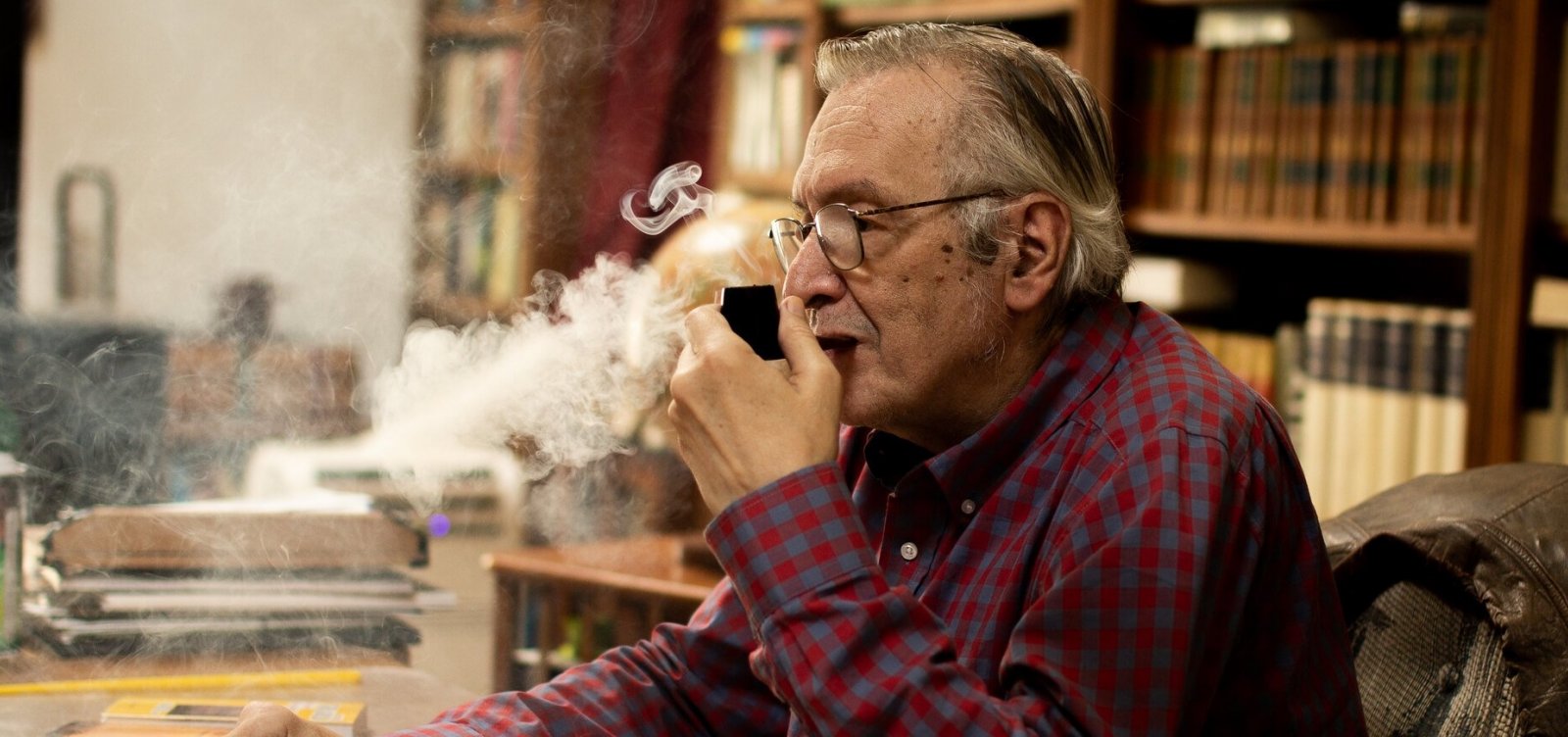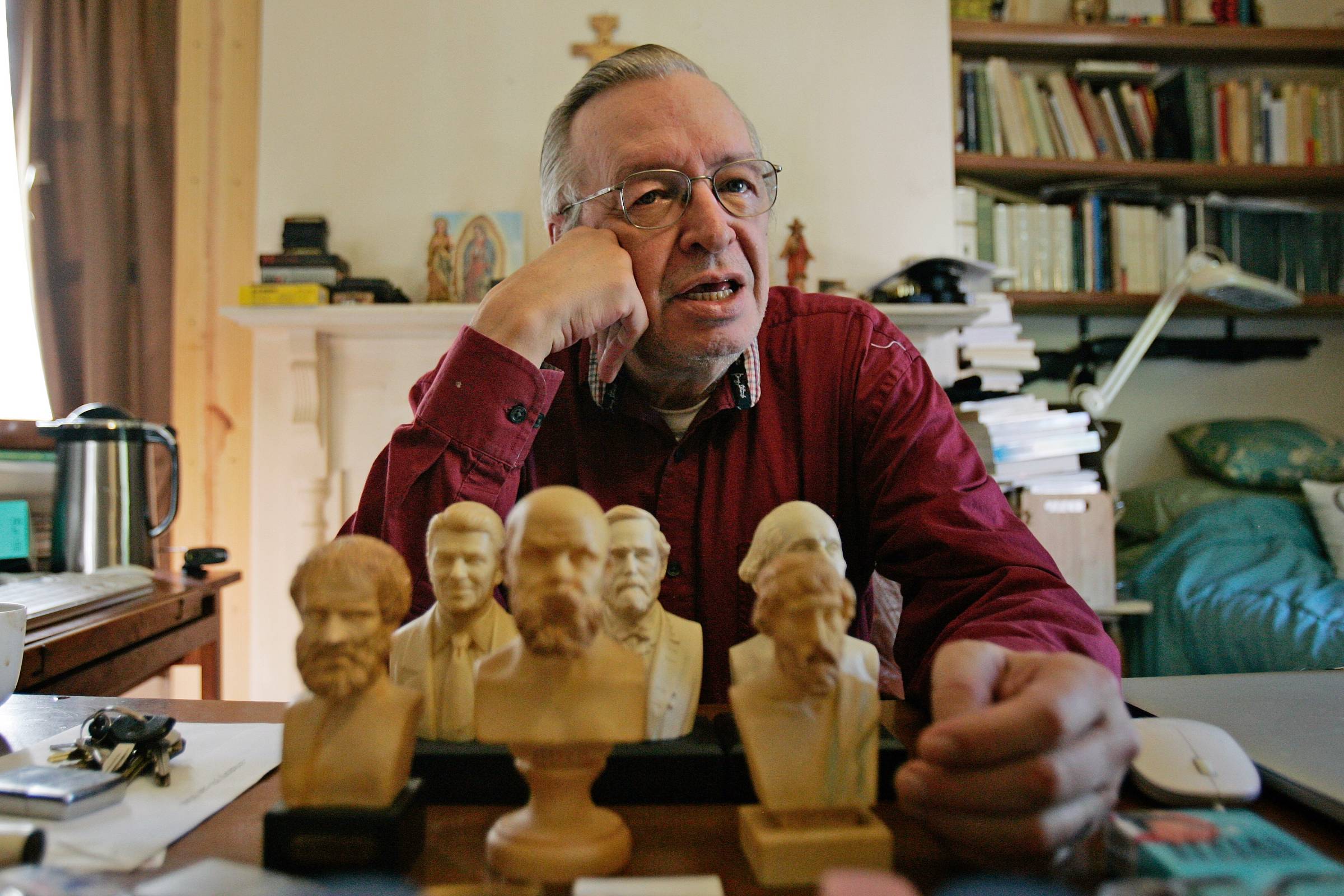 Guess who!
3 replies, 600 views
Replies to this discussion thread
| | | | |
| --- | --- | --- | --- |
| 3 replies | Author | Time | Post |
| Meet the Intellectual Founder of Brazil's Far Right (Original post) | Judi Lynn | Dec 2019 | OP |
| | Pachamama | Dec 2019 | #1 |
| | empedocles | Dec 2019 | #2 |
| | abqtommy | Dec 2019 | #3 |
---
Response to Judi Lynn (Original post)
Sun Dec 29, 2019, 07:29 AM
Pachamama (15,841 posts)
1. What a slimy ugly asshole this Olavo is
Everything about him reeks - if he wasn't working hard to influence and destroy the world with his hate and ugliness via Brazil, you would think he would be doing it working with Trump to do the same in the US...

Wait...but he is...he is living in our country and rubbing shoulders and befriending Bannon and using the internet and YouTube to spread the ugliness and destruction.

I don't know how this female reporter could have even spent one minute with this ugly awful creature, yet alone 90 minutes. But I love how she describes him perfectly for who and what he is and didn't let him use his intimidating tactics to make her even blink and that in the end she wrote a fitting article summarizing him.
---
Response to Judi Lynn (Original post)
Sun Dec 29, 2019, 09:03 AM
empedocles (12,265 posts)
2. Judi Lynn, you've got phenomenal range. Great to have you here. Thank you.
---
Response to Judi Lynn (Original post)
Sun Dec 29, 2019, 10:46 AM
abqtommy (9,553 posts)
3. Verrry interesting. Informative and scary too, which is not bad and can be a good thing.