Mon Jun 1, 2020, 03:40 PM
sandensea (11,203 posts)
List of top offshorers revealed in Argentina
Argentine investigative journalist Horacio Verbitsky revealed the names of the top 100 firms, and top 100 individuals, to have offshored funds from Argentina during the 2015-19 Mauricio Macri administration.
The lists, published in Verbitsky's online journal
El Cohete a la Luna
(
Moon Rocket
), include over
$129 billion
- an amount similar to the $125 billion net increase in Argentina's public foreign debt from 2015 to 2019.
Those named include many of the most prominent firms and businesspeople in Argentina, as well as their relatives.
Some were also named in Verbitsky's 2017 publication of a partial list of those taking advantage of Macri's
2016 tax whitewash
- including Macri's brother Gianfranco, who 'whitewashed' nearly $40 million.
A record $117 billion in offshore funds were declared in return for a one-time 5%-10% tax. But despite assurances that "$60 billion would be repatriated," all but $8 billion (93%)
remained offshore
.
Argentina is seeking to restructure $66 billion of a $250 billion foreign currency-denominated public debt, with President Alberto Fernández - who defeated Macri last year - noting that "
the country has been bankrupt for over two years
."
Deregulation and offshoring
Many of these firms and individuals took advantage of Macri's
financial deregulation
decrees, which were touted as the solution for the country's sluggish economy - but instead led to a massive debt bubble, a $44 billion
IMF bailout
in 2018-19, and a deep recession known locally as the "
Macrisis
."
Topping the list of firms is the nation's largest phone company,
Telefónica Argentina
($1.25 billion); and its largest electricity distributor,
Pampa Energía
($904 million).
Corporate offshoring totaled
$55.7 billion
during that four-year period; individuals and families totaled another
$73.6 billion
.
The list of individuals is led by the
Eskenazi family
, which offshored $103 million. The Eskenazis' now defunct hedge fund Petersen owned 25% of YPF, the nation's largest energy firm, until its partial renationalization in 2012.
The
Ick family
, whose Ick Group conglomerate is the largest firm in Santiago del Estero Province (one of the nation's poorest), offshored $43 million.
The
Werthein family
, probably best known as the top private sponsors of the Argentine Olympic Committee, offshored $24 million.
Claudio Belocopitt
, CEO of the country's largest private hospital chain, Swiss Medical Group, offshored $21 million. His firm was hard-hit by Macri's 2019 default on peso-denominated debt -
the first in Argentine history
.
Large-scale offshoring has long been a drain on Argentina's dollar reserves. The country's private sector is estimated to hold
$300 billion
in offshore deposits and portfolio investment - dwarfing the $85 billion in domestic bank deposits.
Hernán Arbizu, a former JP Morgan Chase executive, first revealed in 2008 how Argentine firms and wealthy clients annually evade billions in taxes using local banks and exchange houses.
A one-time wealth surtax of 2% on those whose net worth is over $3 million is currently being debated in Argentina's Congress.
At:
https://translate.google.com/translate?hl=en&tab=wT&sl=auto&tl=en&u=https%3A%2F%2Fwww.elcohetealaluna.com%2Flos-100-de-macri%2F


Argentine investigative journalist Horacio Verbitsky, whose lists of large individual and corporate offshorers has helped put names to the face of Argentina's current debt crisis.

The $129 billion in listed funds is similar to the $125 billion net increase in Argentina's public foreign debt from 2015 to 2019.
8 replies, 352 views
Replies to this discussion thread
| | | | |
| --- | --- | --- | --- |
| 8 replies | Author | Time | Post |
| List of top offshorers revealed in Argentina (Original post) | sandensea | Jun 1 | OP |
| | abqtommy | Jun 1 | #1 |
| | sandensea | Jun 1 | #2 |
| | abqtommy | Jun 1 | #3 |
| | sandensea | Jun 1 | #4 |
| | Judi Lynn | Jun 2 | #5 |
| | Judi Lynn | Jun 2 | #6 |
| | sandensea | Jun 2 | #7 |
| | Judi Lynn | Jun 2 | #8 |
---
Response to sandensea (Original post)
Mon Jun 1, 2020, 05:33 PM
abqtommy (5,005 posts)
1. Stay safe, Horacio!
---
Response to abqtommy (Reply #1)
Mon Jun 1, 2020, 07:36 PM
sandensea (11,203 posts)
2. Brave guy.
The very name of his journal ('Moon Rocket') comes from one of former President Macri's rants, in which he reportedly wished he could "send people like Verbitsky (among others) up in a moon rocket!"

Macri, whom you'll recall was a friend of Cheeto's since '84, reportedly got him fired from his newspaper - but Verbitsky's a tough cookie.
---
Response to sandensea (Reply #2)
Mon Jun 1, 2020, 08:03 PM
abqtommy (5,005 posts)
3. Thanks for that . We need heroes wherever we can find them.
---
Response to abqtommy (Reply #3)
Mon Jun 1, 2020, 08:20 PM
sandensea (11,203 posts)
4. You're welcome
Here's hoping some brave soul here in the U.S. could leak His Orangeness' tax returns - preferably before the election.
---
Response to sandensea (Original post)
Tue Jun 2, 2020, 02:10 AM
Judi Lynn (140,920 posts)
5. Fascinating information springing forth, and so welcome! Shocking amount of wealth spirited away.
Macri just about cleaned out the treasury, or would have long before his second term was underway, it seems.

Does Macri even still live in Argentina, or has he already scampered to his hideout in Sardinia, or wherever it was? I guess he would choose some country with no extradition arrangement with the country he has bled dry with his cronies.

It makes it so much more rotten knowing how hard Kirchner worked to rescue Argentina from the deep ditch the dictatorship people dug for the country after they left, to know he finally did it, then suddenly died of a heart attack very early in his life. So many people watched helplessly as the right-wing set its sights on his wife, Cristina Fernández de Kirchner, and spent its time trying to destroy her.

If only the new President can get the time to establish his foundation, and get his plan working before the fascists get any hits landed on him!

This is a remarkable achievement already, isn't it? It sounds very much as if he has firm support from the IMF, from the first. He seems to be such a conscientious, honorable person. That should count for something these days, one would hope!

It was startling to see the first mega-grifters mentioned were the Eskenazis!

How fortunate they were able to get such direct information from Hernán Arbizu. Powerful. What a surprise.

Wonderful reading what you shared on Horacio Verbitsky. Hoping the very best for a courageous man who believes decency is still within our reach, and works to make it real for Argentina's people.


---
Response to sandensea (Original post)
Tue Jun 2, 2020, 05:11 AM
Judi Lynn (140,920 posts)
6. Just noticed Horacio Verbitsky, has a yellow paper on the bulletin board behind him on Milagro Sala.
That, in itself would have Macri climbing the wall!
Looked quickly for any recent information on President Fernández and Milagro Sala, but didn't see anything immediately, beyond this article from before the election:
ARGENTINA | 08-11-2019 17:24
UCR's Cornejo slams 'irresponsible' Fernández over Milagro Sala comments
President-elect accused of "anti-republican behaviour" after saying jailed Túpac Amaru leader "does not deserve to be detained." Sala, meanwhile, says she wants to run for governorship of Jujuy Province.
Jailed social activist Milagro Sala is the subject of a war of words between outgoing Mendoza Province Governor Alfredo Cornejo and president-elect Alberto Fernández.
The National Committee of the UCR (Unión Cívica Radical) criticised Argentina's next head of state on Friday, the morning after the broadcasting of an interview with the Frente de Todos leader, in which he suggested Sala should be freed from jail.
"She does not deserve to be detained," Fernández said in an interview broadcast on Russian television this week, discussing the jailed social leader.
On Friday, Cornejo described the comments as "irresponsible" and implied the president-elect would said bluntly that his party was "concerned about the next Argentina."
More:
https://www.batimes.com.ar/news/argentina/ucrs-cornejo-slams-irresponsible-fernandez-over-milagro-sala-comments.phtml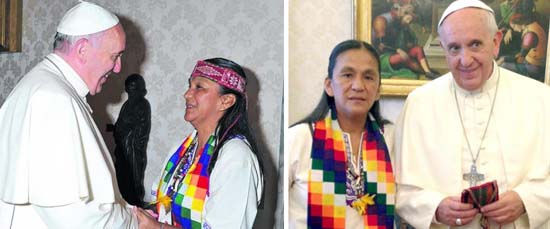 Milagro Sala, Pope Francis
President Obama, Pope Francis
Milagro Sala, former President Cristina Fernández de Kirchner
Pope Francis and former President Cristina Fernández de Kirchner
former President Mauricio Macro, Pope Francis
There is no photo of Argentina's former President Macri and Milagro Sala. Could it be because he kept her in jail as a political prisoner?
---
Response to Judi Lynn (Reply #6)
Tue Jun 2, 2020, 11:55 AM
sandensea (11,203 posts)
7. Fernandez prefers to go by the book - but there's no doubt he's had a word with Morales
Milagro Sala, you'll recall, was transferred to house arrest following a supreme court ruling in 2017.
Morales hemmed and hawed for a couple of months, and then put her in a
abandoned halfway house
- which her supporters refurbished at their expense (by way of a fundraiser).
She was dragged back and forth between the halfway house and jail at least twice - as a way of breaking her emotionally, you know?
When it became evident Fernández would be elected president, Morales finally allowed Sala a transfer
to her own house
in San Salvador de Jujuy last year.
No one doubts that Fernández, who's a lawyer, had a word with Morales. He's also made an effort to get along well with the touchy governor, which has helped Sala's situation.
Though confined, she and her husband have reportedly been happy there - so much so in fact that Clarín's TN cable news outlet recently staged a
fake news
on her by showing her "having a party amid the quarantine (!)."
Except the video is clearly dated
12/31/19
.
Some are pushing Fernández to try to have a mistrial declared - but it's next to impossible, given the stacked courts in Jujuy, and given that the Supreme Court already refused to hear the case for one.
And since Jujuy Province Peronists couldn't get their act together, and ran on three different slates (thereby assuring Morales re-election), it looks like Sala will have to wait until 2024. She'll be 60.
In the meantime, at least she's safe and comfortable in her own home.
---
Response to sandensea (Reply #7)
Tue Jun 2, 2020, 05:18 PM
Judi Lynn (140,920 posts)
8. OMG, Morales will be in place for 4 more years? That's horrible! He really has his claws in Jujuy.
So he is surreptitiously using Milagro Sala as a hostage, to insure undeserved courtesy from the elected President who knows how wrong he and his thug friends are to abuse this good woman for her "race" and politics.
The photograph of Milagro sitting on a balcony at her home is well done, says a lot. Very glad to have seen it.
Evil comrades, Morales and Macri. I have always thought Morales looks more Irish or English, etc.
While looking for information I can only partly remember regarding a military truck Macri was sending to Jujuy (I believe) to help in a demonstration which crashed, and the soldiers killed, or something. I ran across this article, instead:
20/11 – Macri and the US Involvement in the Bolivian Coup Starting to Emerge
20 november, 2019
Text från Resumen Latinamericano.
By Stella Calloni on November 18, 2019
On November 18, which is a holiday in Argentina, thousands of people occupied the Plaza de Mayo in Buenos Aires against the coup d'état in Bolivia and in solidarity with the Chilean people, paying tribute to the victims and the resistance of the people, while evidence and condemnation continue to emerge about the complicity of the government of Mauricio Macri, and especially of the governor of Jujuy, Gerardo Morales with the coup plotters and with the U.S. officials who support and direct them.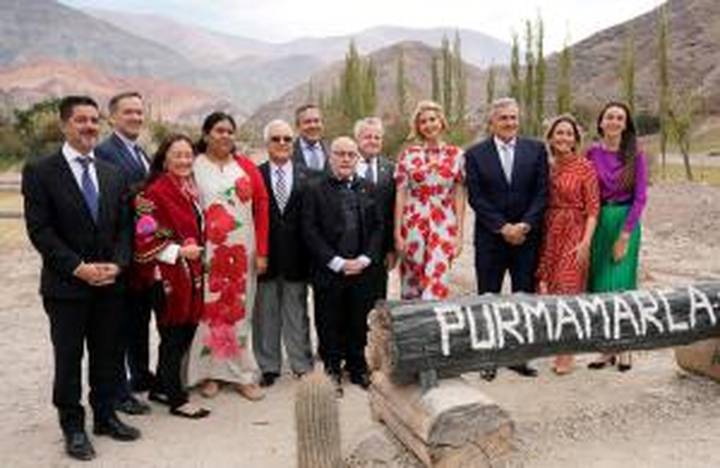 Ivanka Trump in Jujuy,
Photo: Kevin Lamarque
Macri, his followers and the media in line with Washington continue to maintain that there is no coup d'état in Bolivia, an attitude that was rejected by the demonstrators in the communiqué they read, signed by social, political, humanitarian and Bolivian organizations and Chileans residing in Buenos Aires.
The complicity of Morales is becoming more evident every day as documentation from Bolivia, as well as from Argentine and Brazilian investigators, are exposing the connection which also accuses Brazilian President Jair Bolsonaro of being in on the collaboration.
According to new revelations, Mauricio Macri's government knew about Luis Fernando Camacho's coup decision six days in advance. The report refers to a meeting that the right-wing businessman had with diplomatic representatives of the consulates of other countries located in Santa Cruz de la Sierra on November 4, as the well-informed website "The Rocket to the Moon" directed by journalist Horacio Verbistky points out.
More:
https://efolket.eu/kosmopolitiskt/macri-and-the-us-involvement-in-the-bolivian-coup-starting-to-emerge/
(As I am seeing this, it's ALL new to me. I need to reread it. If it's true, it needs more publicity.)