Fri Oct 28, 2022, 03:35 PM
peppertree (18,350 posts)
Former finance minister, right-wing congressman linked to Cristina Kirchner assassination attempt
Ongoing investigations into a recent assassination attempt against Argentine Vice President Cristina Fernández de Kirchner have uncovered links to both a former finance minister and a right-wing congressman.
Both are close allies of Mrs. Kirchner's arch-rival, former President Mauricio Macri - who's widely expected to run again next year,
possibly against Kirchner herself
.
Transfers totaling 13 million pesos ($80,000) to neo-fascist spokesman
Jonathan Morel
from a trust controlled by Former Finance Minister
Luis Caputo
were found over the past two weeks.
Morel's "
Federal Revolution
" perpetrated numerous violent incidents against officials in the center-left Alberto Fernández administration - whom the group called to be "
exiled, jailed, or killed
" - since Morel co-founded the group in May, and included in its ranks
Fernando Sabag Montiel
- the gunman in the failed, September 1st assassination attempt.
Caputo, 57, is a cousin of
Macri's best friend
- and best known locally for presiding over a disastrous "financial bicycle" carry-trade bubble, whose collapse in 2018 led to a debt crisis requiring a
record IMF bailout
.
Morel, 23, and Sabag Montiel, 35, are among eight so far arrested in the probe. Another detainee, "cotton candy" gang leader Nicolás Carrizo, raised eyebrows by securing three prominent lawyers - all having recently
represented close Macri allies
.
Here's looking at you
Judge María Eugenia Capuchetti, a Macri appointee, heads the probe - but was faulted by Kirchner allies for refusing to seize cell phones belonging to two aides of right-wing Congressman
Gerardo Milman
, as well as for not calling Milman to testify, after a witness testified yesterday to seeing all three in a Buenos Aires café
on August 30th
.
Milman "
was dying of laughter about how 'when they kill her, I'll be on my way to the beach!'
," the witness had earlier tweeted.
Milman, caucus
whip for Macri's hard-right PRO
, in fact traveled to seaside Pinamar that weekend. He made official inquiries as to Mrs. Kirchner's security
just two days earlier
.
Security camera footage shows Milman, 56, and the two women entering and leaving the Casablanca Café, across the street from Congress. The two aides, Carolina Gómez Mónaco and Ivana Bohdziewicz, initially denied having been in the café "since March" -
but later recanted
when Federal Prosecutor Gerardo Pollicita showed them the footage.
Gómez Mónaco and Milman
both had high-ranking posts
under Macri's hard-line Security Minister
Patricia Bullrich
- who in turn has close links to a number of Federal Revolution extremists.
Gómez Mónaco's business partner, Mariale Mroue, is a panelist in a cable news show where two of the detainees, gunman Sabag Montiel and Brenda Uliarte,
were first interviewed on July 28th
- a month before the attack.
At:
https://www-telam-com-ar.translate.goog/notas/202210/609067-ataque-a-cristina-milman.html?_x_tr_sl=es&_x_tr_tl=en&_x_tr_hl=en&_x_tr_pto=wapp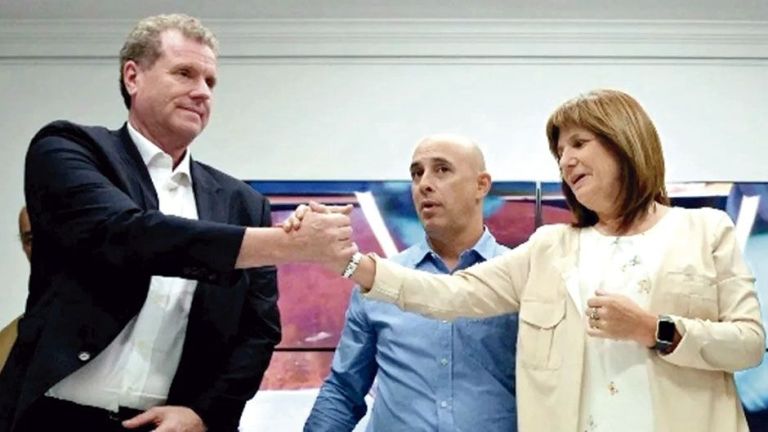 The plot thickens: Argentine Congressman Gerardo Milman, right-wing lawyer Hernán Carrol, and Patricia Bullrich - security minister under former President (and likely 2023 candidate) Mauricio Macri.
All have ties to the September 1st assassination attempt against Vice President Cristina Kirchner - who is widely believed to be mulling a run in next year's presidential election.
Milman suggested foreknowledge of the attack through a number of tweets, congressional resolutions and per witness testimony.
Carrol was
sought as counsel by gunman
Fernando Sabag Montiel (though he refused), and has close ties to both the "Federal Revolution" extremist group and Patricia Bullrich.
Bullrich is closely acquainted with a number of Federal Revolution defendants - among whose attorneys are at least four lawyers closely tied with Macri allies or former officials.
2 replies, 717 views
Replies to this discussion thread
| | | | |
| --- | --- | --- | --- |
| 2 replies | Author | Time | Post |
| Former finance minister, right-wing congressman linked to Cristina Kirchner assassination attempt (Original post) | peppertree | Oct 2022 | OP |
| | Judi Lynn | Oct 2022 | #1 |
| | peppertree | Oct 2022 | #2 |
---
Response to peppertree (Original post)
Fri Oct 28, 2022, 10:41 PM
Judi Lynn (155,252 posts)
1. It's astonishing that the investigation went anywhere at all, with a Macri judge
heading the investigation!
However it happened that there are still enough powerful voices to have called Judge María Eugenia Capuchetti out "for refusing to seize cell phones belonging to two aides of right-wing Congressman Gerardo Milman, as well as for not calling Milman to testify, after a witness testified yesterday to seeing all three in a Buenos Aires café on August 30th," and got decent action afterward, is so important.
da Judge.
So much has happened in a respectable time frame already. Do you remember the outrage of seeing that Macri supporters immediately started claiming Cristina Fernández de Kirchner had arranged it herself, to gain support, and you could tell that she knew it was coming because she didn't seem surprised? Oh, my god!
Right on cue they started shrieking she faked the whole thing. Does that ever sound familiar? Exactly what you expect from scheming, ruthless, self-obsessed, dim-witted fascists.
I have been running over this story since I read it earlier tonight. It is so damned flagrant. They totally expected her to be dead by now. It's a miracle that the gun jammed, isn't it?
Will anything ever wipe the smirks off the faces of Macri and Luis Caputo?
Here's hoping that Cristina Fernández immediately amped up her security as soon as that assassination attempt failed, and that she will be FAR better protected every moment from now.
Can't thank you enough for posting this information this evening, peppertree. Will be watching and caring so much until the election has passed, and if justice should prevail, there will continue to be a human face on Argentina's next President. Thank you, again.
---
Response to Judi Lynn (Reply #1)
Fri Oct 28, 2022, 10:57 PM
peppertree (18,350 posts)
2. You're welcome, Judi - and thank you for that background and those VERY insightful points
Given what happened today, I can't help but draw a parallel to the vicious attack Paul Pelosi just suffered.
I understand the RW blogosphere and chat rooms are buzzing with that same noise - absurd musings on how, somehow, Nancy Pelosi had this arranged herself (!).
Because, like in the Kirchner case, the right
knows
its fingerprints are all over the attack - and feel they have no choice but try to turn the tables somehow.
To in effect, blame the victim - something they're so given to, as you know.
Ugly times we're living in.
Have a warm and pleasant weekend, Judi. Looking forward to wishing Mr. Lula a hearty
Parabéns!
this Sunday (knock wood).