Wed Jul 31, 2019, 04:43 AM
Celerity (23,792 posts)
Tackling precarity in the platform economy -- and beyond
To focus on online platforms in isolation would miss the point that they are part of a wider phenomenon of spreading and intensifying precarity at work.
https://www.socialeurope.eu/tackling-precarity-in-the-platform-economy-and-beyond
In our increasingly digitalised world, a crucial role is played by
online platforms
. These platforms—dynamic websites which constitute digital public squares or marketplaces—affect the economy and our society in various ways and their regulation (or lack thereof) is increasingly the subject of public and political debate. Whether it be the way in which Facebook deals with personal and public information, the influence of Airbnb on our habitat, Uber's effects on the taxi sector or the working conditions of Deliveroo couriers or tech-workers on Amazon Mechanical Turk, the 'disruptive' effects of the activities of the platforms regularly make headlines.
A key social problem is the labour status of those working in the online-platform economy. These drivers, riders, cleaners, designers, translators, technicians and others are often formally contracted as independent and their working arrangements tend to exhibit features which are difficult to square with the traditional employment relationship. These include use of their own materials (such as the driver's car), autonomy concerning working hours (logging into work via a smartphone app), the short duration of the relationship (translation of perhaps a single sentence) and its multilateral character (the platform linking the producer and consumer).
At the same time, the worker may well be economically dependent on the platform work, the contractual independence can be constructed in rather artificial ways—such as if a driver works full-time for a platform for several years yet remains formally contracted per journey—and the platform can exert significant control over the work and the person performing it. Furthermore, their 'independent' status often means platform workers lack the benefit of the social, labour, health and safety protections which in most countries are connected to an employment contract—even if their precarious working conditions and socio-economic position very much require such protection.
Indeed, online-platform work presents a range of old and new health, safety and wellbeing
risks for workers
, physical and psycho-social. Moreover,
studies suggest
that prior health problems may in fact be a main reason initially to engage in digital online-platform work, such as on microtask platforms. While this means that online platforms can provide an alternative means for people with health impairments to carry on work and earn some income, contributing to social and labour-market inclusion, it also means that many online-platform workers are already in a vulnerable situation, which the work may aggravate. Beyond the individual level, the lack of social-security contributions and tax revenues which often ensues from the independent status of the online-platform workers presents a sustainability problem for social systems more generally in the long run.
snip
TACKLING SOCIAL DISRUPTION IN THE ONLINE PLATFORM ECONOMY
Shifting the narrative to the benefits of (EU) regulation
https://www.feps-europe.eu/attachments/publications/feps%20paper%20-%20garben%20-%20clean%20final.pdf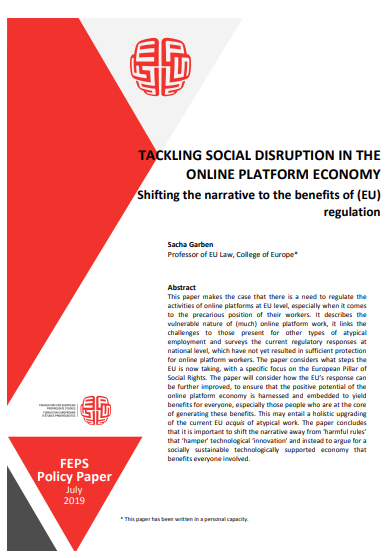 1 replies, 701 views
Replies to this discussion thread
| | | | |
| --- | --- | --- | --- |
| 1 replies | Author | Time | Post |
| Tackling precarity in the platform economy -- and beyond (Original post) | Celerity | Jul 2019 | OP |
| | Sherman A1 | Jul 2019 | #1 |
---
Response to Celerity (Original post)
Wed Jul 31, 2019, 04:57 AM
Sherman A1 (35,241 posts)
1. Social Disruption of computerization began long ago
And is going only to accelerate as we see AI deployed in areas never thought possible. This is why I support Andrew Yang's campaign as he understands what is coming and the need to rethink how we measure our society growth and wellbeing along with his call for a universal basic income.