Sun Apr 19, 2015, 01:10 AM
madfloridian (88,114 posts)
Big testing opt out in NY this week.
Crossposted in
General Discussion hoping for more visibility.
With Massive Boycott of Standardized Tests, New York Students Take Stand Against Corporate Education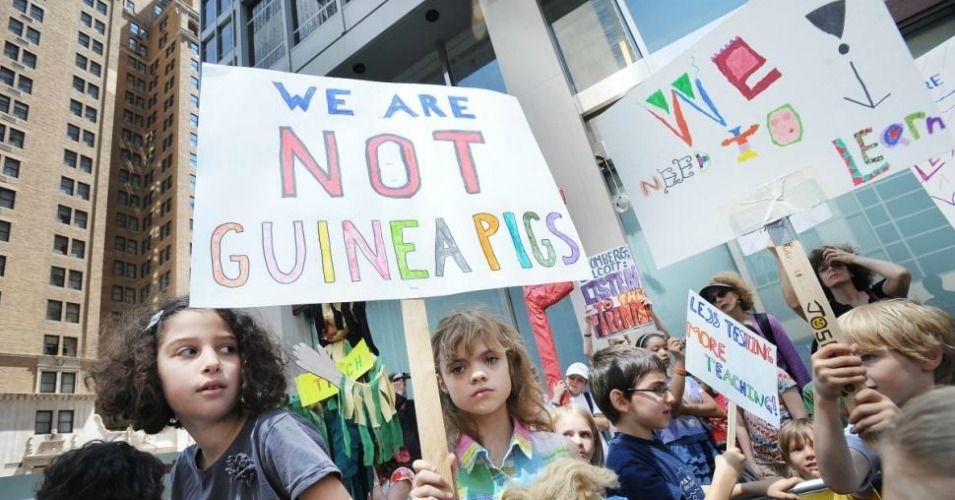 Tens of thousands of students in New York boycotted the annual state-mandated English Language Arts exams this week in a grassroots challenge to Governor Andrew Cuomo's controversial education agenda.
Organizers, including educational advocacy group United to Counter the Core, said at least 155,000 students opted out of the tests on Thursday, with only half of the state's districts tallied. That figure is up from 112,763 on Wednesday—and up from 49,000 last year. Testing began on Tuesday.

The revolt is in response to what parents, students, and activists say is a political takeover of educational standards—seen at the national level as well—that pushes a focus on standardized exams and a Common Core curriculum, developed by a secretive for-profit company, that compromises learning for test preparation.

In late March, Cuomo approved a budget that included many divisive revisions to the state education agenda, including teacher evaluations based partly on test scores, which critics say take too long , are too vague to be accurate, and fail to measure real learning.

Investigative journalist Juan Gonzalez explained the concerns over the increased focus on testing in his column for the New York Daily News:

The politicians created a test that says all schools are failing, not just the ones in the big cities, then declare a crisis, so they can close more neighborhood schools, launch more charter schools, and target more teachers for firing.

Meanwhile, the private company that fashioned this new test, Pearson, insists on total secrecy over its content.
0 replies, 1148 views