Sun Nov 4, 2018, 08:51 AM
littlemissmartypants (13,449 posts)
Why Millions of Teens Can't Finish Their Homework
Why Millions of Teens Can't Finish Their Homework
The push toward technology-focused education overlooks the students who lack the resources needed to complete their assignments.
ALIA WONG
OCT 30, 2018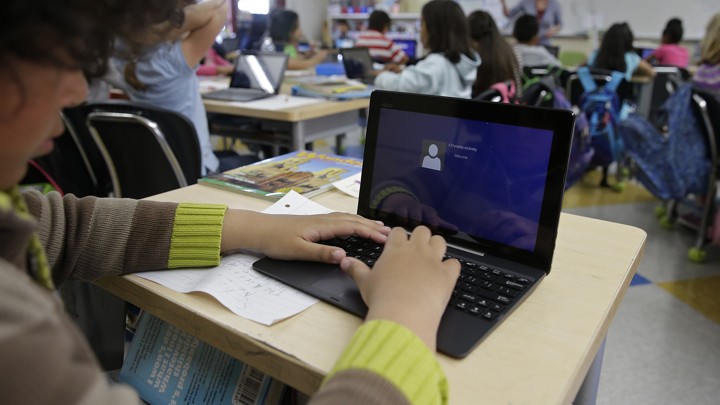 ?mod=1540916294
Parachute into any high-school campus in the country, and chances are you'll land on an object lesson on technology's ubiquity in young Americans' everyday lives. A significant chunk of schoolwork these days necessitates a computer and internet connection, and this work includes tasks students are expected to complete at home without access to school resources. One federal survey conducted among American teachers several years ago found that 70 percent of respondents assign homework that needs to be done online—and 90 percent of high schoolers say they're assigned internet-based homework at least a few times a month, according to a separate 2017 survey, including 48 percent who get such assignments daily or almost daily.
Yet despite the seemingly ever-growing embrace of digital learning in schools, access to the necessary devices remains unequal, with a new report from the Pew Research Center finding that 15 percent of U.S. households with school-age children lack high-speed internet at home. The problem is particularly acute for low-income families: One in three households that make below $30,000 a year lacks internet. This is despite an emerging reality in which poorer students are attending schools that evangelize technology-based learning while their more affluent counterparts, as The New York Times reported this past weekend, are "going back to wooden toys and the luxury of human interaction."
It's a glaring irony that's also a major force behind class- and race-based discrepancies in academic achievement. In what's often referred to as the "homework gap," the unequal access to digital devices and high-speed internet prevents 17 percent of teens from completing their homework assignments, according to the new Pew analysis, which surveyed 743 students ages 13 through 17. Black teens are especially burdened by the homework gap: One in four of them at least sometimes struggle to complete assignments because of a lack of technology at home. And close to half of teenagers in the bottom income bracket have to do their homework on a cellphone occasionally or often.
Snip...
With a team of researchers, the University of Texas at Austin professor S. Craig Watkins spent a year and a half observing and interacting with high schoolers to better understand the digital divide. The researchers' forthcoming book, The Digital Edge: How Black and Latino Youth Navigate Digital Inequality, chronicles the ways low-income students of color get around not having access to the internet and a computer. In what Watkins calls "social hacking," students often "reengineer their socioeconomic circumstances in order to get access to technology that they otherwise would not have access to." For example, the researchers observed that students without such resources at home were adept at developing relationships with teachers who could, say, give them special weekend access to laptops and software for use at home. They also tended to rely on other needy classmates to find work-arounds, sharing with one another smartphones and tablets that more affluent students often take for granted, for instance. "It was an inventive way of cultivating social capital," Watkins says, "but it also created a kind of sharing economy."
...snip...
More at the link.
https://www.theatlantic.com/education/archive/2018/10/lacking-internet-millions-teens-cant-do-homework/574402/
♡ lmsp
1 replies, 1494 views
Replies to this discussion thread
| | | | |
| --- | --- | --- | --- |
| 1 replies | Author | Time | Post |
| Why Millions of Teens Can't Finish Their Homework (Original post) | littlemissmartypants | Nov 2018 | OP |
| | janterry | Nov 2018 | #1 |
---
Response to littlemissmartypants (Original post)
Sun Nov 4, 2018, 09:07 AM
janterry (3,449 posts)
1. Internet essentials charges 9.95 a month for internet
for kids/families.

Schools need to get the word out to families.

Perhaps not all families can even afford that, but many can.