Mon Sep 15, 2014, 11:01 PM
madfloridian (88,114 posts)
FL DOE stops K-2 testing for now. Thank a teacher who put her job on the line.
Cr0ssposted this in
General Discussion
Recommend if you can.
The FLDOE is going to evaluate the testing situation. Maybe speaking out really does make a difference sometimes, even if we don't realize it.
Kindergarten teacher: 'There is a good possibility I will be fired but…'
Susan Bowles sent a letter to the parents of her kindergartners.
She points out that K teachers evaluate and test already, just not the high stakes kind. She describes some of what is now required.
• FAIR testing – We have given the FAIR assessment in the past but this year it was revamped. It does provide useful information, but nothing significantly superior to what a typical kindergarten teacher would observe in her students. This year, it is more time consuming and more difficult. Kindergartners are required to take it on the computer using a mouse. (While testing a child last week, she double-clicked which skipped a screen. This little girl double-clicked three times and triple-clicked once. There is no way for the teacher to go back. Neither is there a way for the school administrator to go back and make a correction.) While we were told it takes about 35 minutes to administer, we are finding that in actuality, it is taking between 35-60 minutes per child. This assessment is given one on one. It is recommended that both teacher and child wear headphones during this test. There is no provision from the state for money for additional staff to help with the other children in the classroom while this testing is going on. If you estimate that it takes approximately 45 minutes per child to give this test and we have 18 students, the time it takes to give this test is 13 ˝ instructional hours. If you look at the schedule, a rough estimate would be that it requires about one full week of instructional time to test all of the children. Our kindergarten teachers have been brainstorming ways to test and still instruct. The best option we have come up with is for teachers to pair up, with one teacher instructing two classes while the other teacher tests one-on-one. So now we are looking at approximately two weeks of true instructional time lost, because we cannot teach our curriculum, pulling small groups and targeting each child's educational needs. FAIR testing is done three times a year.

*THIS IS THE TESTING I AM REFUSING TO DO. I KNOW I MAY BE IN BREACH OF MY CONTRACT BY NOT ADMINISTERING THIS TEST. I CANNOT IN GOOD CONSCIENCE SUBMIT TO ADMINISTERING THIS TEST THREE TIMES A YEAR, LOSING SIX WEEKS OF INSTRUCTION. THERE IS A GOOD POSSIBILITY I WILL BE FIRED.
A Florida parent, teacher, activist posts the letter from Bowles' superintendent.
From @gatorbonBC
Teacher Refuses, Florida DOE Responds. FAIR testing suspended statewide #Florida
If you think that you can't make a difference, think again.

One teacher refuses and within a week, the Florida DOE responds.

K-2 Fair testing is suspended, statewide.

Nice. Thank you, Susan Bowles, Alachua County teacher, for taking a stand.

Way to go, Alachua County. Ya'all make a Gator proud.

#Chomp
She includes the letter her superintendent wrote.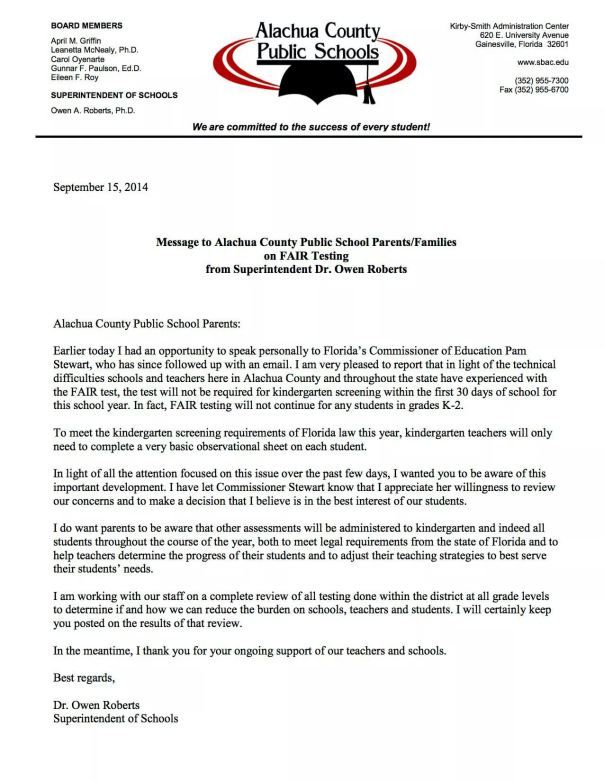 And to their credit, the Florida Department of Education paid attention.
Florida suspends a controversial exam as debate widens over school testing
Education commissioner Pam Stewart ended the Florida Assessments for Instruction in Reading, known as the FAIR test, in kindergarten through second grade. In its place, teachers will observe children's reading abilities in a more informal setting than the online exam, which recently suffered glitches.

Stewart announced the change in a memo to superintendents.

"It's amazing," said Susan Bowles, the Alachua County kindergarten teacher whose widely publicized refusal to administer FAIR this fall sparked the state's move. "I am very grateful that they have seen that the test was not a good thing for children."

Unlike other tests, FAIR is used solely to monitor students' progress and has no impact on school grades or funding. But Bowles and other advocates expressed hope that the next step would be a wider discussion about testing in Florida schools.

..."She took a real act of courage," said Bob Schaeffer of the National Center for Fair and Open Testing. "Sometimes you need that person to say, 'I won't cross that line, I won't get off your bus, I won't administer your test.'"
3 replies, 3303 views
Replies to this discussion thread
| | | | |
| --- | --- | --- | --- |
| 3 replies | Author | Time | Post |
| FL DOE stops K-2 testing for now. Thank a teacher who put her job on the line. (Original post) | madfloridian | Sep 2014 | OP |
| | Ka hrnt | Sep 2014 | #1 |
| | sekl | Sep 2014 | #3 |
| | eppur_se_muova | Sep 2014 | #2 |
---
Response to madfloridian (Original post)
Tue Sep 16, 2014, 05:14 AM
Ka hrnt (308 posts)
1. A small first step...
But excellent, excellent news. The testing mania has gotten out of hand--most likely because it is extremely profitable.
---
Response to Ka hrnt (Reply #1)
Fri Sep 19, 2014, 02:03 PM
sekl (1 post)
3. oops
they suspended the FAIR test for K-2 due to problems with the software. DOE sent a letter today saying the software was fixed and schools could start using it if they wanted.
---
Response to madfloridian (Original post)
Tue Sep 16, 2014, 07:16 AM
eppur_se_muova (32,526 posts)
2. Why the Hell are we testing Kindergartners in the first place ?
Isn't kindergarten supposed to be PRE-SCHOOL ???