Mon Jul 18, 2016, 06:05 AM
nationalize the fed (2,169 posts)
Energy.gov: Washington D.C. Showcases Cutting-Edge Hydrogen Fueling Station Demo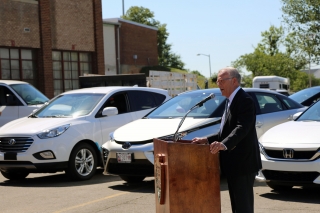 July 11, 2016, Energy.Gov
The greatest innovations in the world can only have so much impact on a laboratory bench. It's crucial to bring new ideas out into the world to demonstrate their power. Henry Ford famously said that if he had simply asked his customers what they wanted, "they would have said a faster horse." It wasn't until Americans saw firsthand what automobiles could do that they began to demand them and change the face of transportation forever.
Today, a new generation of transportation pioneers is hard at work reshaping transportation through the development of hydrogen fuel cell electric vehicles, or FCEVs. The benefits of the technology are clear. They can fuel in just minutes for a more than 300 mile driving range. You never need to change the oil. And, other than water, they offer completely zero emissions from the tailpipe with no compromise in performance. Because a fuel cell can be more than twice as efficient as an internal combustion engine, you can get much farther on a tank of hydrogen than with a tank of gasoline. (And the journey will be much quieter along the way!)
The technology has made enormous strides over the past several years, with the cost of hydrogen fuel cells dropping by 50% since 2006 with the help of research and development efforts backed by our office and our collaborations with industry partners. That's why nearly every major automaker is now actively pursuing the development of FCEVs...snip
...I was proud to attend the official opening of the station today, along with a range of dignitaries and partners from the National Park Service and industry, including several key automakers. This collaboration will showcase cutting-edge hydrogen generation technology and provide opportunities to demonstrate FCEVs at federal agencies and throughout the surrounding region. The station is supported by Proton OnSite – an innovative company based in Connecticut that manufactures hydrogen generators and other gas products – and their corporate partners SunHydro and Air Products. The station incorporates DOE-funded electrolysis technology advancements....snip
Read More:
http://energy.gov/eere/articles/dc-showcases-cutting-edge-hydrogen-fueling-station-demo
To learn more, visit the homepage of our Fuel Cell Technologies Office.
http://energy.gov/eere/fuelcells/fuel-cell-technologies-office
Even in DC, H2 is #!
0 replies, 490 views