Sat Sep 10, 2016, 02:48 PM
NNadir (26,377 posts)
Following cadmium flows in grains and other plants by isotopic fractionation.
Cadmium is highly toxic element that occurs naturally in some soils, but has been increasingly contaminating agricultural fields since the element has been mined extensively in order to serve the electronics industry.
It is known that the element is taken up by plants since it is mimetic for the elemental essential nutriet zinc, zinc being present in the active sites of many important metalloenzymes essential to life. When coordinated with cadmium rather than zinc, the enzymes no longer function, and this is important to the mechanism by which their toxicity is observed. (The third cogener of zinc is mercury, and the mechanism of its toxicity is generally the same: Both cadmium and mercury are powerful neurotoxins, which may account for the unfathomable popularity of Donald Trump.)
An interesting paper I came across on the subject in the current (as of this writing, 9/10/16) issue of Environmental Science and Technology is here:
Cadmium Isotope Fractionation in Soil–Wheat Systems
(Matthais Wiggenhauser
et al
, Environ. Sci. Technol., 2016, 50 (17), pp 9223–9231)
Here is a graphic from the paper:
It is important to note that the percentages here do not refer to enrichment of
total
cadmium in the various plant parts, but rather in the
ratio
between two stable isotopes of the element, [sup]114[/sup]Cd and [sup]110[/sup]Cd, with the former being enriched.
Isotope effects such are these are related to the kinetics of reactions, which vary (slightly) with the mass of the reactants. These effects are well known for the hydrogen isotopes protium, deuterium and tritium, but, as the paper points out in the text, have only in recent times been accessible to study owing to developments in inductively coupled plasma mass spectrometry (ICP-MS). For the analytical chemist, details may be found in the supplementary information of the paper although the particular make and model of the ICP/MS is not noted.
The lighter the isotope, in general, the faster the reaction. In the present case, it was found that the cadmium that makes its way to the wheat seeds, the grain we eat, is enriched in heavier isotopes meaning that the reactions in the stems and roots remove some cadmium before it gets to our mouths and, ultimately our brains where it causes diseases like Trumpism and Greenpeacism and other neurological deficiencies. This is actually
good
news, since it means that
some
of the cadmium is sequestered in these inedible parts of grain, although in the case of straw, it may show up in animals that some people eat, in particular, cows.
Despite this marginally good news, it is clear that many food supplies are in fact contaminated with cadmium, especially in China, where electronic recycling, as well as mining and manufacture of semiconductors solar cell are practiced under largely uncontrolled conditions. It is reported that in Southern China, up to 70% of the grains purchased in local markets had cadmium levels exceeding government set limits:
F ood supply and food safety issues in China
(Sun
et al
Lancet 2013; 381: 2044–53) About 1/6 of the world supply of cadmium is mined in China; substantial quantities are mined in the United States and isolated from various zinc ores.
We hear a lot of hand waving about how solar prices are dropping dramatically, and Chinese manufacture of solar cells is a big part of the reason, because in China, despite having declared itself a "people's state" environmental regulations either do not exist or if they do, are poorly enforced. In China it is cheaper to dump cadmium containing wastes and avoid the purchase of expensive devices to prevent the escape of these contaminants, as well as other contaminants like tetrachlorosilicon, and yes solar prices are dropping. Whoopeee.
(The big lie about "dropping solar prices" is that any system that requires redundancy is not cheaper; it is in fact,
more expensive
than a system that operates continuously. Also from both an economic and environmental standpoint, the
lifetime
of a device matters.)
The solar industry has almost no effect whatsoever on the most exigent environmental crisis of our times, climate change. After the world's population dropped a trillion bucks on this adventure in wishful thinking and poor critical thinking ability, the result is that the rate of accumulation of the dangerous fossil fuel waste carbon dioxide in the planetary atmosphere has pretty much tripled since the big mouthed advocates of this scheme - I'm talking specifically about corporate window dresser Amory Lovins specifically, although one could point to similar assholes like his one time acolyte Joe Romm - began telling us all that solar and wind would save us.
They haven't, they aren't, and they won't.
The import of cadmium laced solar cells into the United States from China will probably have little immediate toxicological effect - although I'm not sure the issue has been studied - but in twenty or thirty years all the solar cells on this planet, as well as the inverters and other electronic junk associated with them, will become another component of electronic waste, already an intractable problem. The toxicological effects thus will fall on future generations. By doing nothing but failing to check our 1970's assumptions, the members of this generation,
my
generation, have showed their contempt for all future generations in thousands of ways, and piling up this solar junk is only the tip of the overheated iceberg.
By the way, cadmium is one of the "critical elements" that are likely to be depleted in the lifetime of today's infants. Here is a periodic table from one source on this increasingly discussed issue in Engineering, Materials Environmental Sciences:
The importance of elemental sustainability and critical element recovery
(Hunt
et al
,
Green Chem.
, 2015,17, 1949-1950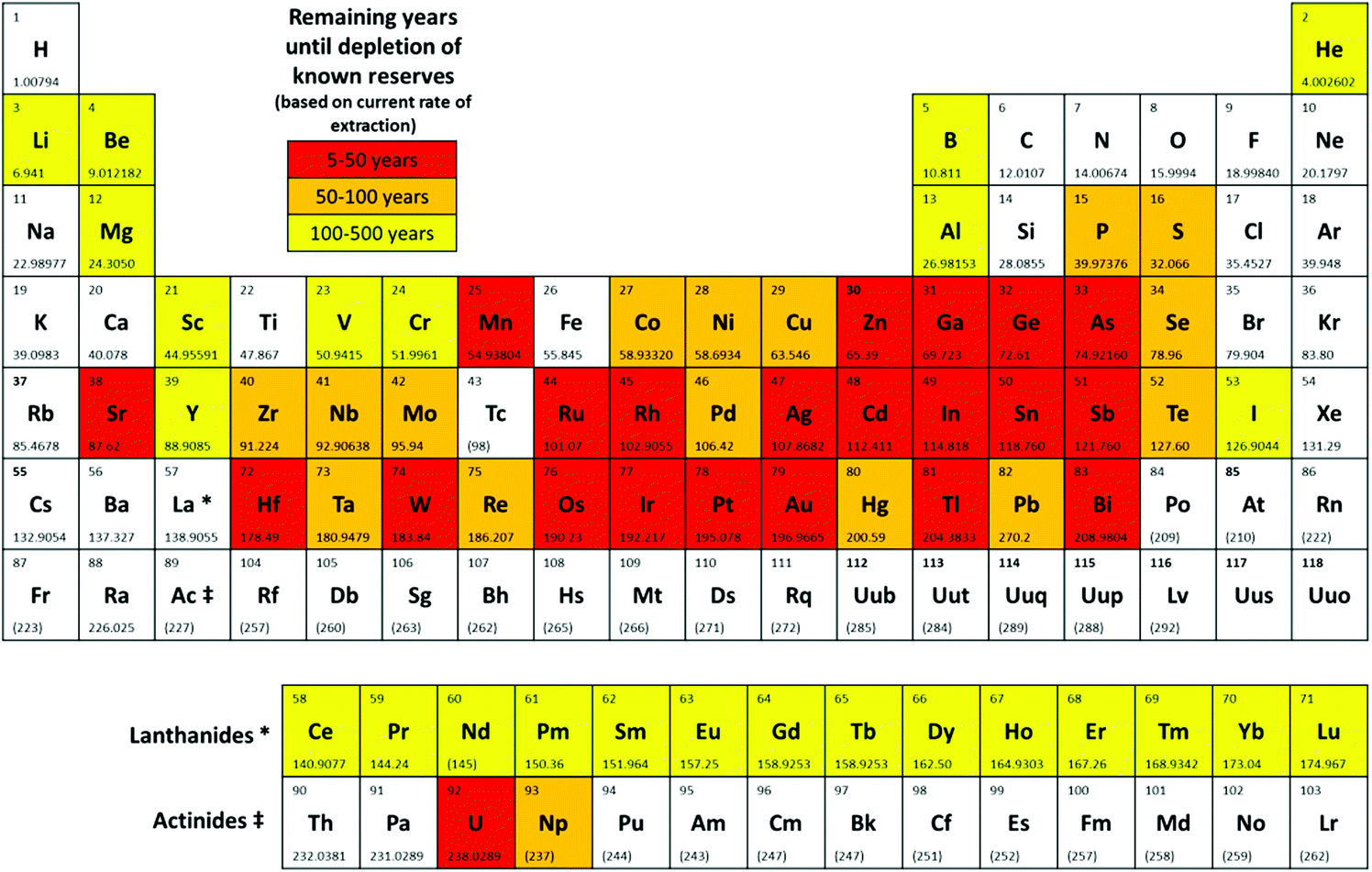 It is somewhat amusing to note that five of the elements that have been touted as "solar breakthroughs" in the last twenty or thirty years of useless cheering, five of them are on the list of
immediately
endangered elements, those expected to run out in the next fifty years, the aforementioned cadmium, as well as gallium, germanium, indium and arsenic. (Indium may well run out first, not because of useless solar cells, but because of touch screen phones and other screens.) Two others, selenium and tellurium, both toxic elements, will run out in the next century.
So much for the hope that the solar industry, where "PRICES ARE DROPPING!!!!!!!!!" will end up producing all that much more than the less than the 2 exajoules it produces right now out of the 570 exajoules of energy that humanity now consumes each year.
Enjoy the rest of the weekend.
8 replies, 1100 views
Replies to this discussion thread
| | | | |
| --- | --- | --- | --- |
| 8 replies | Author | Time | Post |
| Following cadmium flows in grains and other plants by isotopic fractionation. (Original post) | NNadir | Sep 2016 | OP |
| | Post removed | Sep 2016 | #1 |
| | Agnosticsherbet | Sep 2016 | #2 |
| | NNadir | Sep 2016 | #3 |
| | Agnosticsherbet | Sep 2016 | #4 |
| | NNadir | Sep 2016 | #5 |
| | Agnosticsherbet | Sep 2016 | #6 |
| | NNadir | Sep 2016 | #7 |
| | Agnosticsherbet | Sep 2016 | #8 |
---
---
Response to NNadir (Original post)
Sat Sep 10, 2016, 05:08 PM
Agnosticsherbet (11,619 posts)
2. The big push in Asteroid Mining plans is, in part, pushed for the need to rare earth elements.
Space Mining: The Answer to the Rare Earths Problem?
As technology advances outpace the supply of the rare earth materials they require, scientists are looking to space for more.
SYDNEY -- The quest for rare earths vital to some of modern life's most indispensable technologies may see mining robots jet to the stars within decades, a world-first conference in Australia was told Wednesday.

Yttrium, Lanthanum and the other 15 minerals which make up the group of elements known as rare earths are crucial to everything from wind turbines and hybrid cars to cruise missiles and the ubiquitous smartphone.

As technology advances so too does demand for the elements which, although relatively abundant, require laborious and waste-intensive processing to be freed from surrounding rock.
It will make more sense to bring rare earth elements back from space than, say, gold or other metals.
---
Response to Agnosticsherbet (Reply #2)
Sat Sep 10, 2016, 05:28 PM
NNadir (26,377 posts)
3. I'll file this one with, um, the solar satellites beaming microwaves to Earth.
It's not going to happen. It is now, and always will be - since it takes energy to reach escape velocity, and the amount of energy is a function of mass - expensive to launch spacecraft.

Among the main applications for lanthanides are to make magnets for stupid wind turbines and stupid electric cars, neither of which are necessary or useful. We need to live with what we have, and in order to do that for all time, not just the relative microsecond in which we live, we need to understand that we need to do it, and then figure out how to do it.

Given that so much that is scientifically illiterate gains so much credence, I'm not overly optimistic that we are in any place to do that.

Filling the atmosphere with perchlorates and or their equivalents to launch rockets to race around the solar system to find lanthanides which will necessarily, be highly dilute ores since the absence of weather does not allow for element fractionation in most of space, is a fantasy, and the fact is, we are too willing to live in a fantasy world while our problems - the main one being our contempt for future generations - are real.

It will be criminal if we do not snap out of it.

We're stuck with this planet; a very rare planet from what we can tell; and the dream of escaping this planet to find another to trash is a very bad idea, in no way desirable and in no way realistic.
---
Response to NNadir (Reply #3)
Sat Sep 10, 2016, 06:16 PM
Agnosticsherbet (11,619 posts)
4. I don't have anything to say about solar satellites beaming back to earth, but NASA and dozens
of companies around the world are working on making that work.

If our species is to survive, we will have to leave earth. There are far more resources our there than we have here. All resources on earth are limited.
---
Response to Agnosticsherbet (Reply #4)
Sat Sep 10, 2016, 09:36 PM
NNadir (26,377 posts)
5. How many examples of our "species" do you propose will survive?
I assume you count yourself as one of the survivors. Given that the Saturn rocket weighed 2.8 million kilograms, and sent three people at a time to stay on the moon for as long as 15 days, how many people do you expect to bring with you?

How exactly are you sure that "there are far more resources 'out there?'"

Where, exactly, do you propose to establish the lanthanide mines, never mind the oxygen mines, the carbon mines, and oh yes, the radiation shielding? How sure are you that you'll get there right away? It took the Galileo mission six years to reach Jupiter, with two gravitational assists. What is your proposal for traveling faster than the 8,000 km/hr that craft achieved?

What will be the momentum of a five gram rock colliding with the space craft going three or four times as fast? My "back of the spreadsheet" calculation, not bothering with a relativistic adjustment indicates that a five gram rock colliding with a spacecraft traveling at 24,000 km/hour, and using 4.184 petajoules for the value of a "megaton of TNT" would have the same energy as 265 kg of TNT when colliding with the spacecraft.

What will be the mass of the life support systems for you and the other (five?, ten?, fifty? one billion?) people who'll be traveling with you? How many "fail safe" components, "defense in depth" systems will be required aboard so that one five gram rock doesn't kill all of the inhabitants of the space craft with a single component failure in these life support systems?

What is the energy source you propose as a fuel to leave Earth? Wind farms? Solar panels?

What propulsion system will you use in space and what source of primary energy?

Note these are physics issues. I'm not such an optimist as to believe that we can suspend the laws of physics because we "have" to. Were this the case, Congress would be able to pass laws requiring that all machines be perpetual motion machines, but somehow I think such a law would lack force.

On this planet, we watch too many science fiction shows. I see this rather in the same way I see the "solar will save us" or "wind power will save us" fantasies, an escapist denialist approach by which we try to evade responsibility for our actions.

And we have avoided accepting responsibility for our actions and in so doing we have stolen what could not be afforded by future generations. We are offering the same weak rhetoric we offered ten, twenty, even thirty years ago as we destroy the womb in which we were all born, our atmosphere and our surface waters.

I strongly suspect that if we "have" to leave the planet or face extinction there's a certain certitude associated with the latter outcome. I would suggest that a more practical, if egalitarian and surely prosaic, solution would be to try to show that we can stay on this planet. I'm not particularly religious, but I have this strange feeling that this place is sacred, and unless we can manage a sense of this sanctity, we do not deserve to survive.

Have a nice Sunday.
---
Response to NNadir (Reply #5)
Sat Sep 10, 2016, 10:31 PM
Agnosticsherbet (11,619 posts)
6. Technology changes.
We will learn how. I am not into dystopia.
---
Response to Agnosticsherbet (Reply #6)
Sun Sep 11, 2016, 10:41 AM
NNadir (26,377 posts)
7. Clearly you're not into dystopia; however billions of citizens of the world live...
...there right now; and some have lived there for generations.
Somehow I think they're not "into" contemplating that they "have" to escape the earth by a mechanism other than death, although, many will escape, in short order, by death with and without a will to suicide. Many I think they're focused on merely staying alive, as hellacious as their lives might be.
I'm not into bourgeois indifference and exclusivity. I, um, care and am concerned that there are more than one billion people who lack access to basic sanitation.
WHO: Lack of sanitation for 2.4 billion people is undermining health improvements
It would seem to me that for the cost of sending a few billionaires to go poking around on asteroids looking for uneconomic rocks having a few lanthanides in them for future wind turbines and for future electric cars, we could provide a few tens of millions of people with sewer pipes, but that's just me.
It's not that I'm "into dystopia," so much as I'm
aware
of it.
I think I know a fair amount about technology and how it works, since I frequently read engineering and scientific papers on the topics going back as far as the 1960's, and sometimes even the 1950s, and can compare them to what's being written
now
. In an age of rampant credulity, I recommend that experience highly. It generates not so much cynicism as it does realism.
Faith in technology in itself without scientific insight is called "science fiction," with emphasis on "fiction."
I'm not so much into escapism as I am into trying to save what still can be saved, although what can be saved is turning out to be less and less daily. The dystopia that already exists will, I fear, grow much larger.
Have a nice Sunday afternoon.
---
Response to NNadir (Reply #7)
Mon Sep 12, 2016, 01:33 PM
Agnosticsherbet (11,619 posts)
8. We are all trying to save what we can.
Some of us choose to look to different solutions. It will be necessary to "Science the shit out of this." We can not limit our quest for solutions.